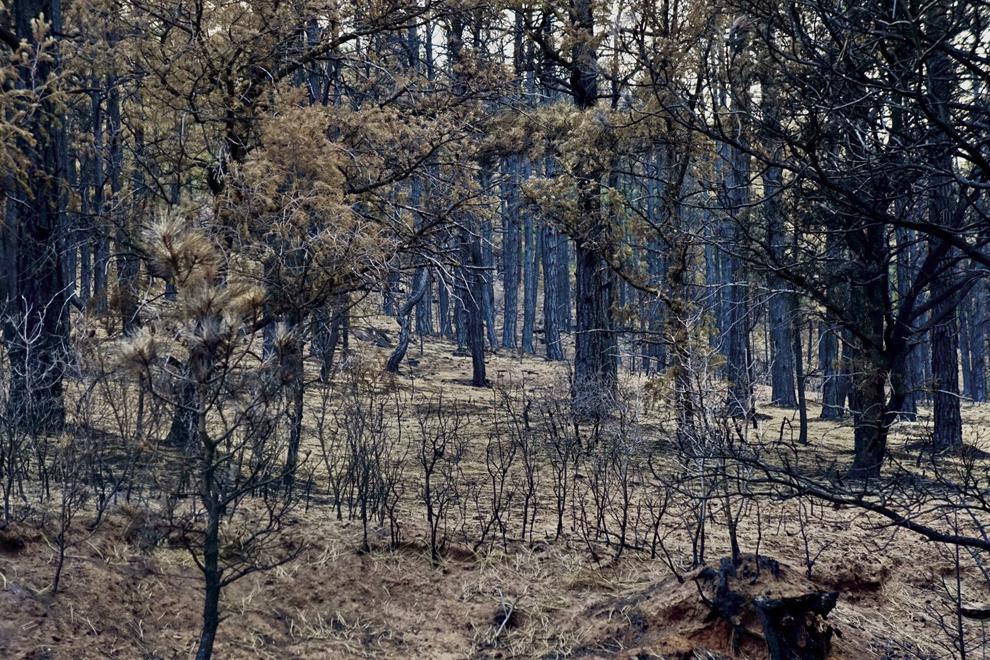 I am proud to live in the land of Norteños, but right now, my heart is broken at what I see as my adopted people suffer from the destruction of fire and flood. I see them strive to practice the resilience and sustainability so deeply ingrained in the culture. I struggle with how to help, with doing my part to ensure these fine people and wonderful and historic society gain the resources they need to survive and rebuild. My home was destroyed as well, and I wish to stand shoulder to shoulder with my friends and neighbors.
"La Lumbre," a documentary produced by Arnold Trujillo, has done a powerful job of giving a voice to the realities faced by the people whose lives have been devastated by the Hermit's Peak/Calf Canyon Fires and subsequent floods. I am so grateful to Elmo Baca for opening Indigo Theatre, providing an opportunity for all of us to see that powerful message.
The theatre was packed when I went to the 5:15 p.m. showing on Monday. Trujillo not only produced a powerful and needed documentary, but also, he quietly stood aside after the showing and gave people an opportunity to speak. He also provided Miguel Angel and Georgina Ortega time to distribute a petition where local people could endorse demands for how the process should progress in the federal government's administration of funds intended to "make whole" those affected by fires and floods. 
Personally, I am wrestling with how best to offer the skills and knowledge I've gained over the years. I spoke up at the meeting, making clear that the fate of the community's future rests not in the hands of FEMA, an entity for which, I confess, I am growing to feel a deep contempt. Perhaps more on that in a later editorial. The future of this area rests in the hands of the people, but for that to happen, we must organize. We must claim our voice in a way that it cannot help but be heard. 
To know why I'm writing, and why I spoke up yesterday, I must briefly talk about some of my life experiences. I was a founder and long-time co-chair of OUTstanding Amarillo, an LGTBQIA+ organization started in the 1990s. I am a former officer in the Naval Reserve who sacrificed my career to take a stand against the persecution of gays in the military. I've specialized in consulting for underserved communities including working for years in support of Organization of Women's Freedom in Iraq (OWFI) and community organizing for colonias of the descendants of migrant farm workers in Texas. I was a long-time member and a former chair of the Diversity Committee of the Association of Fundraising Professionals (AFP) International. Anyway, yadda, yadda, yadda. You get my point. 
We need to organize to improve our ability to speak as a community with a strong voice. One of the first steps in that process, is giving the movement a name—a "branding" if you will.  I awoke at 4 a.m. with an inspiration for that name: Nosotros la Gente—We the People.
One goal of Nosotros la Genta that needs to be addressed immediately involves demands for local senior-level representation in decision-making for disbursement of the legislative funds specifically designated to "make whole" those affected by the fires and floods. For la gente to be effective in this demand, we need to not leave it up to whomever wishes to apply, but we need to nominate individuals whom the people trust to speak on their behalf. I've wrestled with that myself with people like Leveo Sanchez and Hector Balderas coming to mind. 
For now, I wish to offer myself, not as an official leader, but as a clearinghouse where people can send their recommendations for such a representative of the people, someone with the necessary experience in administering large projects and, even more importantly, with an established reputation gaining the trust of local people. If anyone has such a recommendation, please email it to me at herself@kaytpeck.com. It may be too late to have them apply for the FEMA position, but it's not too late for we the people to support efforts to ensure their wisdom and strength has opportunity to speak on our behalf.