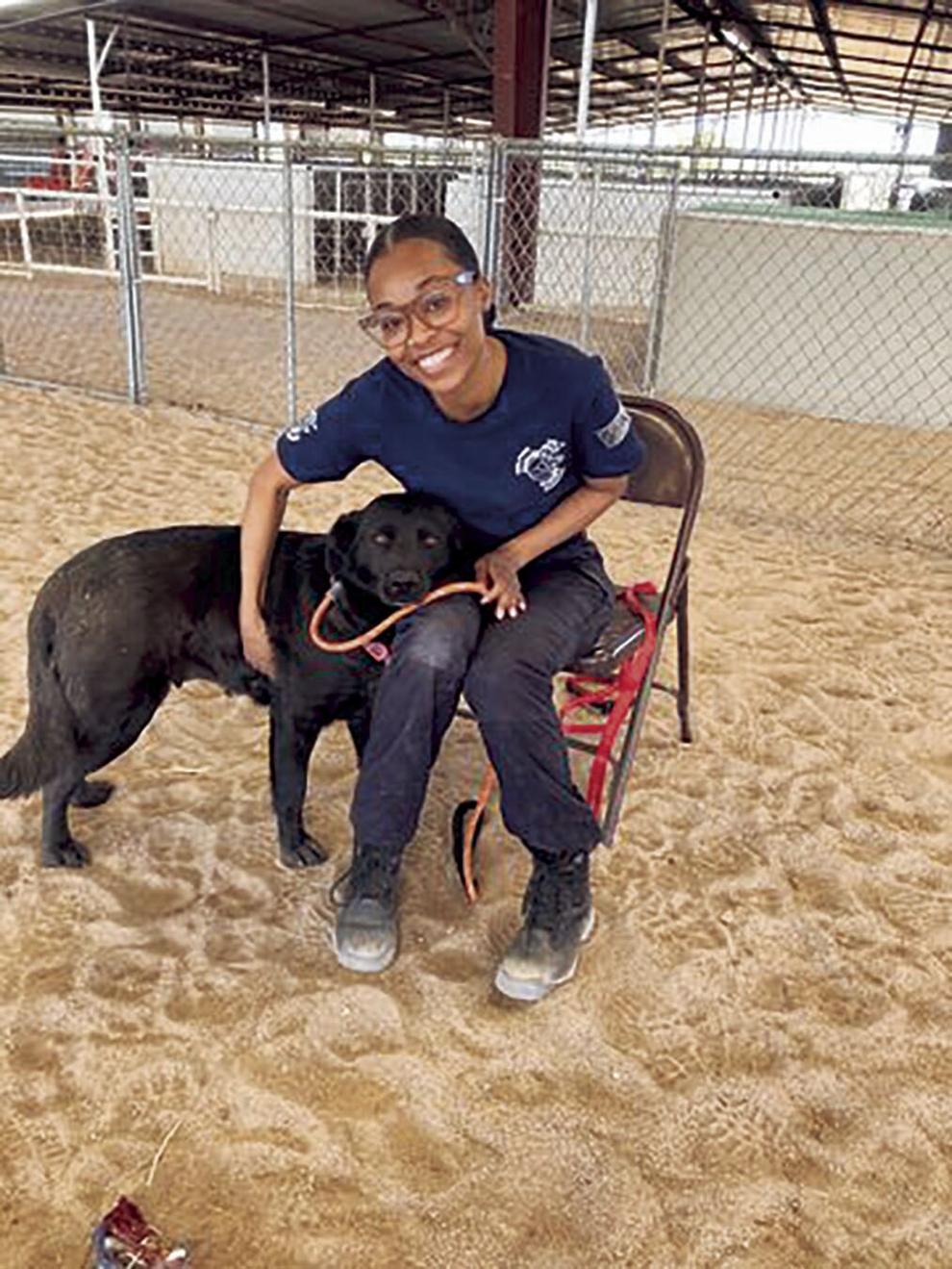 The future of animal welfare in our community is threatened; however, let me briefly mention a successful two-day workshop recently hosted by the Animal Welfare Coalition under the leadership of Nelson Hodges. "Rehabilitating Fearful and Feral Dogs in a Rural Shelter Setting" was attended by twenty-two participants from Colorado, Maine, New York, Pennsylvania, Texas, Utah, Virginia and Wisconsin. 
The organizer Julie Hart of "Hart to Heart Canine" explained, "A lot of dog trainers struggle with fearful and feral dogs. This workshop is a perfect opportunity to learn from Nelson who has been working with dogs for 40 years."
This is just one example of the on-going accomplishments of AWC. Now, of course, focus is on the Hermit's Peak/Calf Canyon wildfire. Although we cannot predict the future, we can report that the AWC has done an incredible job of relocating all the dogs and cats in their custody.
On Monday, May 2, AWC drove away from the 1680 Grand Avenue Shelter with two trucks, a trailer, two vans, and three cars. The city was blanketed in smoke and it felt like fire was imminent. After working for days, Tina Holguín and her staff needed to be sure that each animal in their custody was safely placed. They needed to evacuate soon because they didn't know how much time they had.
Before May 2, Animal Humane took 19 dogs on Saturday, April 30. NMDOG took in 18 dogs. 
The city and county officials didn't seem to understand this urgency. The well-being of animals in Las Vegas and San Miguel County does not appear to be on their list of priorities, but it was for the Santa Fe Office of Emergency Management (OEM), which found space for the dogs at the Santa Fe Fairgrounds. 
Arriving at the Santa Fe County Fair Grounds with 46 dogs, an incredible crew from Helping Paws Across Borders was already setting things up. The experience and expertise of these incredible volunteers made this huge undertaking bearable for both the dogs and the already exhausted AWC Pet Center staff and volunteers. 
Helping Paws Across Borders consists of compassionate veterinarians, technicians and assistants. They have have flown in six of their team to help us. These volunteers do not get paid one cent for their service and only ask for airfare to be reimbursed. 
All the AWC cats were accepted by Española Humane shelter.
Additional organizations that have helped are Argos A Shelter Dog Rescue, Lifeline Puppy Rescue, People's Anti Cruelty Association Rescue (PACA), Santa Fe County Cooperative Extension Service, Socorro County Mobile Animal Shelter Unit, Santa Fe Animal Shelter & Humane Society, Bernalillo County Animal Care, Animal Humane New Mexico, VCA Arrighetti, Petroglyphs Animal Hospital, Corrales Kennel, Southwest Animal Rescue Fund (SWARF), Thrive Pet Healthcare Specialists, Kindred Spirits Animal Sanctuary, and the American Society for the Prevention of Cruelty to Animals.
Currently the American Society for the Prevention of Cruelty to Animals (ASPCA) are the experts on the ground at the Santa Fe Fairgrounds, and AWC has signed a cooperative agreement with them. Their skilled dog handlers and other staff and partners including Helping Paws Across Boarders (HPAB) are providing excellent care and expertise. The ASPCA have shipped in sheltering supplies and equipment to improve the emergency shelter including an animal transport trailer which will eventually transport animals back to the Las Vegas shelter.
The Carroll Petrie Family Foundation in Santa Fe has already given emergency financial support to AWC.
Although AWC is temporarily located in Santa Fe, they are still receiving dogs in need from the fire. One volunteer is on call for emergencies in the evenings and another volunteer is dedicated to driving back and forth between Las Vegas and Santa Fe to deliver animals into the caring hands of AWC and ASPCA. 
AWC is grateful for all donations of food and pet supplies they have received. On Wednesday, 1,400 pounds of dog and cat food were delivered to the firefighters now stationed at the Las Vegas Airport. This food gets transferred to ziplock bags so firefighters can readily water and feed the animals they find. 
Of course people are eager to adopt both "fire rescue cats and dogs, but there is an issue. In normal circumstances an AWC animal can be adopted after 3 days, but now they need to be held for at least 30 days in hopes that their owners will claim them." 
The big question now is what will happen to the injured, abandoned and surrendered dogs in the aftermath of the Hermit's Peak/Calf Canyon disaster.
The contract of Animal Welfare Coalition of Northeastern New Mexico expires June 30, 2022. They received a Request for Proposal (RFP), and their deadline to respond is May 26, 2022. 
Under the existing contract, AWC is a professional animal welfare organization operating a shelter for the City of Las Vegas. 
Under the new RFP, there is no payment for services or availability to charge fees which are actually provided for under the City animal ordinance. The City will make all decisions and policies. AWC will be charged rent for the building. 
I urge you to read the RFP which was published May 4, 2022 in The Optic, The Albuquerque Journal and at www.lasvegasnm.gov. You can also obtain a copy at the Las Vegas City Hall.
I cannot imagine that any reputable animal welfare organization would even respond to that.
What a disaster it would be to lose such a competent and caring resource that has done so much for our four-legged critters.
On May 10, I spoke with Angela Stell, founder and director of NMDOG, which she established in 2010 with a primary focus on chain dogs and victims of cruelty cases. NMDOG serves the entire state of New Mexico with long-term medical treatment and rehabilitation so these dogs can be adopted into homes where they will never be penned or chained. NMDOG offers education and outreach programs so that New Mexicans can learn about the dangers of chaining dogs as well as public safety concerns.
Angela explained, "Las Vegas and San Miguel County have the worst and the most incidences of dog abuse in all of New Mexico. I have tried without success to get a partnership with Las Vegas and San Miguel County. I even applied for a temporary job and never heard back. Yes, a Zero-Tolerance Anti-Tethering Ordinance was passed by the Las Vegas Council a decade ago, but it has never been enforced by the city or the county. It was called 'anti-tethering' because some owners say that they don't chain their dogs, they are tied with ropes."
Angela continued, "Your elected officials are complacent. There is no accountability, and when a case gets a judicial hearing, it is dismissed."
Recently two dogs were brought into the Judge Eddie Trujillo's courtroom. The case was dropped, and the dogs were released to the couple who had abandoned them. Some time later, the woman owner  appeared at the AWC with a dog with a huge bloody gash in its head. She surrendered the dog. Medical care has cost $2,000, including a CAT span to check for brain damage. Then the woman's neighbor called asking to adopt the dog. 
Obviously now the focus of AWC, NMDOG and other organizations is the on-going care of dogs displaced by the fires. Let us hope that the Facebook pics of rescued dogs will be seen by their owners so they can be reunited.
But what about later? What is going to happen to our dogs and cats? I fear that they will be picked up and taken to 1680 North Grand to be euthanized and tossed in that huge incinerator behind the building. 
When I told Angela that, she responded,
"The dogs that are euthanized quickly will be the lucky ones. I fear for the dogs that will be left to suffer in shelter kennels with no veterinary care, adopted out intact with no screening and those that will be fought and chained. I pulled dogs from the Las Vegas City shelter before there was an AWC so I know how the City runs a shelter. This community is already in an animal welfare crisis. The future of the animals in Las Vegas haunts me every day and night."
The Animal Welfare Coalition currently has enough immediate supplies and is asking for cash donations so money is available for the operational costs to come. Please make a donation of any amount. Call: 505 429-1372. Mail: AWC, PO Box 524, Las Vegas NM 87701. Online: www.animalwelfarenewmexico.org.
Beth Urech is a contributing writer, traveler, and artist of the spoken word, performing both nationally and internationally. She lives in Las Vegas, N.M., with her husband, Mark, and dog, Java. Follow Beth at bethurech.wordpress.com. She may be reached by email at beth@bethurech.com