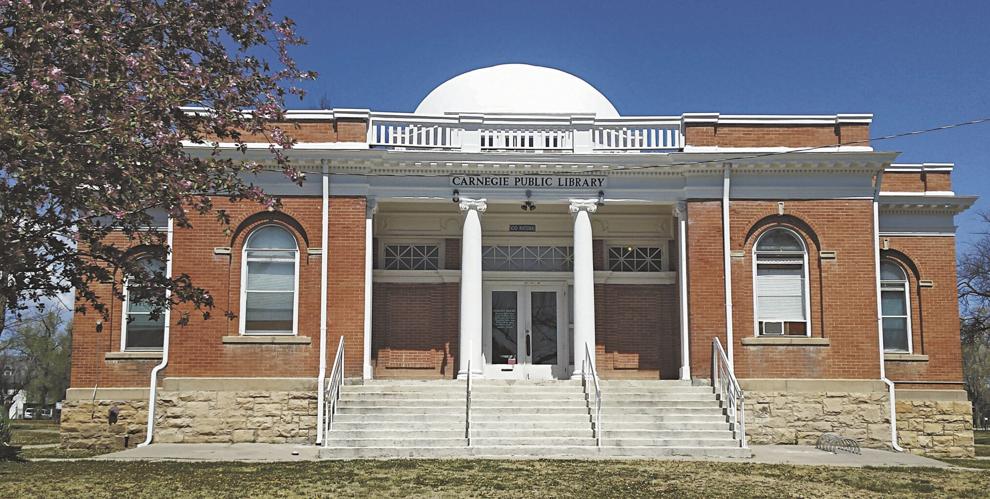 How about you? Whenever I visit a new city, I always head for the library. Of course, I did that when we arrived in Las Vegas seven years ago. And what an impressive library it is. Built in 1904, our Carnegie Library is one of the oldest still in operation. 
The comfy children's section in the basement is just right for encouraging tots to listen during story time. "The Summer Reading Program is Wednesdays from 10-noon until July 20 and open to kids from 0-12," said the friendly librarian with whom I spoke. Youngsters can also borrow books and enjoy them maybe in their bedroom, maybe on the porch, maybe in a tree house if they should be so lucky.
At the Carnegie, I wiled away hours in the room devoted to local history and books.
Then I discovered the Donnelly Library, where I've also spent numerous hours reading and wandering the shelves. Sometimes I am in search of a specific book, but mostly, I am on a leisurely and serendipitous journey of discovery. Suddenly a book with a dark green spine lures me like a spider into its web and I pull out Leaves of Grass. Or from the bottom shelf, a large colorfully covered book entices me. Oh, look it's a photography book of Cuba which we visited in pre-covid days.  
A decade ago, as I was doing research about Jeannette Rankin for my solo show, I read that Ron Bayly and Susan Regele had produced the video, "Jeannette Rankin: The Woman Who Voted No."  What? Those were my neighbors in Printer's Row in Chicago. The Donnelly Library located a copy and ushered me into a small conference room to watch Jeannette. What a thrill to see my second cousin in action. 
As you can imagine, watching and listening helped me refine my interpretation for "Jeannette Rankin Fights Back." Later Meredith Britt told me, "If you'd come to my school when I was I kid, I'd have paid attention. We never had an idea that women had a role in anything." Dr. Cathy Stauber added, "You became Jeannette as you enacted her on stage. Brilliant."
So what has inspired me today to wax lyrical about libraries? I've just become a card-carrying member of the Muskegon Hackley Public Library which was a gift from the lumber baron Charles Hackley and opened in 1890. I cannot resist including part of their mission statement which is "to inform, inspire and delight our diverse community." 
I approached the front desk, and two smiling librarians greeted me. When I showed that I pay property taxes in Michigan, they welcomed me with open stacks. I mean arms. In lieu of an apartment number I wrote C-26, the slip our sailboat calls home. Yes, we own 14' by 40' feet of land near Lake Michigan, and it's all under water. 
Currently I'm looking for books about Sweden, and the head librarian did an extensive search for me. He'll call when the books are available. My motivation is compelling as I will soon become a grandmother and my grandbaby will be born in Stockholm.
My love of libraries started when I was a child. My mother took me every week to the library first in Park Ridge, Illinois, then in San Marino, California. By the time we moved to Fort Wayne, Indiana and later to St. Joseph, Michigan, I went by myself. Always taking out the maximum limit of books and always returning them on time.
During college, I worked in libraries first at Northwestern University and then The University of Michigan for $1 an hour (about $9 today). 
Because the UGLI (Undergraduate Library at The University of Michigan) had open stacks, I discovered a book crucial for my Master's Thesis on the Boy Actors in Shakespeare's time which I irreverently titled "Cleopatra in Pants." My professor Dr. William Halstead gave me an "A" and wrote "May I keep?" on the front page. Thank heavens, I had made a carbon copy.  How many of you readers even know what a carbon copy looks like?
Back to Muskegon. As I was getting ready to leave, two bright-eyed children arrived with a wicker basket full of books. Our ensuing conversation was a delight. Eight-year-old Sierra and her 10-year-old brother Canyon had already completed the Hackley Library Summer Reading Program.
"But it's only July fifth," I said in amazement.  
"Oh, yes," replied Sierra. "We'll just keep reading," added her brother. 
I also learned that their father was in search of a salmon fishing boat so the entire family drove cross country to Washington. The children are home schooled, well, in this case "on the road" schooled. They visited Bryce Canyon and the Grand Canyon with a nod to son Canyon. For Sierra, the family visited the Sierra, Nevada.  
Now they are home and live not far from where I live aboard Speakeasy. I've invited them to come over. If our boat is in C-26, you'll probably find me aboard reading, but I firmly believe the adage attributed to Mark Twain, "Twenty years from now you will be more disappointed by the things that you didn't do than by the ones you did do. So throw off the bowlines. Sail away from the safe harbor. Catch the trade winds in your sails. Explore. Dream. Discover. "
Beth Urech is a contributing writer, traveler, and artist of the spoken word, performing both nationally and internationally. She lives in Las Vegas, N.M., with her husband, Mark, and dog, Java. Follow Beth at bethurech.wordpress.com. She may be reached by email at beth@bethurech.com