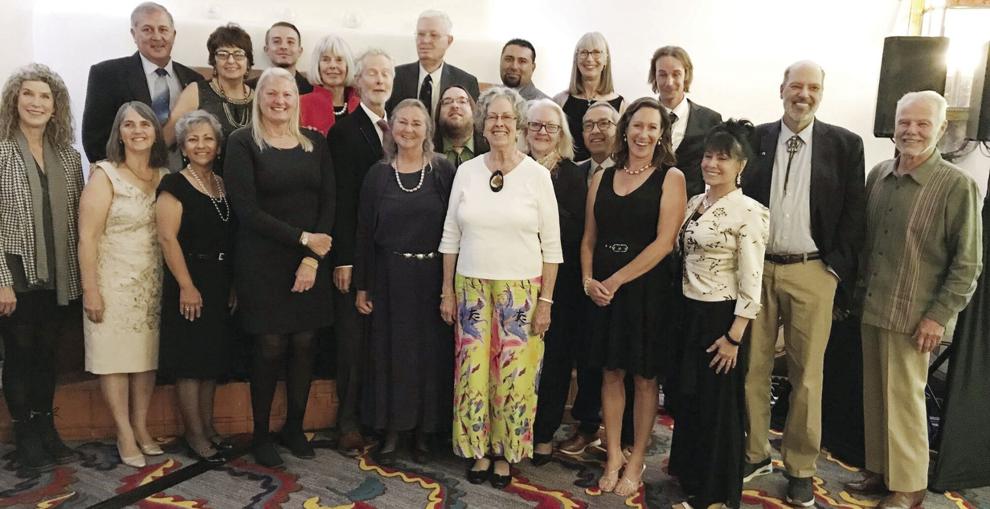 Lea Knutson, founder and executive director of Hermit's Peak Watershed Alliance, accepted the Visionary Piñon Award for the non-profit during a recent dinner at La Fonda on the Plaza hosted by the Santa Fe Community Foundation. 
The award honors a non-profit that can "anticipate the unmet needs of future generations and has the stamina to achieve success." This describes perfectly the work of HPWA.  
The organization shared a video showing the Gallinas River, volunteers digging, fish and a beaver constructing a dam. At the conclusion of the video, Elmo Baca, who heads the Las Vegas Community Foundation, said more than 2,500 volunteers have helped bring new pride to our community.
"This river used to divide our town, but now it unites our town thanks to the great efforts of the HPWA," Baca said.
Knutson took the stage with her staff and supporters and said, "A whole community of people has worked together to make our vision of healthy land, water and community come to life." 
HPWA staff members, in addition to Knutson, are Conrad Greaves, restoration and management coordinator; Patrick Guiterrez, geographic information system analyst and hydrology technician; Meagen Larson, special tasks; Jacob Erickson, public relations director; Elizabeth Juarros, Gallinas River Park Project Director; and Louise Jensen, advancement and outreach
HPWA Board of Directors are Mark Gillingham, president; Brian Miller, vice president; John Goodwin, treasurer; Wendy Melgin-Pierard, secretary; Shantini Ramakrishnan; Tomas Benavidez; and Josh Miner
Knutson also recognized individuals who with "muddy boots and sweaty brows" have worked to help restore health to local watersheds. She named the City of Las Vegas as a major partner to revitalize the Gallinas River Park as well as Las Vegas Community Foundation.
Next was a call out to community organizations in the Las Vegas areas plus numerous municipal, state and federal representatives and agencies who have granted money and expertise. 
"And we can't forget the beaver, trout and warblers who couldn't make it here tonight," she said. 
With that comment, the entire audience burst into laughter. But in reality, it is the wildlife that tells us when our environment is either decaying or developing. Listening to wildlife keeps our water abundant and soil rich. 
HPWA has received numerous grants for the conservation of wildlife habitat, realigning rivers, and encouraging farmers, ranchers and landowners in their stewardship for the sake of future generations.
In support of Knutson's work, three tables of Las Vegans attended the celebration. 
We are all aware that the last year and a half has been difficult and often downright depressing. So, it was joyful to come together to celebrate the good work that has been done by the four organizations. Of course, here in Las Vegas, we are especially proud of Hermit's Peak Watershed Alliance.
Beth Urech is a contributing writer, traveler, and artist of the spoken word, performing both nationally and internationally. She lives in Las Vegas, N.M., with her husband, Mark, and dog, Java. Follow Beth at bethurech.wordpress.com. She may be reached by email at beth@bethurech.com