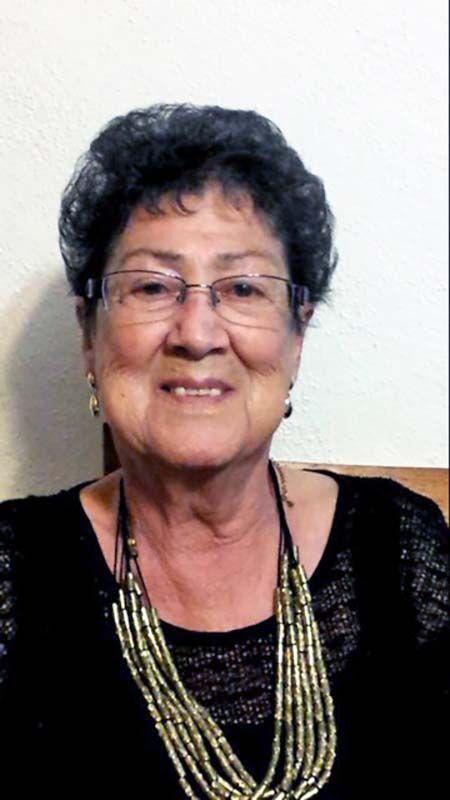 Theresa Quintana, 87, a longtime resident of Las Vegas, N.M., born on May 31, 1934, passed away on Monday, Dec. 6, 2021 at her home surrounded by her loving family.
Theresa was a caring and loving person to all. A clear reflection of her great personality and warm sense of humor. Always making the best of every situation. But most of all, she had a strong will in continuing and maintaining family values and traditions 
She is preceded by her parents, Cleofas and Josefita Gonzales; husband Juan E. Quintana; sons, Danny, Leroy, and Robert Quintana; daughter Rose Ann Quintana; brothers, Frank, Nick, Abe, Justin and Fred Gonzales; sisters, Adelicia Martinez and Seniada Gonzales; special friend Lily Montoya. 
She is survived by her daughters, Marylou Quintana of Albuquerque, N.M.; and Rose Marie Quintana of Las Vegas, N.M.; son Andrew Quintana of Albuquerque, N.M.; grandchildren, Lisa Chavez, Christina Chavez (Lawrence), Rikki Giron (Kyle) Franny Marquez (Caleb), Rebecca Quintana, Robbie Quintana, Christopher Chavez (Onika) and Estevan Madrid; great-grandchildren, Jasmine, Kaylee, Caleb John, and Emma; great- great-granddaughter Gianna; brother Eutimio Gonzales (Alice) of Calif.; and sister Celina Alvidrez of Calif.; special friends, Patsy Roybal, Betty Jo Cockrell and Evelyn Martinez all of Las Vegas, N.M.; numerous nieces, nephews, other relatives and many friends. 
Rosary service will be recited on Tuesday, Dec. 14, 2021 at 9 a.m. with the Funeral service to follow after the Rosary at Our Lady of Sorrows Church in Las Vegas, N.M. with Father Rob Yaksich as Celebrant. Pallbearers will be the following Robbie Quintana, Estevan Madrid, Christopher Chavez, Eddie Gonzales, Tom Gonzales and Pete Gallegos. Honorary bearers will be all of her remaining grandchildren, great-grandchildren and great-great-granddaughter. 
Interment will take place at the Santa Fe National Cemetery in Santa Fe, N.M. a later date and will be announced. 
Arrangements are entrusted to and in the care of Rogers Mortuary, 600 Reynolds Avenue, Las Vegas, N.M., 1-800-479-3511 or 505-425-3511. Please visit our website: www.rogersmortuarynm.com to sign the online register book.