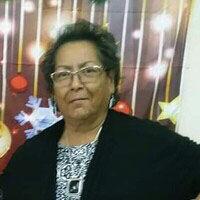 Sandy Cordova, 65, of Anton Chico, N.M. passed away on Thursday, Oct. 28, 2021.
She was born to Fidel and Ida Cordova in Pueblo, Colo. on April 15, 1956.
Sandy was a caregiver and touched many lives she was an excellent cook and professional seamstress. She found it a blessing and privilege to create custom wedding gowns, bridesmaid's dresses and Halloween costumes to make kids fantasies come true, pageant dresses for local talent and beauty contests, prom gowns and simple alterations and her last sewing project was three dog jackets for her furry nieces. 
Sandy was known for her excellent desserts and generously cooked meals for friends, family, community events and family holiday get together's. Her kitchen was a warm and welcoming place for friends and family to gather around the table and enjoy the warmth of the wood fire. 
Sandy was a second mom to many of her nieces and nephews.
She is preceded in death by her parents, Fidel and Ida Cordova; stepfather Carlos Maestas; brothers, Danny and Phillip Cordova.
Sandy is survived by her brothers, Dick Cordova (Dee) and LeRoy Cordova (Erica); maternal uncle Ricky Romo (Lugi); numerous godchildren, nieces, nephews, aunts, uncles and very dear friends.
Rosary service will be held on Saturday, Nov. 20, 2021 at 9:30 a.m. at St. Joseph Church in Anton Chico, N.M.
Funeral mass will follow rosary with Father Timothy Meurer as celebrant.
Cremation has taken place and Interment will follow at St. Joseph Cemetery in Anton Chico, N.M.
Arrangements are entrusted to and under the care of Rogers Mortuary, 600 Reynolds Ave., Las Vegas, N.M. 87701, 505-425-3511 or 1-800-479-3511.