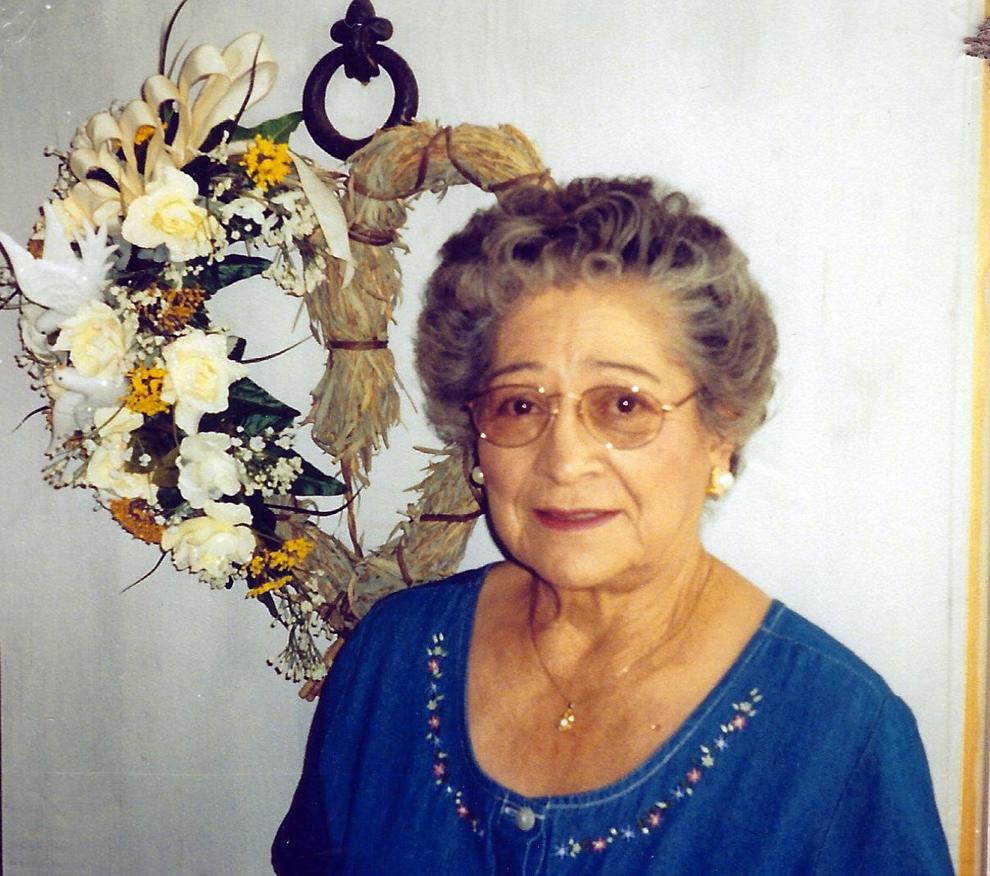 Nora Eggert, 91, passed away on Tuesday, Oct. 19, 2021 at her home in Wagon Mound, N.M. 
She was born on July 27, 1930 to Benito Gonzales and Tonita Garcia Gonzales in Johnstown, Colo. 
"Nora was very devoted to her religion, her husband and her family." 
She is preceded in death by her parents; sister Frances Esquivel; brothers, George Gonzales, Theodore Gonzales and James Gonzales; son David Eggert; grandson Andrew Villarreal. 
Nora is survived by her children, Christine Grijalva (Bob) of Cirtrus Heights, Calif., Teresa Alvarez (Ralph) of Cameron Park, Calif., William L. Eggert Jr. (Roxanne) of Wagon Mound, N.M., Ruth Porras (Robert) of Roy, N.M. and Kathleen Eggert (John) of Wagon Mound, N.M.; brother Ben Gonzales Jr. (Helen) of San Jose, Calif.; grandchildren, Nadine Knittel, Kristina Jones, Shannon Medina, Rozalyn Ross, Nicole Juntunen, April Carpenter, Jamie Davis, Juanita Gonzales, April Gonzales, Mario Escajeda, Tanya Eggert, Brent Eggert, Rachael Sargent, David Eggert Jr., Andrea Boas, Megan Nelson, Amanda Powell, Gabrielle Robbins, Megan Robbins, Angel Villarreal, Alex J. Villarreal, Victoria Villarreal, Dominque Porras, Katrina Juntunen and Kayleen Bessman; great grandchildren, Adrian, Nora, Matthew, Anna, Tryston, Darien, Zoreen, Zachary, Elijah, Alyssa, Braden, Josiah, Ryan, Cecilia, Mario Jr., Malia, Jessie, Levi, David Jr., Monique, Marcos, Mikiyla, Reid, Isabella, Adriel, Kahlan, William, Tala, Remington, Chole, Sage, Jaden, Trinity, Serenity, Kambrea, Preslie, Regan, Ezekiel, Bohdin and Linden; great-great grandchildren, Dominic and Phoenix. 
Public viewing will be on Thursday, Oct. 28, 2021 from 2-4:30 p.m. at Rogers Mortuary Chapel in Las Vegas, N.M. 
Rosary will be recited on Thursday, Oct. 28, 2021 at 7 p.m. at Santa Clara Church in Wagon Mound, N.M. 
Funeral mass will be on Friday, Oct. 29, 2021 at 10 a.m. at Santa Clara Church in Wagon Mound, N.M. with Father Christopher Martinez as Celebrant. 
Interment will follow at Eggert Family Cemetery in Wagon Mound, N.M. with the following serving as Pallbearers, Brent Eggert, Robert Ross, Bryan Gonzales, Kayleen Bessman, Chirs Jones and Matt Knittel. 
Arrangements are entrusted to and under the care of Rogers Mortuary, 600 Reynolds Ave., Las Vegas, N.M., 505-425-3511 or 1-800-479-3511. 
Please visit our online website www.rogersmortuarynm.com to sign the online register book.