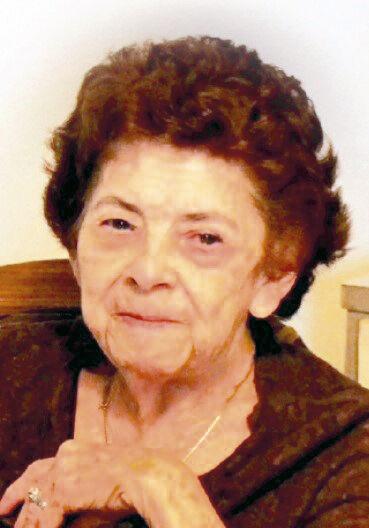 Maria L. Rudolph, a longtime resident of Las Vegas, N.M., passed away on Nov. 25, 2021 at her home surrounded by her family.
She was born on Feb. 28, 1926 in Mora County.
Maria was a member of the Catholic Daughters of America, the Altar Society and the Immaculate Conception Church. She and her husband were the owners of the Sunshine Motel for many years.
Maria was a loving mother, grandmother, great-grandmother, great-great grandmother, sister, aunt and friend. She will be deeply missed by her family and friends.
She is survived by her daughters, Ruth Ann Mitchell (Jim) of Goodyear, Ariz., and Dolores Rudolph of Las Vegas, N.M.; grandchildren, Denise Barela (Chris), Trish Rudolph (Anthony), Jennifer Duszak (Dave), Jessica Deacon (J.C.), and Joseph Rudolph (Gina); great grandchildren, Jonathon, Kristin and Maria Barela, Abigail and Ella Duszak, Dylan, Sydney and Ripp Deacon and Orion Rudolph; great-great grandchildren, Elayna Dimas and Jaebrielle Barela; her sister Ramona Martinez; brothers, Arturo LeDoux, Jr. and Lee (Nila) LeDoux; and numerous nieces and nephews.
She is preceded in death by her husband Joe N. Rudolph; her sons, Joe N. Rudolph, Jr. and Thomas D. Rudolph; her parents Arturo and Julia LeDoux; sisters, Mary Lucy Montoya, Fabiola Maestas, Margaret Grant, brothers, Louis LeDoux and Willie LeDoux; and great granddaughter Amanda Barela.
Rosary with be held at Immaculate Conception Catholic Church in Las Vegas, N.M. on Friday at 7 p.m. Funeral service will be held at 11 a.m. on Dec. 4, 2021 with Father George V. Salazar as Celebrant. Interment to follow at Mount Calvary Cemetery with the following serving as pallbearers, Joseph Rudolph, Jonathon Barela, Chris Barela, Anthony Montoya, Maria Barela and Kristin Barela. Honorary bearers will be all of her grandchildren, great-grandchildren and great-great-grandchildren.
Arrangements are entrusted to and under the care of Rogers Mortuary, 600 Reynolds Ave., Las Vegas, N.M. 87701, 505-425-3511 or 1-800-479-3511.
Please visit our website: www.rogersmortuarynm.com to sign the online register book.