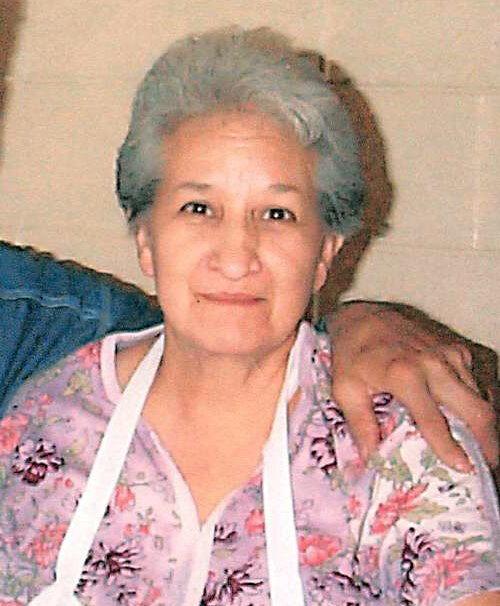 Lucy M. Aragon, a loving mother, grandmother, great-grandmother, aunt, cousin, and beloved resident of Las Vegas N.M., passed away on Wednesday, Oct. 27, 2021 at her home surrounded by her family at the age of 78. 
She was born in Canoncito, N.M. on Jan. 20, 1943, to Meliton Lujan Sr. and Abenicia. 
Lucy was a student at a Catholic School in Las Vegas, N.M. and attended West Las Vegas High School. She was co-owner, with her late husband Johnny P. Aragon Jr, as well as the lead cook of Johnny's Mexican Kitchen here in Las Vegas for many years, as well as former co-owner and operator of the Fort Union Drive-In Movie Theater also here in Las Vegas.
Lucy loved to cook ever since she was young, often talking about helping her mom cook for her dad and brothers. Her love for cooking grew as she got older working for the RightSpot and then meeting her love of 50 years the late Johnny and opening up Johnny's Mexican Kitchen; which she ran for 40 years serving Las Vegas and the surrounding communities with her authentic New Mexican homemade food. 
Lucy also had another love and that was watching the WWE wrestling. Lucy would watch wrestling almost every night of the week and sometimes watching it again but in Spanish. She got the chance to go to many wrestling events throughout her life but her most special and memorable was when she got to go to WrestleMania in Dallas, Tex.
Lucy is preceded in death by her husband, Johnny P. Aragon Jr.; her son Lester A. Aragon; her parents, Meliton and Abenicia Lujan; and two brothers Armando Lujan and Gene Lujan Sr. 
She is survived by her children, John Paul Aragon and wife Alicia; Emory "Mere" Aragon and wife Denice; and Pamela Crystal Mora and husband Julian; grandchildren, Chelsea (Josh), John-Paul Christopher (Della), Isabella (Robert), Naithan (Roci "Mary"), Ryan (Nisa), Kaitlyn (Jose), Noah (Rose), MichaelAngelo, Hanna and Naomi; great-grandchildren, EJ, Ava, Madison, Sophie; brothers, Dennis Lujan and wife MaryJean, Lucas Lujan and wife Jane, Meliton Lujan Jr.; numerous nieces, nephews, other relatives, friends, many beloved family pets and special pets Toby, Persephone "Astephine" and Ryota.
Rosary services for Lucy will be held at Our Lady of Sorrows Church at 7 p.m. on Friday, Nov. 5 and the funeral services will be held at Our Lady of Sorrows Church at 9:30 a.m. on Saturday Nov. 6. Services will be live streamed via: oloslasvegas.org. Interment will follow at Mt. Calvary Cemetery with the following serving as pallbearers, Naithan Aragon, Ryan Aragon, Kaitlyn Aragon, Noah Aragon, MichaelAngelo Aragon and EJ Aragon and Honorary pallbearers will be Hanna Mora, Naomi Mora, Chelsea Aragon, Isabella Aragon, John-Paul Christopher Aragon, Ava Aragon, Maddison Aragon and Sophie Richardson.
Arrangements are entrusted to and under the care of Rogers Mortuary, 600 Reynolds Ave., Las Vegas, N.M. 505-425-3511 or 1-800-479-3511. Please visit their website at: www.rogersmortuarynm.com to sign the online register book.
The family would like to give a very special Thank You to Danyelle Romero, Michael Lee and all the nurses and staff from El Centro Family Health and the West Las Vegas School Based Clinic in providing excellent care to our mom for many years. Another very special Thank You to Ambercare and all their nurses and staff for the wonderful care our mom received in her final days.