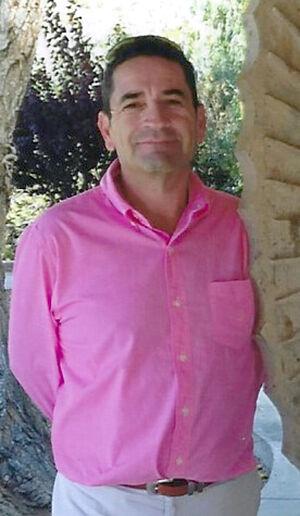 Leonard Salazar
Proud husband, father and grandfather, Leonard Salazar, was called to his heavenly home on June 11, 2022. 
He graduated from the New Mexico Military Institute in 1980 and went on to become a highly respected and successful salesman for 40 years throughout northern New Mexico. A member of Our Lady of Sorrows parish, he served as a Mayordomo. 
He had a robust contagious laugh that filled the room and will forever be remembered by all who knew him. A true extrovert, he befriended anyone he encountered, and he lived life to the fullest adventuring the outdoors as an avid skier, hunter, fisherman, and golfer.
Born June 1, 1962 to accomplished artists Max 'Wilfred' and Guadalupe 'Lupe' Salazar (both deceased) in Las Vegas, N.M. Leonard was united in marriage to the love of his life, Loretta Griego on Feb. 14, 1981. He experienced his greatest joy when surrounded by his family, and he was blessed with three children and 10 grandchildren. 
He is survived by his loving wife, Loretta Salazar; children, Antoinette Dewhirst (Edwin), Amanda Salazar, Andrew Salazar (Leonor); grandchildren, Allen Vasquez, Ezra Dewhirst, Elias Dewhirst, Amaris Otero, Aliana Otero, Azzareya Otero, Adela Salazar, John Andrew Salazar II, Ulises Salazar and Ana Salazar; brother Roberto Salazar (Daniel Rubio); father and mother in-law, Johnny and Martha Griego; brother-in-law's, Lucas Griego (Lisa) and Matt Griego (Vange); uncle Mike Gallegos (Roseanne); aunts, Margaret Fox, Cecilia Samaripa (Brian), Elizabeth Skeen (David), and Isabel Gallegos. 
He is preceded in death by his son-in-law Anthony Otero.
The family extends their gratitude to Fresenius Kidney Care, Dialysis Center for their care and compassion as well as Dr. Michael Lopez and staff. 
Services will be held at Our Lady of Sorrows Parish - Rosary: Monday, June 20, 2022 at 7 p.m., Mass: Tuesday, June 21, 2022 at 9 a.m with Father Rob Yaksich as celebrant. 
Interment will follow at St. Anthonys cemetery in Las Vegas, N.M. with the following serving as Pallbearers, Roberto Salazar Matt Griego Alejandro Salazar Michael Griego Victor Valdez Joseph Lucero Tony Cordova and Robbie Duran. 
Honorary pallbearers, John Andrew Salazar II, Allen Vasquez, Ulises Salazar, Ezra Dewhirst, and Elias Dewhirst. 
Arrangements are entrusted to and under the care of Rogers Mortuary, 600 Reynolds Ave., Las Vegas, N.M. 87701, 505-425-3511 or 1-800-479-3511. 
Please visit our online website www.rogersmortuarynm.com to sign the online register book.