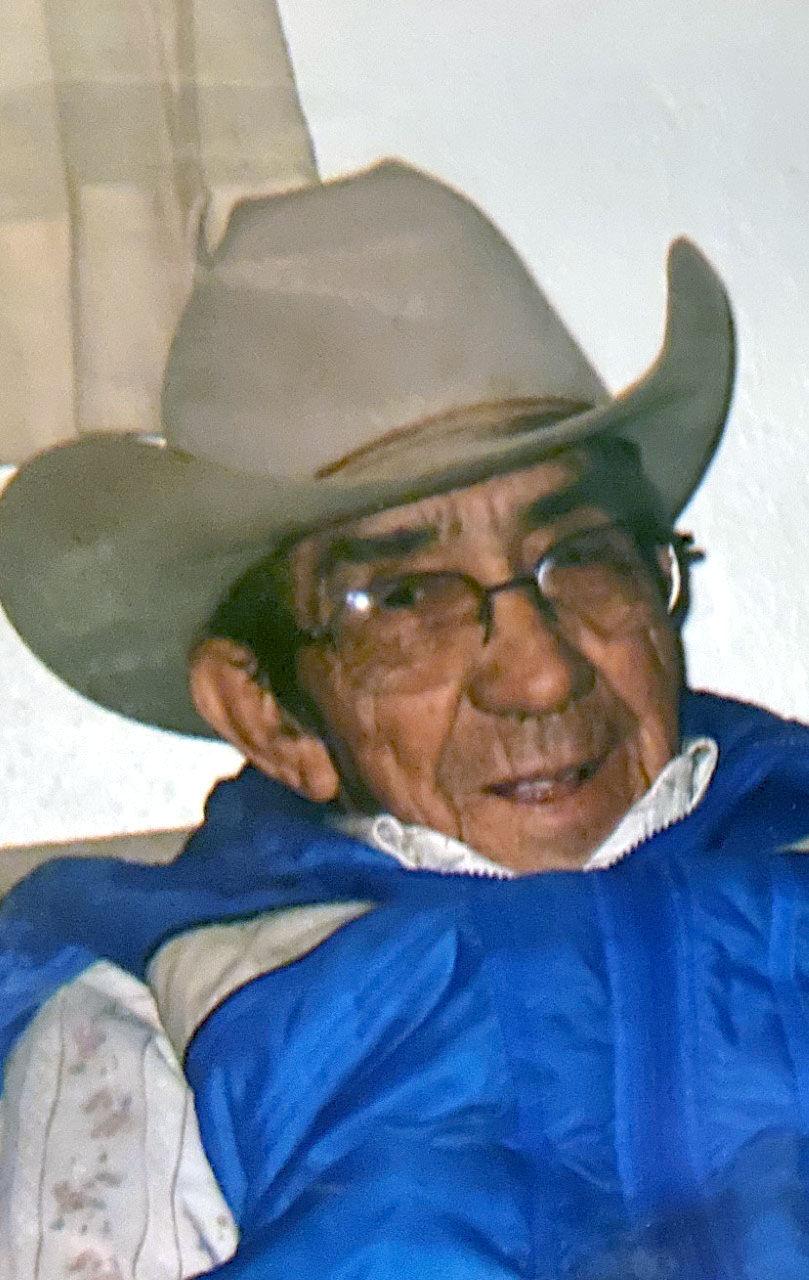 Juan Lopez
Juan Lopez, 94, a resident of Canada Bonita, N.M., passed away Friday, Jan. 13, 2023 in Pueblo, Colo.
He rode away to greener pastures to dance with his beloved Maria. He will leave behind countless horseshoe prints for his family and friends to treasure. 
He loved his time spent with his grandkids and watching his great-grandkids play sports. His passion was working with horses and cattle drives. He cherished his time working alongside his Davis family at the CS Ranch. He also worked at the Stanley Ranch where he retired. 
He will be missed tremendously by those who were blessed to know him. 
He was preceded in death by the love of his life Maria Lopez; sons, Eloy Lopez and Julian Lopez; daughter Polly Ortiz; granddaughter Ester Romero; grandson Juanito Lopez; great-grandson Matthew Romero. 
He leaves behind his daughter and sons, Bernice and Robert Chavez of Pueblo, Colo., Luis Lopez of Wagon Mound, Pat (Linda) Lopez of Wagon Mound, Antonio (Isabel) Lopez of Buena Vista, N.M., and Juan Lopez of Taos, N.M.; 8 grandkids; 15 great-grandkids; 4 great-great grandkids; numerous nieces and nephews, other relatives and friends. 
Rosary will be held on Sunday, Jan. 22, 2023 at 6 p.m. with John Sanchez praying the Rosary. The mass of resurrection will be celebrated at 10 a.m. on Monday, Jan. 23, 2023 with Father Christopher Martinez as celebrant both services will be held at Our Lady of Guadalupe in Ocate, N.M. Interment following at the San Jose Cemetery in Canada Bonita with the following serving as casket bearers, Kirk Davis, Randy Davis, Pepe Mares, John Sanchez, Ernesto Lopez, and Danny Alcon. Honorary casket bearers: Patrick Trujillo, Julia Davis, Jimmy Swartz, and Isaac Chavez. 
Arrangements are entrusted to and under the care of Rogers Mortuary, 600 Reynolds Ave., Las Vegas, N.M. 87701, 505-425-3511 or 1-800-479-3511.
Please visit our online website www.rogersmortuarynm.com to sign the online register book.