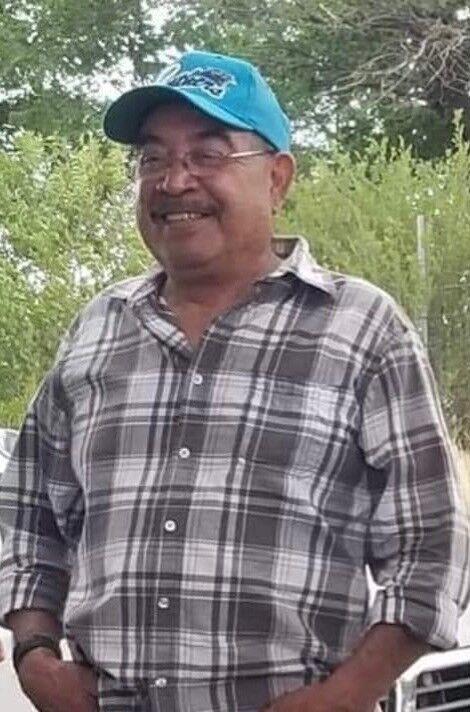 It is with great sadness that we announce that our father, Juan E. Armijo, 72, a resident of Wagon Mound, N.M., passed into the arms of the lord on Thursday, Nov. 25, 2021, surrounded by his loving family.
He was preceded in death by his father Jose George Sanchez; mother Isabel Armijo; brother Paul Sanchez; and great grandson Francisco Armijo.
Juan is survived by his three children, Ernest Armijo (Jynella), Debbie Young (Filbert) and Veronica Armijo. He is also survived by his siblings, Sophia Salazar (Larry), George (Doody) Sanchez, Bobby Armijo (Sylvia); and special niece Nora Sanchez.
Juan's greatest love was his 13 grandchildren and his 14 great grandchildren. Also, his numerous nephews, nieces, cousins and friends.
Juan served his country proudly serving in the United States Army during the Vietnam War. He received two purple hearts and numerous other accommodations during his service. 
Juan was a man of deep devotion and always willing to help his community and church. He was also a member of the Knights of Columbus. Juan had a strong devotion to his beloved morada "Morada de San Jose".
A Rosary will be held at the Santa Clara Catholic Church in Wagon Mound, N.M. on Friday Dec. 10, 2021, at 6 p.m. Mass of Christian burial will be on Saturday Dec. 11, 2021, at 10 a.m.
Burial will follow the mass at the Santa Clara Catholic Cemetery.
Serving as Pallberars: Jacob Armijo, Juan Young, Mathew Young, Augustine Salazar, Joseph Salazar and Robert Salazar. Honorary Pallberars will be all his grandchildren and great grandchildren.
 A special Thank You to Juan's closet friends, Norma Jean Vasquez and Tommy (Dabo) Herrera for always being there for the family.
Arrangements are entrusted to and under the care of Rogers Mortuary, 600 Reynolds Ave., Las Vegas, N.M. 87701, 505-425-3511 or 1-800-479-3511