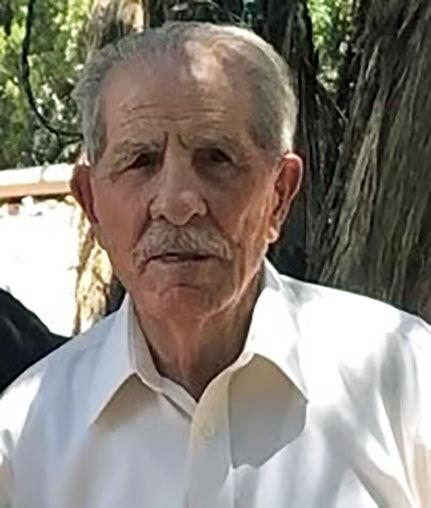 Jose P. Sena
Jose P. Sena passed away peacefully on Jan. 20, 2023, in his home in Sena, N.M. surrounded by his family. He was born Feb. 26, 1924 in Puertocito, N.M. to the union of Juan and Rita Sena. 
Joe, as he was often called, was preceded in death by his parents; his wife of 73 years, Elisa Garcia Sena; and many other family members. 
He is survived by his sons, Tomas Sena (Yvonne), Leroy Sena (Margaret), Evaristo Sena (Molly), Donald Sena, Matthew Sena (Denise) and Peter Sena (Christina); daughters, Mellie Gonzales, Consuelo Chavez (Albert) Catherine Sena Gould, Monica Sena, Rita Bustamante (Ralph), Frances Montoya (Steve), Bernadette Sena, and Elizabeth Sanchez (Allen); brothers, Florian Sena and Ernest Sena; sister Eufelia Bustamante; brothers-in-law, Joe T. Garcia (Georgia) and Daniel Garcia Jr.; sisters-in-law, Beatrice Moya, Rosabel Gallegos (Roy), Delfinia Gallegos (Andy), Prescilla Ortega-Mathis (Ray), Dahlia Maestas (Jose); 40 grandchildren; 62 great grandchildren; and 1 great-great granddaughter; numerous nieces, nephews, cousins, friends and godchildren.. 
Rosary will be prayed by The Hermanos Cruzados on Monday, Jan. 30, 2023 at 6 p.m. at Our Lady of Guadalupe Church in Villanueva, N.M. Mass of Christian Burial will take place on Tuesday, Jan. 31, 2023 at 10 a.m. also at Our Lady of Guadalupe in Villanueva. Following will be a Catholic burial at the Sena Cemetery in Sena, N.M. with full military honors. Fr. Rob Yaksich will preside at the funeral mass and burial. 
Serving as pall bearers will be Everett Sena, Kenyatta Carter, Andrew Sanchez, Daniel Garcia Jr. Danny Gallegos, Paul Chavez and Lionel Gonzales. 
Honorary pall bearers will be Adrian Chavez, Aaron Sena, Martin Garcia, Ted Lafebre, all his grand- children, great-grand-children and his great-great-granddaughter. In lieu of flowers, donations can be made to Our Lady of Guadalupe Church, PO Box 39, Villanueva, N.M. in memory of Jose P. Sena. 
Arrangements are entrusted to and under the care of Rogers Mortuary, 600 Reynolds Ave., Las Vegas, N.M. 87701, 505-425-3511 or 1-800-479-3511. 
Please visit our online website www.rogersmortuarynm.com to sign the online register book.