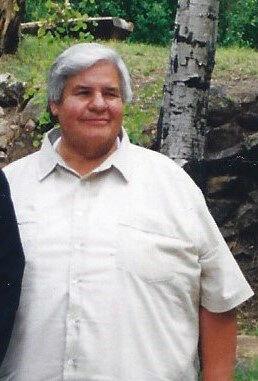 Freddie Vigil
Freddie Vigil gained his heavenly wings on the peaceful morning of June 2, 2022 with his wife Martha G. Vigil and son Christopher A. Vigil by his side.
Freddie was born on Feb. 13, 1948 in Las Vegas, N.M. to the Late Tomas D. Vigil and Annie M. Vigil.
Freddie graduated from RHS Class of 1966. He was a very talented tenor sax player. He served in the Vietnam War as an Infantryman in the US Army. Upon his return home, he became a meatcutter, where he worked for several years for Foodway and Safeway. He attended LVT1 (LCC), where he became a culinary artist and was well-known for his specialty cakes, catering events, and Fast Freddie's Burritos. He was a strong supporter of many Veterans Support Services and a board member of the Veteran's Integration Center in ABQ.
Freddie had a passion to help veterans, the underserved, and animals. He fought a fierce battle with dementia until his Lord and Savior Jesus Christ called him home.
He was preceded in death by his parents; in-laws, Elauterio and Apolonia Montaño; sister Isabel Padilla (Larry); brother Charlie T. Vigil; sister-in-law Magdalena Montaño; and brother-in-law Boleslo Lovato.
He is survived by his wife Martha G. Vigil of the family home; son Christopher A. Vigil (Marisa); brother Tom Vigil (Dolores) of Santa Fe; sister Stella Lovato of Belen; brothers-in-law, Louie Montaño and Fidel Montaño both of Gallinas Canyon, Mike Montano (Shaely) of Texas; sisters-in-law, Rita Pokorny (James) of Georgia, and Tina Marquez of Las Vegas; and numerous nieces and nephews.
Freddie always had our six.
Funeral services will be held at Immaculate Conception Church with a Rosary on Sunday, June 12, 2022 at 7 p.m. and Funeral Mass on Monday, June 13, 2022 at 9 a.m. Interment will be held at the Santa Fe National Cemetery at 9 a.m. on Tuesday, June 14, 2022. 
Pallbearers will be Larry Padilla, Mario Padilla, Fidel Montaño, Mike Montaño, Charles Vigil and Christopher Ranson. Honorary pallbearers will be David Lesse, Patrick Garcia, and David Vigil.
Arrangements are entrusted to and under the care of Rogers Mortuary, 600 Reynolds Avenue, Las Vegas, N.M., 1-800-479-3511 or 505-425-3511.