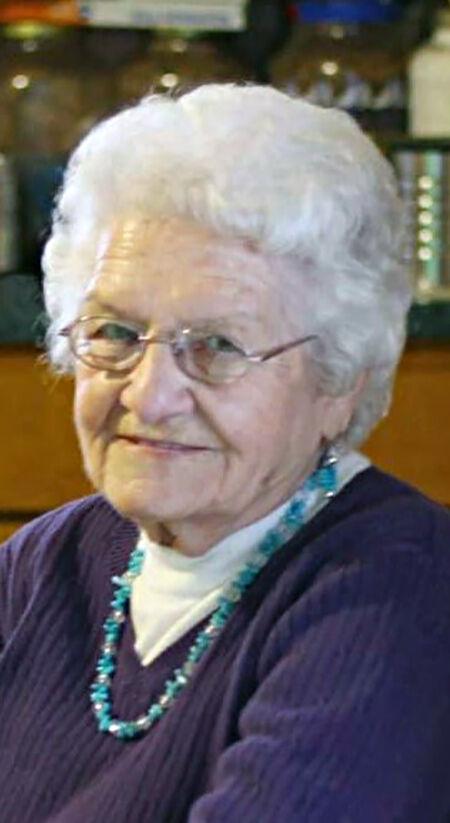 Alice Alcon
Alice passed away peacefully at home April 1, 2023, surrounded by her family. 
She was born April 6, 1927, in Canon de Las Manuelitas, Sapello, N.M. to Manuel and Manuelita Padilla. 
She was five years old when her mother passed away. She and her two younger siblings Jose & Viviana Padilla were raised by their father Manuel Padilla and their two aunts Cleotilde and Rita Padilla. 
At an early age she also took care of her siblings and grew up to be a wonderful wife, mother, grandmother, great and great-great grandmother. She will forever live in our hearts and be remembered for the caring and loving person that she was. 
Alice married Levi Alcon on Dec. 15, 1945, shortly after he got out of the service. They were blessed with five children, Idine Michalski (Nick); Jo Ann Alcon-Ortiz (Tommy); Eddy Alcon (Jeanette); Diane Medrano (Roland); Levi Jr. Alcon (Yvette). Alice and Levi celebrated 67 years of marriage before he passed away in 2013. 
She was also preceded in death by her grandson Justin Alcon, whom she loved like a son; her parents; her aunts who raised her; brother Jose Padilla and sister Viviana Sandoval; her step-brother & sister Jerry & Elosia Padilla; and many in-laws. 
She is survived by her five children; 17 grandchildren; 35 great grandchildren; and 7 great-great grandchildren.
Arrangements are as follows: Viewing for family and friends on Friday April 7, 2023 from 4-7 p.m. at Rogers Mortuary. Memorial Service Saturday, April 8, 2023 at 1 p.m. at the Cleveland Church of Christ, Cleveland, N.M. Burial immediately following at the Justin Alcon Family Cemetery, La Cruz Ranch, South of Mora on Highway 518 (Eddy's Place). 
Arrangements are entrusted to and under the care of Rogers Mortuary, 600 Reynolds Ave., Las Vegas, N.M. 87701, 505-425-3511 or 1-800-479-3511. 
Please visit our online website www.rogersmortuarynm.com to sign the online register book.