For the New Mexico Highlands University athletic department, it has been a whirlwind of emotions for the last couple of weeks. It started when the Cowboys had over 30 positive cases within the football program in mid-August. The high number of cases forced the team to shut down the last week of their Fall camp and left their status up in the air for the season opener against Fort Lewis. It looked like all was finally well for the Cowboys on Friday, Aug. 27 when the team was able to return to the field for practice after undergoing a quarantine period for the personnel who tested positive. However, later that same day the Cowboys got a message from the governor's office telling them to temporarily pause all activities again, once again putting their season opener on Sept. 4 in jeopardy.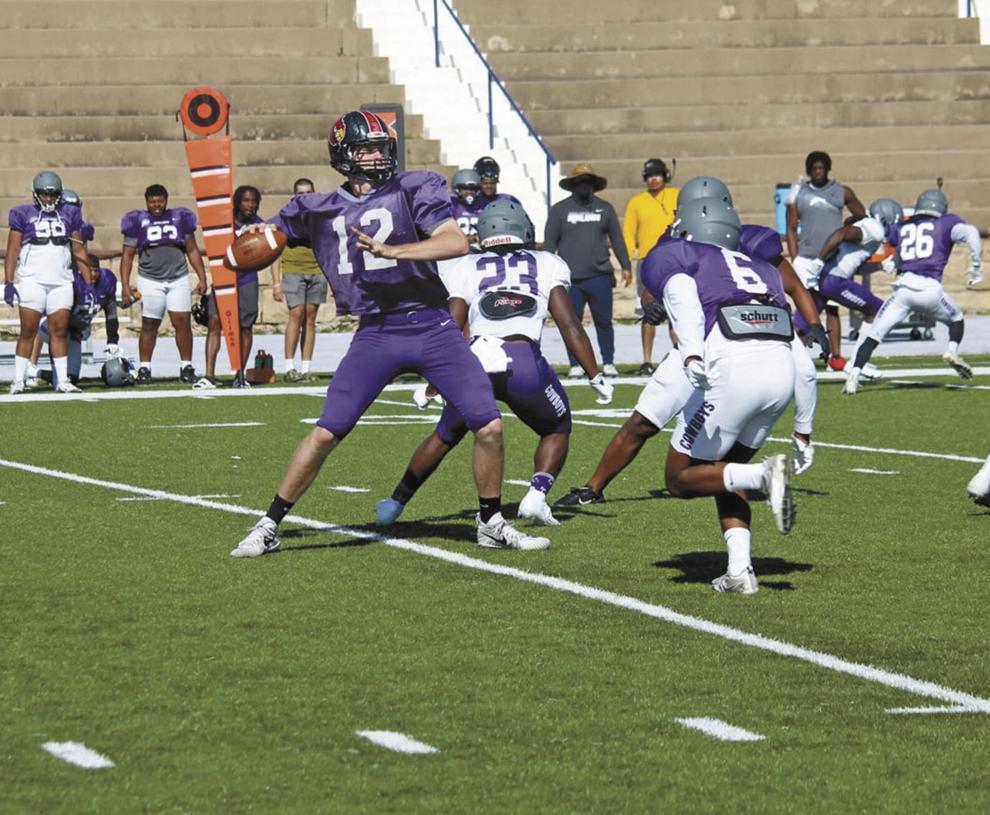 It was not just football that was forced to shut down, but the other fall sports such as soccer, volleyball and cross country were told that they could not practice either. After all the hard work from the school that went in to putting together a season for their fall sports the future of their seasons were very much up in the air. It left NMHU athletic director Andrew Ehling scrambling, figuring what he could do to make sure his teams got the chance to compete this weekend and going forward.
"Not knowing what the next day was going to bring I think was the hardest part of all this," Ehling said. "Not just with football, but with all of our fall sports we dealt with that."
The message from the governor's office came because they had been given outdated information about the football team's COVID situation. They were under the impression that the Cowboys had over 30 active cases as of Friday, and when they got that message it was clear to the state government that NMHU athletics should be shut down. That data was old, though, from almost two weeks prior when the football team first shut down. It was not up to date. On Monday Ehling and football coach Josh Kirkland were scrambling, doing whatever it was that they needed to do in order to play.
"It was just assuring the governor's office that we were following the correct procedures when it comes to the NCAA, the CDC and what the state expects," Ehling said. "Especially in a sport like football when you have 100 kids and they're spread out living on campus, they're spread out living in town and they all have a different situation."
After all of the work was done and test results for the athletes came back the Cowboys were told that they were allowed to practice this week, and this weekend they would be allowed to play. All of the fall sports are scheduled to open their season this week, so getting that news was one big sigh of relief for Ehling, and for NMHU head football coach Josh Kirkland the news came with a great deal of excitement, as he had his team on the field preparing for Saturday's game on Monday, immediately after they got word from the governor's office that they were allowed to practice.
"It's been a rollercoaster of emotions, I'm just as ecstatic as I can get," Kirkland said. "We literally were told that we could go, and we were practicing two hours after that."
Ehling was also excited that he would get the chance to see all of his fall sports teams play over the weekend, especially with all of the work he had to do in order to get to this point.
 "I'm getting chills right now just thinking about it," Ehling said, "I'm so excited for coach Kirkland and his staff, coach Duke and his staff and our student-athletes who have been waiting a year to do this, to play in a game that's meaningful."
 One thing Ehling did emphasize outside of his excitement is that his department and the teams individually are going to have to learn how to live with COVID-19 because the virus is not going anywhere. This is something they are going to have to deal with throughout the athletic calendar. Right now, though, he is just looking forward to seeing the fall sports teams have meaningful games for the first time in his tenure as athletic director at NMHU.