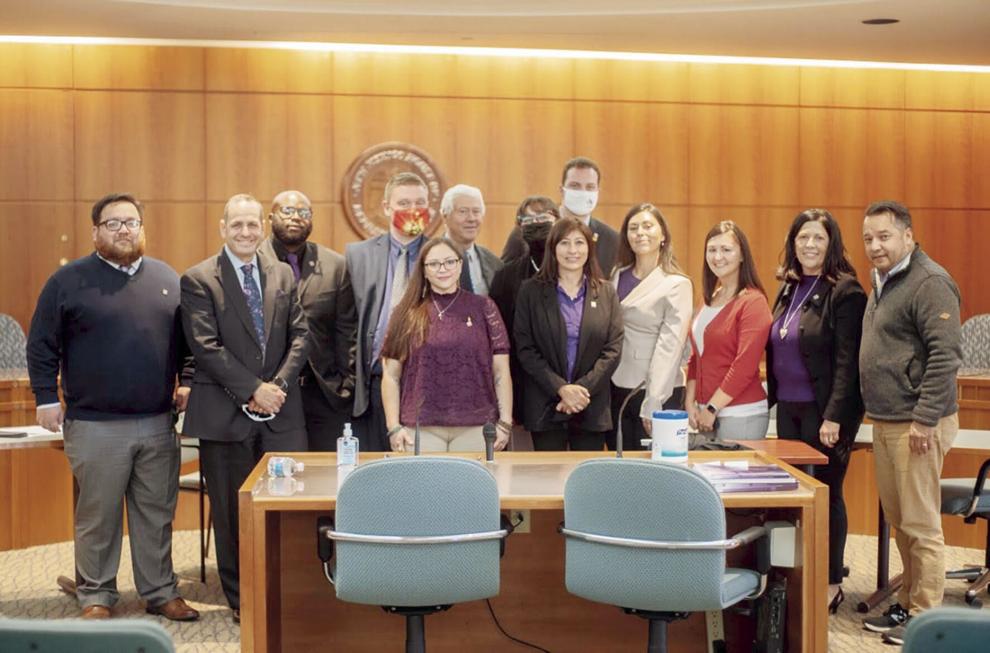 Seven students at New Mexico Highlands University have been selected for the Legislative Leadership Fellowship Program, which allows them to participate in New Mexico's legislative session and learn about state politics and legislative processes: Ginger Anderson, Staci Bostic-Baros, Andrea N. Gomez, Jordan Kroeter, Manuel Luna, Julius McDade, and Michael Plantenberg.
Denise Montoya, associate vice president for finance, administration, and government relations, and Max Baca, vice president for finance, administration, and government relations develops and enhance this program year to year. Melissa Casias, executive administrative assistant, is key to helping coordinate these efforts.
The fellowship at Highlands is in its fourth year. Interested students go through a selection process early in the fall semester and begin observing legislative hearings in November. Montoya said that this year despite COVID, each fellow was able to shadow legislative officials during the legislative session, and one fellow was hired to work part-time as an intern for the Legislative Finance Committee. In addition, the fellows can receive academic practicum credits through the Department of Political Science.  Dr. Elaine Rodriquez, professor and City of Las Vegas councilwoman, works with students on lobbying legislators and researching and tracking legislation while developing their leadership skills.
"The students learn about the state's budgeting process and legislation, and we also meet with government officials, including the governor, lieutenant governor, senators, representatives, lobbyists, and leaders throughout the state," said Montoya. "These leaders share their experiences with the legislative process, discuss issues we face in New Mexico, and provide the students leadership wisdom."
Montoya said the fellows also spearhead lobbying for a one-time capital outlay request each year. After soliciting ideas from fellow students at Highlands University, the fellows decide on an initiative and learn how to lobby for one-time capital outlay funding. In past years, Montoya said students have received as much as $70,000 to contribute toward initiatives to include improving technology on campus, purchasing gym equipment and gaming devices, and creating a coffee shop ambiance at the Purple Brew where students can study and socialize with their peers.
"This year, the fellows asked for solar panels and recharging stations to reduce the university's carbon footprint. They conducted research on the savings that it could potentially bring to the university if we were able to install solar panels coverings in the parking lots, and add additional recharging stations," said Montoya. "They're asking for a million dollars this year. It's a bold ask. This group of students is very socially conscientious about protecting our environment."
"This program provides an opportunity for fellows' voices to be heard through lobbying efforts that can lead toward creating long-term meaningful change on campus that all students can enjoy beyond graduation," said Baca. "The fellows' initiatives help Highlands's recruit and retain students."
Fellows successfully partnered with the Attorney General's office last year, and this year, David Abbey, director of the Legislative Finance Committee (LFC), and Jeannae Leger, assistant director for administration of the LFC and president of Highlands University's Alumni Association, decided they wanted to be more involved with the Highlands legislative fellows.
Leger attributes her employment with the state legislature to the opportunities Highlands offered her when she was a student.
"Highlands elevates folks to a level that they didn't think that they could get to. Some people don't think that they can work for the legislature—I didn't even know about the legislature myself," said Leger. "But it was being from Las Vegas and my opportunity of being at Highlands that really got me in the door."
According to Montoya, student fellows come from small, rural areas like Mora, Las Vegas, and Farmington. International students from Nicaragua and Mexico have also been involved in the program.