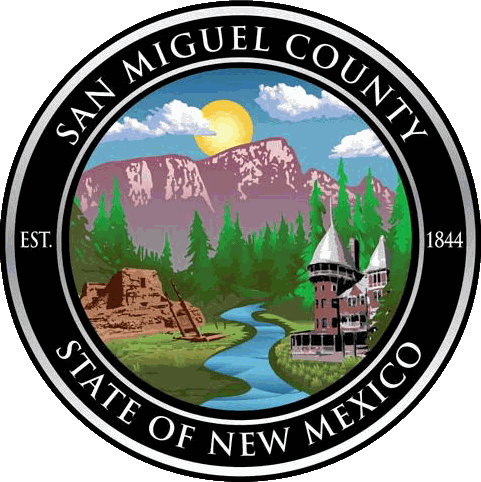 San Miguel County Commissioner Harold Garcia was selected as the commission chair for the second year in a row during Tuesday's regular meeting. 
The commission chair is the top position on the county's governing body, and is selected by the commissioners themselves. Garcia took over the position last year, replacing Maria Martinez, who was not re-elected in November 2020. 
"It's definitely an honor to have the commissioners select me again this year," Garcia told the Optic. "It shows me they believe in what I'm doing, and that they believe we are doing a good job."
Garcia said being commission chair is a big commitment, and one he appreciates because he wants to keep the county moving in a positive direction. He also told the Optic he plans to run for a second four-year term this year. He was first elected to the county commission in 2018.  
In addition, commissioner Janice Varela was selected for her second consecutive year as the commission's vice chair. 
When making motions to select both Garcia and Varela for those leadership positions, fellow commissioners Max Trujillo, Martin Sena and Kenneth Medina discussed the need for consistency, and how maintaining the status quo would help them continue to succeed. 
Garcia talked about the recent progress made by the county, with development of an inpatient drug treatment facility continuing to progress. He said the project could see multi-million dollar investments this year, which would further accelerate the timeline of the facility opening. He also discussed the nearly $5 million investment made by the New Mexico Department of Transportation for road improvements in Pendaries, an area badly in need of work. 
As a former public works director, roads remain one of Garcia's top priorities. 
"We have over 500 miles of county roads here in San Miguel County," Garcia said. "If we can't ensure that our residents are safe when they travel on all our roads, we shouldn't even be on the county commission." 
He also said he believes the county has improved under the leadership of County Manager Joy Ansley, who took over last year, after Vidal Martinez was let go from the position. 
The county commission will next meet on Feb. 8 for its monthly meeting. 
Correction: A previous version of this article incorrectly stated Mark Dominguez was a county commissioner instead of Kenneth Medina. Dominguez serves on the Luna Community College Board of Trustees.