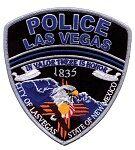 A Las Vegas man faces three felony charges after allegedly injuring his ex-girlfriend during a domestic dispute and shattering multiple car windshields with rocks with children inside. 
Daniel Lucero, 35, also faces four misdemeanor charges stemming from the Nov. 15 incident. 
Lucero initially called police to report that his ex-girlfriend and her mother had broken into his home. However, he became uncooperative when he realized the officer was recording their conversation and asked, "Is this for court?" 
Shortly after, his ex-girlfriend and her mother arrived at the Las Vegas Police Department to report a domestic violence incident involving Lucero. His ex-girlfriend claimed that, following an argument at a birthday party at JC's Pizza, she had gone to Lucero's residence on Pecos Street to collect her belongings. 
However, when she arrived at the residence with her mother, she claimed Lucero grabbed her by the arms and threw her against a wall. When the woman's mother attempted to intervene, the woman told police Lucero struck her in the face. The woman's mother said Lucero then grabbed a "bucket that contained an unknown household cleaning liquid," and allegedly threw it at her, "causing the open wound on her face to burn," according to court records. 
The women said they left the residence and attempted to get back in their separate vehicles, but Lucero allegedly followed them outside and threw large rocks at both vehicles, shattering the windshields. 
According to the women, there were children in both vehicles at the time of the incident, and it is believed glass from the windshields may have injured multiple people. 
While speaking to police, Lucero's ex-girlfriend said he had stolen her keys during the altercation, and refused to give them back. She also told police Lucero was drunk during the incident. Police found multiple injuries on the woman while examining her. 
Police were initially unable to speak to Lucero following the woman's statement, due to him being uncooperative during their earlier visit, according to court records. 
Lucero faces felony charges of aggravated battery with great bodily harm, child abuse and aggravated assault. He also faces misdemeanor charges of battery, aggravated battery and two counts of criminal damage to property. 
He was released from the San Miguel County Detention Center on a $10,000 unsecured bond and he was ordered to avoid contact with all victims. He is scheduled for a preliminary examination in the courtroom of Melanie Rivera on Dec. 7.