A San Miguel County man was arrested after two men said he pointed a gun in their faces and threatened to kill them.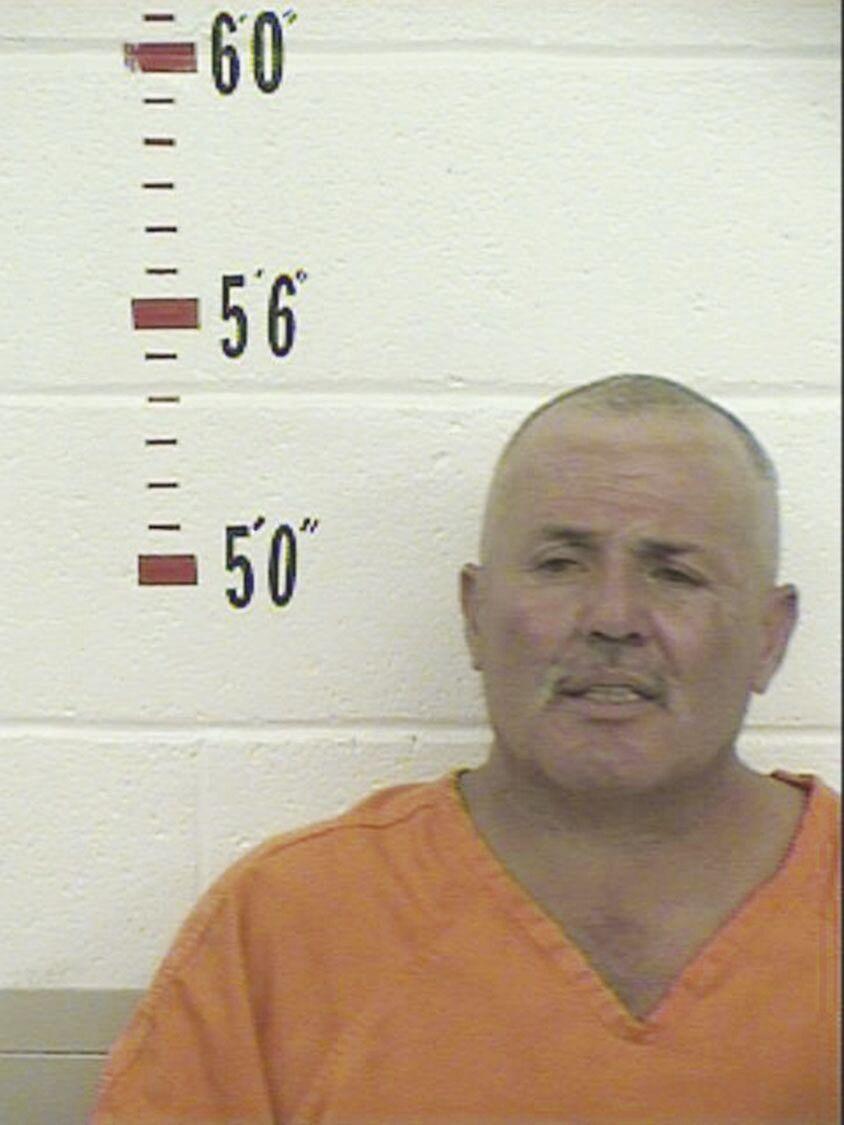 Robert M. Saiz Sr., 49, of Tecolotito, was arrested Monday and booked into the San Miguel County Detention Center on two counts of aggravated assault with a deadly weapon, and one count of being a felon in possession of a firearm.
Deputies with the San Miguel County Sheriff's Office responded to Saiz's home Saturday afternoon after two men reported the threats by Saiz, according to an arrest affidavit filed in San Miguel Magistrate Court.
The men told police they were traveling along a dirt road near Tecolotito when Saiz began following them. The men were on their way to bury a dead goat, and one of the men told police that Saiz wanted the horns from the goat before they buried it.
The men said that when Saiz saw a holstered handgun in the door of their vehicle, he "became angry" and accused them of threatening him. The men told police that Saiz went back to his vehicle, retrieved a handgun and pointed it at them and said, "I'll kill both of you mother f------ and leave you out here, I don't give a f----," according to the affidavit.
Saiz denied seeing the men that day or pointing a gun at them, telling police he was in Las Vegas "fighting someone over a stolen vehicle," according to the affidavit. He further told police he didn't report the vehicle as stolen because he is not a "cop caller."
An arrest warrant was issued in part because Saiz was convicted of voluntary manslaughter in 2016, and because of that conviction, he cannot legally be in possession of a firearm or ammunition.
The conviction followed the May 2015 death of Joseph Sena, 50, who died after a fight with Saiz outside an Allsup's on S. Grand Avenue. The Office of the Medical Investigator ruled the death a homicide by blunt head trauma. Under terms of a plea agreement, Saiz was sentenced to 18 months in prison.
Saiz was convicted of aggravated battery with a deadly weapon following an April 2015 crash when he struck a vehicle on N. Grand Avenue after attempting to purposely crash into the vehicle of a man he was arguing with at a different Allsup's.
In May 2020, Saiz was arrested on multiple charges — including aggravated assault with a deadly weapon, aggravated battery and being a felon in possession of a firearm — after being accused of shooting toward a neighbor's house. One man was treated at a hospital for a gunshot wound to an arm.
The charges were dropped in February because a key witness was uncooperative, according to court records.
Saiz was in court Tuesday for a hearing on his latest charges. Judge Christopher Baca set bond for Saiz at $5,000 cash or surety. If released on bond, Saiz would be on house arrest with a GPS monitor. He remained in custody at SMCDC as of this writing.
Saiz is scheduled to appear in Magistrate Court Sept. 7 for a preliminary hearing.