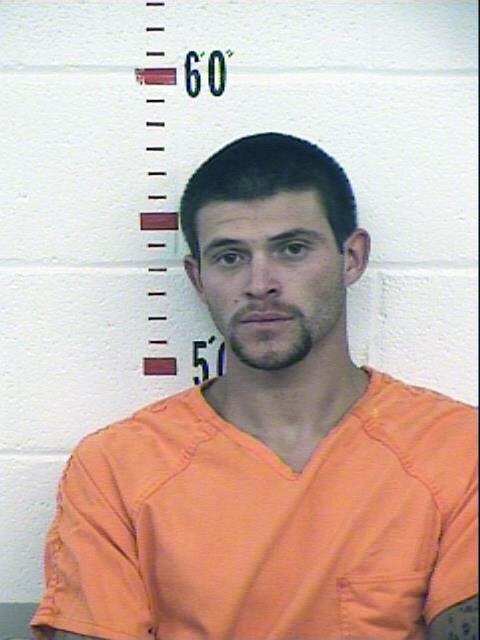 One of the seven men facing a charge of first-degree murder in the beating death of a jail inmate has been charged with stashing deadly weapons in his cell, and attempting to escape from custody.
Corrections officers were transporting Conrad J. Atencio, 25, to the San Miguel County Detention Center following a dental appointment around 9 a.m. Dec. 9. As the transport van stopped at the intersection of Grand Avenue and Alamo Street, an officer heard a door open and witnessed Atencio's hands on the door handle, according to an arrest affidavit filed in Magistrate Court.
As the van slowed, Atencio pleaded with officers to let him run, according to the affidavit, saying, "I'm f----- anyways, please let me out."
When corrections officers inspected the van, they determined a child safety lock had been switched from the locked position to the "free" position, according to the affidavit.
Corrections officers searched Atencio's cell. Behind the bunk bed, officers located "two long skinny pieces of metal that could be used as a deadly weapon," according to the affidavit.
Atencio has been charged with two counts of possession of a deadly weapon by a prisoner, and one count of escape or attempt to escape from jail.
Bond was set at $10,000; however, Atencio is already being held on a $250,000 cash-only bond in the murder case, along with bonds in at least three other cases.
On Nov. 16, two pending cases against Atencio were transferred from Magistrate Court to District Court. In the first case from June 8, he's charged with felony escape from a community custody release program. In the second case, Atencio is accused of failing to appear for a trial scheduled for June 22 in a case where he faces a charge of aggravated fleeing a law enforcement officer.
Atencio and six others have been charged with first-degree murder, conspiracy to commit first-degree murder and tampering with evidence in the Nov. 1 beating death of 40-year-old Eric L. Vigil. Atencio and one other inmate also face an additional charge of conspiracy to commit tampering with evidence in the case.
Following a two-week investigation, police determined Atencio and six others had participated in the death of Vigil inside cell 232 of Echo Pod at the San Miguel County Detention Center. One of the men struck Vigil, and as he fell to the ground, the other men rushed inside the cell where they repeatedly punched and kicked him. Corrections officers later located Vigil dead on the floor of the cell.
Atencio is scheduled to appear in Magistrate Court Jan. 12 and 13 for preliminary hearings in that case. He is scheduled to appear Jan. 25 for a preliminary hearing in the most recent case.