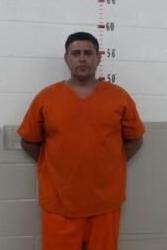 A man armed with a knife was nearly shot while attempting to rob a woman at a Las Vegas motel, according to an arrest affidavit.
Police arrested 40-year-old John Paul Chavez April 27, two days after they say he threatened the woman with a knife and demanded cash while inside her room at a motel near North Grand Avenue and Baca Avenue.
The woman called the Las Vegas Police Department just after midnight on April 25 to report the attempted robbery, according to an arrest affidavit filed in San Miguel Magistrate Court.
Chavez, a friend of the woman's son, had come to the room where the woman was living asking to use the bathroom while he waited for his girlfriend, she told police. She said Chavez was acting "strange," and that when he went to the bathroom a second time, she retrieved her 9 mm pistol.
Standing in the doorway of the bathroom with a knife, Chavez asked for cash. The woman told him she needed her money to pay rent and Chavez said, "Give me the f------ money or I'm going to f------ kill you," according to the affidavit. The woman fired two rounds at Chavez and he fled the motel room, running toward Grand.
Police caught up with Chavez on April 27 and booked him into the San Miguel County Detention Center after charging him with one count of assault with intent to commit a violent felony.
During an April 28 hearing, Judge Melanie Rivera set a $10,000 unsecured bond for Chavez. He was released from SMCDC later that day. Under the conditions of his release, Chavez was ordered to remain in his home from 7 p.m. to 7 a.m. each day.
Chavez has multiple convictions in New Mexico dating back to October 2015 when he was convicted of battery against a household member and felony larceny.
In 2016, Chavez was again convicted of battery against a household member, as well as aggravated assault with a deadly weapon and burglary of a vehicle.
In February, Chavez was charged with misdemeanor battery after allegedly striking a woman in the face and throwing a baseball bat at her. The case is still pending in Magistrate Court. A bench trial is scheduled to begin July 21 in the case.
Chavez is scheduled to appear in court June 14 for a preliminary hearing in the new case.