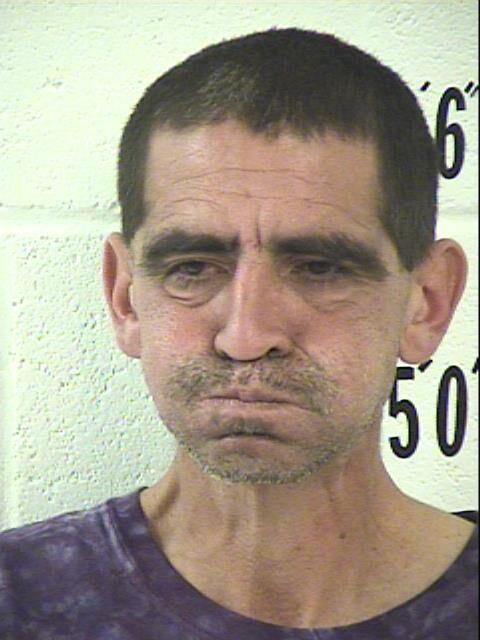 A Las Vegas man with a lengthy criminal history is facing new charges for threatening employees of a local business, as well as a man headed to a medical appointment.
Officers with the Las Vegas Police Department arrested 44-year-old Jacob A. Montoya after responding to a call just after 11 a.m. Monday about a man being threatened in the area near Grand Avenue and Lincoln Avenue.
A man told officers he was on his way to a scheduled medical appointment and was getting out of his vehicle when a man — later determined to be Montoya — pushed him and said he was going to "kick (his) a--," according to a statement of probable cause filed in San Miguel Magistrate Court. Montoya also took the man's oxygen bag from him.
While police were interviewing the man, a witness notified officers that Montoya was walking by a nearby business.
Police arrested Montoya, and while handcuffing him, police allege Montoya pulled away from them and refused to comply with the officer, according to the charging document. In Montoya's pocket, officers located a piece of foil that contained methamphetamine.
After the arrest, employee's of a nearby business notified LVPD officers that earlier in the day, Montoya had been banging on the door prior to the business opening for the day, and when a female employee refused to open the door for him, Montoya began kicking the door as he called the woman "a f------ b-----," according to the charging document.
Montoya was booked into the San Miguel County Detention Center Monday, charged with felony possession of a controlled substance, as well as misdemeanor charges of resisting an officer, battery and public nuisance.
 During a Tuesday hearing, Judge Christian Montaño set bond for Montoya at $10,000 cash or surety, citing previous felony convictions and that he's failed to appear for court hearings in the past.
Court records show Montoya has a long criminal history dating back to 1995, including convictions for aggravated battery, battery upon a peace officer, aggravated burglary, robbery and auto theft.
Montoya has been charged multiple times for a slew of crimes, including multiple accusations of assault or battery, but Montoya has been incompetent to stand trial on several occasions resulting in charges being dismissed.
Most recently, Montoya was found incompetent to stand trial in a case from October 2019 where he was accused of exposing himself to customers at a Las Vegas bank.
While arresting Montoya, he spit in an officer's face, and while transporting him to the police station, Montoya slipped his handcuffed hands from behind his back to the front of his body, then destroyed a security camera inside the police vehicle, according to a statement of probable cause filed in Magistrate Court in 2019.
The court ordered a competency evaluation in November 2019, stating that Montoya did not show "clear rationale" and that he could not properly assist his defense attorneys during a trial. The case was dismissed Feb. 7, 2020.
Montoya is scheduled to appear in Magistrate Court Feb. 24 for a preliminary hearing. He remained in custody at SMCDC as of this writing.