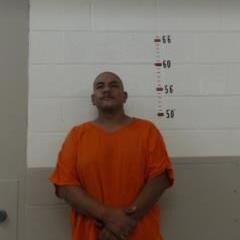 Seventeen months after 27-year-old Leroy Salazar was shot and killed on a snowy January evening in 2021, prosecutors have charged a Las Vegas man in his death.
Clyde R. Gonzales, 40, is charged with one count of first-degree murder and one count of tampering with evidence. Police had identified Gonzales as the shooter in February 2021, but charges were not filed until Friday, following a lengthy police investigation.
While responding to a shooting call on Jan. 18, 2021, officers with the Las Vegas Police Department located Salazar on the ground in front of his home in the 2200 block of Collins Drive, bleeding from an apparent gunshot wound. Salazar later died at Alta Vista Regional Hospital.
That evening, Gonzales checked into the same hospital to be treated for a gunshot wound.
Police recovered several spent shell casings from Salazar's property — four 9 mm casings and six .45-caliber casings — along with a pistol holster, and in a separate area near a vehicle, investigators located a .45-caliber Remington pistol.
An arrest affidavit filed in San Miguel Magistrate Court on Friday revealed that investigators found even more evidence once snow in the area melted, including an additional casing from a 9 mm round and one from a .45-caliber round.
Investigators interviewed Gonzales the night of the shooting while he was being treated at Alta Vista. He admitted to shooting Salazar, and told police he'd thrown the gun used into the bed of a truck parked on First Street. Investigators found the truck and recovered a Taurus 9mm pistol from the back.
Investigators also spoke to the man who'd called 911 the night of the shooting. He said he'd heard five to seven gunshots, and that Salazar's 7-year-old son came to his door and said his father had been shot.
Multiple security cameras were located in the area, including a security system at Salazar's home. Police obtained a warrant for the system's hard drive, and it was taken to a lab in Albuquerque, according to the affidavit. In November 2021, the hard drive was retrieved and the surveillance footage was reviewed.
Camera footage on the system's hard drive showed that at 10:52 p.m., Jan. 18, 2021, Gonzales parked about 130 feet from Salazar's driveway, and then walked up the driveway. About a minute later, he began throwing rocks at Salazar's home, and at 10:54, Salazar walked out of his house. Investigators say that's when the first flash of a presumed firearm is seen on camera.
After several shots were exchanged, Gonzales ran down the driveway and Salazar returned to his home, according to the affidavit.
Investigators again interviewed Gonzales on Jan. 22, 2021. Gonzales told police he was angry at Salazar because he'd been in a relationship with Gonzales' daughter, who was 14 at the time. Gonzales told police that the relationship had been ongoing since 2017 or 2018, when the girl was as young as 12.
Gonzales told police he'd gone to Salazar's home on Jan. 18 to speak with him "like a man," and that he parked at the end of the driveway and threw rocks at the house to get Salazar to come outside.
Gonzales said, "I thought I told you to stay away from my family, bro?" according to the affidavit. He said Salazar responded by saying, "F--- you and your family," then fired a weapon at Gonzales from the doorway. He said that's when he fired at Salazar, and as he ran down the driveway, Salazar continued to shoot at him, with at least one round striking him in the chest.
Gonzales told police he drove away from the area, tossed his gun into the back of the truck and called his aunt to say he'd been shot.
Police say that during questioning, Gonzales first said he'd only shot at Salazar once, but that he later said he shot "once or twice," according to the affidavit.
On several occasions, investigators attempted to interview Gonzales' teen daughter about her involvement with Salazar. A safe house interview was scheduled, but the girl did not show up for the appointment, according to the affidavit. Police said further attempts to reach the girl and her mother were ignored.
The warrant for Gonzales' arrest was issued Friday, but he was already in custody at the San Miguel County Detention Center.
Gonzales was arrested June 16, charged with three counts of child abuse, aggravated assault, and shooting at or from a motor vehicle following an investigation by the Las Vegas Police Department.
LVPD officers were called to the 1000 block of Montezuma Street after a woman called police to say Gonzales fired two shots at her while she was inside a vehicle with three children. She told police Gonzales was mad about a Facebook post she'd made, according to an arrest affidavit filed in San Miguel Magistrate Court.
During a June 21 hearing, Judge Christian Montaño set a $10,000 cash-only bond for Gonzales in that case.
During a hearing Monday related to the first-degree murder charge, Judge Melanie Rivera set bond for Gonzales at $50,000, cash or surety. He remained in custody at SMCDC as of this writing.