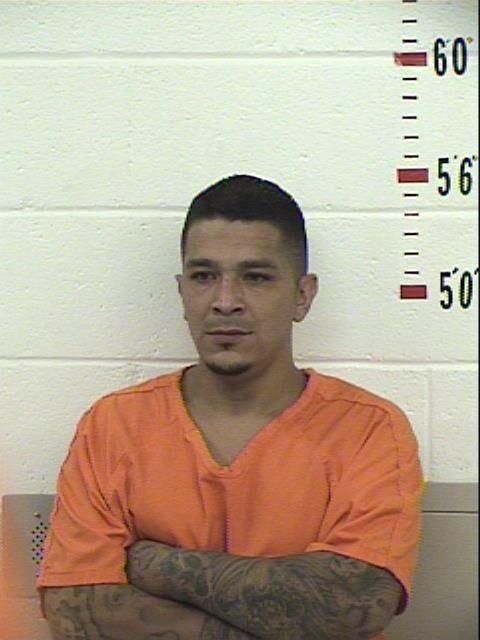 Two people face felony charges for allegedly breaking into a Las Vegas apartment. Both told police they were fire evacuees and had nowhere else to go, according to court records.
Police allege that 34-year-old Eduardo L. Gallegos (referred to as Edward Gallegos in some court records) and 41-year-old Justine L. Lucero fled one apartment complex where they'd been staying and were apprehended after breaking into an apartment at a second complex.
Las Vegas police responded to an apartment in the 2300 block of Moreland Street around 3:30 p.m. on May 5 after receiving reports that two people were living illegally in a vacant apartment.
The two fled the area as police arrived, according to an affidavit filed in San Miguel Magistrate Court. Police located the couple at a nearby apartment complex where police say the couple broke into a second apartment in the 500 block of Mountain View Drive.
A woman at the second apartment told police two people who she didn't know were inside her home. The officer entered the apartment with the woman and called for anyone inside to come out. Gallegos and Lucero exited a back room and were taken into custody, according to the affidavit.
During separate interviews, Gallegos and Lucero told officers they were homeless due to fire evacuations and both admitted to breaking into the first apartment through a window. The property manager estimated the damage to the window and lock to be around $600, according to the affidavit. Gallegos and Lucero both admitted to staying in the apartment since May 3.
Gallegos was arrested May 5 and booked into the  Colfax County Detention Center in Raton due to ongoing evacuations at the San Miguel County Detention Center.
Lucero was released because officials could not find a nearby jail that could take her, according to the affidavit. However, a summons to appear in court was issued May 12.
Gallegos and Lucero are each charged with one count of felony breaking and entering.
In 2008, Gallegos was convicted of trafficking controlled substances. In 2012, he was convicted of felony possession of a controlled substance, aggravated burglary, contributing to the delinquency of a minor and evading an officer.
Lucero was convicted of battery against a household member and assault against a household member in 2000.
During a May 6 hearing, Colfax County Judge Buddy Hall set bond for Gallegos at $5,000 cash or surety. The bond had not been paid as of this writing. Gallegos is scheduled to appear in court Thursday in Colfax County Magistrate Court for a preliminary hearing.
Lucero is scheduled to appear in court for a preliminary hearing in San Miguel Magistrate Court May 31.