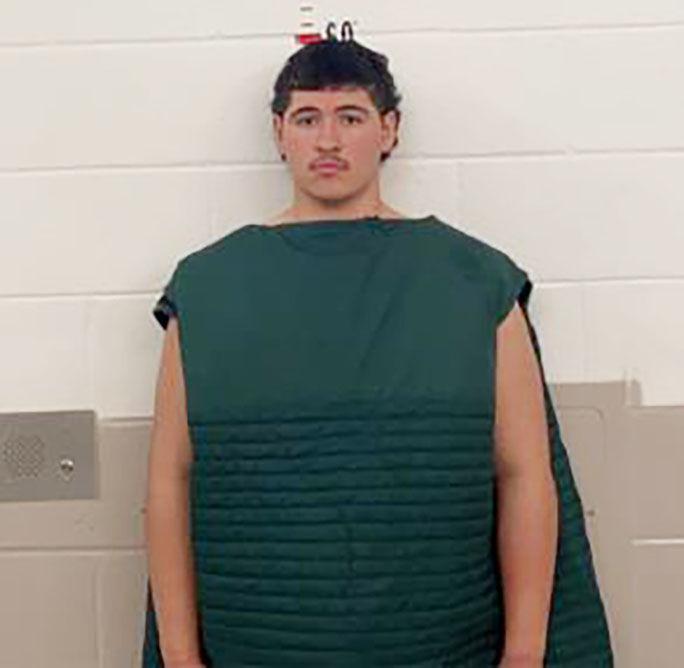 A 17-year-old West Las Vegas football player was shot and killed during a New Year's Eve party. One of his teammates is in custody, charged with murder.
The shooting was reported Friday night at a home near County Road B41E and NM 3 in Ribera. New Mexico State Police arrived around 10:20 p.m. and found 17-year-old Joshua Vigil dead in the kitchen, the victim of a single gunshot wound.
Joaquin S. Sanchez, 18, was arrested and charged with second-degree murder and negligent use of a deadly weapon.
Investigators determined that around a dozen teens were at a party at Sanchez's home while his parents were not present, according to an arrest affidavit filed in San Miguel Magistrate Court. Only five teens were still at the home when police arrived.
During questioning by investigators, Sanchez said he'd consumed two beers and three shots of Crown Royal whisky and had become "agitated" because some guests were throwing trash on the floor, according to the affidavit.
Sanchez told police he retrieved a rifle from his parents' bedroom. He said he didn't think the rifle was loaded, and that he walked into the kitchen, pointed the rifle at Vigil's head and pulled the trigger.
Police determined Vigil had died from a gunshot wound, and he was later pronounced dead by the Office of the Medical Investigator.
Multiple witnesses interviewed confirmed the details, with one witness saying he'd seen Sanchez with the rifle and that Sanchez said, "It's not loaded," according to the affidavit. The witness said he went outside and heard a gunshot. When he looked inside the home, he "saw blood splatter."
During a search of the home, investigators located a .270 rifle, along with beer and liquor containers in the kitchen.
West Las Vegas Schools stated Saturday in a Facebook post that school counselors would be available at West Las Vegas High School for "students or staff members needing support."
West Las Vegas Schools Superintendent Christopher Gutierrez could not be reached Monday for comment.
Sanchez was arrested Friday evening "without incident," according to NMSP, and was booked into the San Miguel County Detention Center.
During a hearing Monday, Judge Christian Montaño set bond for Sanchez at $100,000. Under the conditions of release imposed by the court, he would be subject to house arrest with a GPS monitor if released before trial.
Those conditions will be reviewed by Judge Melanie Rivera at a hearing on Thursday, and Sanchez is scheduled to appear in San Miguel Magistrate Court Jan. 11 for a preliminary hearing. He remained in custody at SMCDC as of this writing.
Fourth Judicial District Attorney Tom Clayton told the Optic that because one of Vigil's family members works for the district attorney's office, the case will be turned over to prosecutors with the Eighth Judicial District, which typically covers Colfax, Union and Taos counties.