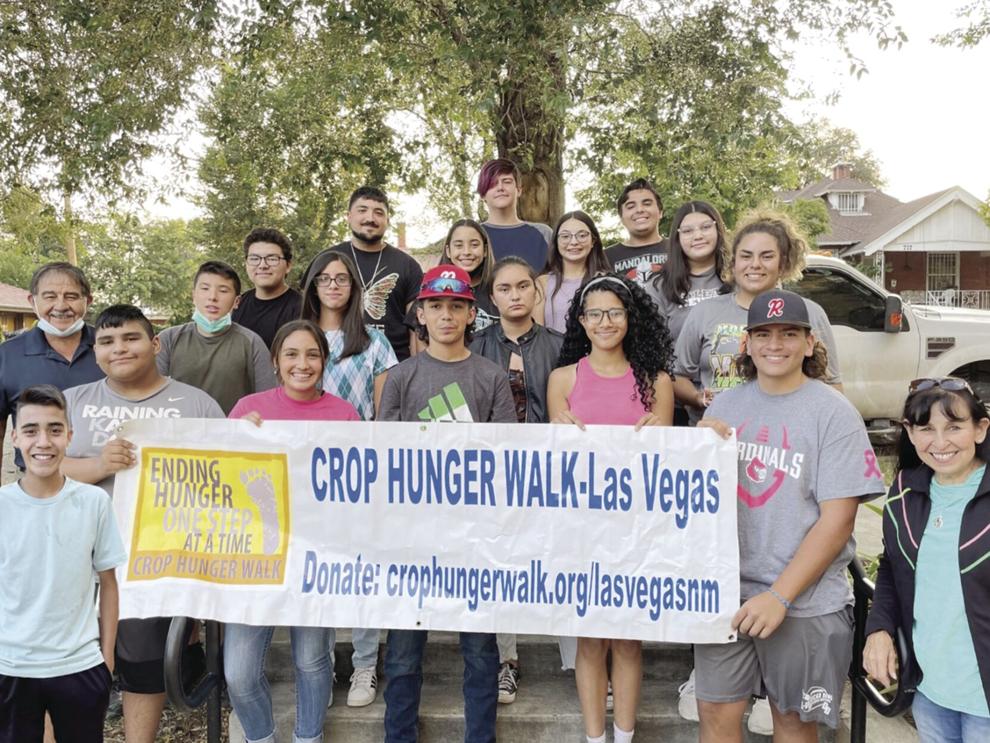 This is the second year CROP Walks across the country will look a little different. COVID-19 and its consequent variants have changed the way the walks are done. It has not changed the dedication and enthusiasm of volunteers.
"Nor has it dimmed the generosity of locals one bit," said Karyl Lyne, a CROP Walk coordinator. "Last year garnered the largest total donations in the 20-year history of the walk in Las Vegas. It takes a lot of dedicated volunteers to make an event of any kind successful. Our volunteers have adapted so we may meet our goals."
Often the dedicated volunteers come in the form of groups. One such group is the Immaculate Conception Parish Confirmation Program led by Darlene and Ernest Chavez, CROP Walk participants since the Las Vegas program began 20 years ago. The faces in the group of high school students in the confirmation classes change over time; Darlene and Ernest remain a constant. 
"It's important for groups in the community to get involved to have maximum impact," Ernest Chavez said. "It strengthens our individual efforts and creates strong partnerships.
"For our youth, learning to help others in need is an important lesson in the formation process. CROP Walk is a great community service. It not only feeds the hungry and gives drink to the thirsty on a global scale, 25 percent of what is raised stays right here in Las Vegas. Our students see firsthand how their efforts are helping people right here in our own community," he said. 
Darlene and Ernest have been active in the community throughout their work and personal lives, while bringing up four children and being the proud grandparents of nine. Darlene retired from New Mexico Highlands University nearly six years ago after 25 years of service and soon after took over the Elementary Religious Education Program at IC. "I love working with all the kids. It is very rewarding."
Ernest began working with the youth more than 20 years ago. He is an ordained Deacon in the Catholic Church and sees his work with youth as a calling from God. "I have received many blessings working with the youth, which has brought me to a greater awareness of the needs of young people."
The couple recognized early on the impact the pandemic was having locally and globally on food scarcity. They also saw the role their youth group could play in helping feed the hungry.
"Hunger is a real issue in Las Vegas. The local soup kitchens have seen a significant increase in the number of people depending on them for food. It's important for our teens to know that they are part of the solution. CROP Walk is a great way for them to get involved and see how their efforts can really make a difference," Ernest said.
When applying for a grant aimed at feeding the hungry, the couple's research confirmed what they had heard in news reports: about 30 percent of the children in New Mexico are at risk of going hungry and most come from low-income homes. "New Mexico holds the second highest rate of childhood hunger in the country," Darlene said.
"These statistics are pre-COVID. Our local soup kitchens and Samaritan House report that food scarcity and hunger have gotten worse since the pandemic hit. These agencies have all responded by doing what they can to make their dollars stretch as far as they can," she said.
And it's not just the people one typically thinks of as being in need. Ernest said their home parish has provided funding from the Catholic Foundation and other grants, along with private donations from parishioners, to provide participating students a hot meal before confirmation class begins each week.
"Hunger issues are not only outside our doors in the streets with the homeless, but right under our noses in the homes of our families and friends," Darlene said.
The youth group has a good working relationship with the Samaritan House and other local soup kitchens. Ernest said the goal is to work together to reach as many hungry people as possible within the community, one person, one family at a time. For youth participants, CROP Walk is more than an opportunity to get their community service hours completed, they see their efforts helping locally. 
With COVID-19 still a concern, CROP Walks look different from the mass gatherings and community strolls of the past. Darlene and Ernest want to assure that the IC 2021 efforts continue to make a difference. In 2020, despite having a smaller group of students in the class, the group reached its goal of $2,500 via virtual walks involving families. "We were very proud of how our students did not allow COVID to get in the way of meeting and even exceeding their fundraising goals," Darlene said.
A 2021 game changer for all the CROP walkers is the official CROP website where organizations may set up teams. "The youth join the online IC Confirmation Team and solicit donations without having to make in-person contact," Darlene said. "It's safer, and they can now reach out to family and friends they may not have been able to reach before."
If anyone would like to join, donate to, or create a Las Vegas Crop Walk Team they may go to: https://events.crophungerwalk.org/2021/event/lasvegasnm. Find your favorite team and/or student to sponsor or create your own team.
Las Vegas CROP Hunger Walk organizers are hoping to raise $15,000 this year. Business and group sponsorships are welcomed.
"We encourage people to design their own walks: day, time, place and mode (walking, riding, hiking, biking, rowing) any time during October," Lyne said. "Post photos on social media with #VirtualCROPHungerWalk or #EndHungerNow to spread the word. The CROP Hunger Walk tag line is 'Ending Hunger one Step at a Time.' Step out in 2021 to help us meet or exceed our 2021 goal of $15,000 toward ending hunger."