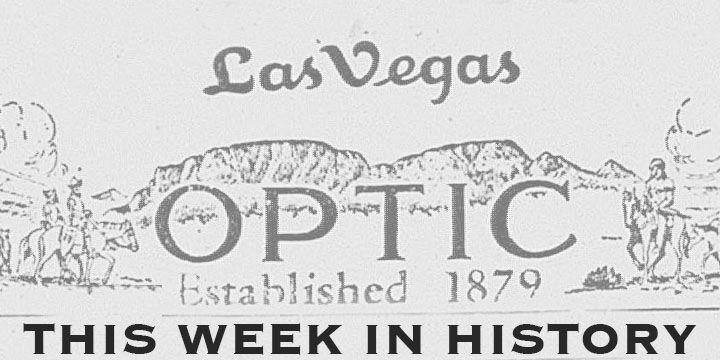 Editor's note: The following is a weekly column that revisits the Las Vegas Optic's coverage in years gone by.
125 years ago
Oct. 22, 1896
Officials in charge of building a sanitarium in Las Vegas announced a fair in Las Vegas the week of Thanksgiving to help them raise funds to furnish the building. They had secured enough funds to construct the building, but they could not afford to finish it without the public's help. 
The Optic issued a warning to Las Vegas residents regarding a woman named "Mrs. J.C.Z. Donahue," who claimed to be a healer. She said she was "so thoroughly charged with electricity that she can perform many wonderful feats of strength." The Optic said she previously went by "Mrs. Green, the Kansas Healer," and came under condemnation from the priesthood in Mexico for possessing some superhuman power that was believed to be contrary to the church. 
George Ross, a man from Colorado Springs, wrote a letter to the editor expressing his delight that Las Vegas had two phone companies running at the same time. He explained that no place in Colorado had the same service available at the time. 
100 years ago
Oct. 22, 1921
Two people had to be taken to a hospital after an automobile carrying 11 people overturned while traveling the Santa Fe Trail. Multiple children inside escaped unharmed, but at least two adults suffered serious injuries. 
Officials announced plans to raise $20,000 in one week to help build the Methodist Church at the corner of 8th Street and National Avenue. The East Las Vegas superintendent, identified as "Bright," donated $7,500 for the project. 
The Coronado Theater featured "Stranger than Fiction." The movie, starring Katherine MacDonald, featured impressie stunts, such as a fight on the wings of an airplane and a parachute jump from a burning airplane. It was labeled the "greatest air circus ever filmed," at the time.
50 years ago
Oct. 22, 1971
Students from New Mexico Highlands University spoke to state legislators, telling them they believe too much emphasis at the school was placed on athletics, to the detriment of academic programs. Student leaders complained that 12 percent of their activity fees were going directly to the athletic department instead of being spent to help students who had no interest in athletics. 
State police were investigating the death of Elias Romero of Chacon, who was found dead in his home the previous day. Police said they believe robbers entered his home and shot him five times, including once in the head. It was reported he was a wealthy man, with money normally kept at his home. 
Hospital officials in Las Vegas announced they had just installed an emergency frequency radio system that would allow doctors and ambulances to be reached at any time. Five doctors and the local ambulance service were given access to the portables radios. 
The New Mexico Highlands University football team traveled to Hawaii to face the University of Hawaii. The teams matched up three years in a row, with NMHU winning in 1970 and teams tying in 1969.
25 years ago
Oct. 22, 1996
Las Vegas City Schools approved a pilot program that provided Internet access to students at Memorial Middle School, with plans to expand access in the near future. PNM provided free cable to the school district to help complete the project. Wiring was to be completed at no cost to the district, with community volunteers helping to finish the project in one day. 
LVCS board members also made an important decision to comply with the Open Meetings Act at all future meetings by announcing what topics would be discussed in executive sessions. 
A record was set in Las Vegas, when four inches of snow fell the previous day, the most seen on the date in history. No roads were closed, but the snowfall created issues at the Rotary Club's pumpkin patch, where the pumpkins froze in temperatures that got as low as 3 degrees. 
Las Vegas police offered a $1,000 reward for help leading to the arrests of two men who robbed Las Vegas' Super 8 Motel at gunpoint the previous weekend. The men escaped with an undisclosed amount of money. No one was injured during the incident.