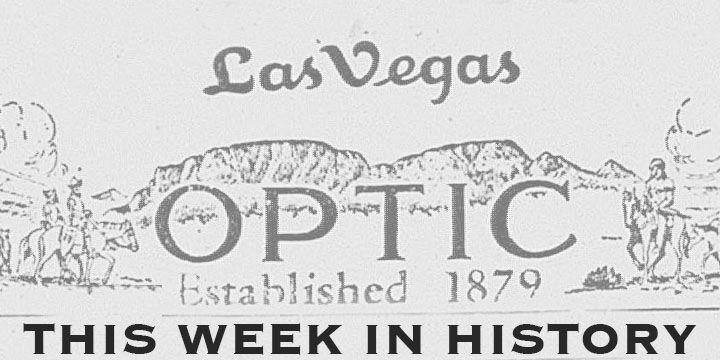 Editor's note: The following is a weekly column that revisits the Las Vegas Optic's coverage in years gone by.
125 years ago
Oct. 15, 1896
Fred Harvey agreed to a new 10-year contract to continue handling the hotel and dining car services for the Atchison, Topeka and Santa Fe Railway, which ran through Las Vegas. The Castaneda Hotel, now owned by Allan Affeldt, is an original Harvey hotel. 
Sarah E. Williamson, who taught in Las Vegas for six years, married George N. Tarkington at a house on Henry Street. The day after the wedding, the couple left Las Vegas for Centralia, Illinois, where they planned to begin housekeeping. 
City Marshal T.F. Clay warned citizens that any outstanding taxes related to bicycles and buggies were to be paid by Nov. 1. Any taxes not collected by that date were to be increased and collected directly by the city attorney. 
100 years ago
Oct. 15, 1921
The City of Las Vegas announced that its water would be treated with chlorine, as a precaution against diseases. 
Las Vegas methodists announced plans to fundraise to build a new house of worship. They expected construction to begin soon after the announcement. 
Plans were also announced to create a National Guard headquarters in Las Vegas.
'Woman's Place," a film about a woman running for mayor starring Constance Talmadge, was showing at the Coronado Theater in Las Vegas.
50 years ago
Oct. 15, 1971
Gene Torres, at that time the New Mexico Highlands University golf pro, won the preliminary pro-am tournament in Pinehurst, North Carolina. His prize for winning the tournament was a 1972 Lincoln Continental. 
Two officials with Chicano Studies programs praised West Las Vegas Schools' decision to refuse to administer two types of IQ tests to its students. The tests were intended to be verbally administered IQ tests, which WLV officials felt would put primarily Spanish-speaking students at a disadvantage. They said the tests were created "without regard for local cultural and environmental factors of the Chicano."
The U.S. Army recruiting office celebrated its grand opening at 507 6th St. The Army gave The Optic and radio station KFUN-AM awards for their support of the armed forces. 
Burglars broke into Las Vegas' Welfare Department building on Railroad Avenue and stole more than $6,000, including more than 300 books of food stamps. 
New Mexico Highlands University senior Vidal Varela Jr. was selected for "Who's Who in American Colleges and Universities."
25 years ago
Oct. 8, 1996
The state Attorney General's office dismissed charges against six Mora residents because two unauthorized individuals accessed the grand jury room during deliberations. Those charged included Mora School Board chair John Romero Sr. and Mora County Clerk Pauline Espinoza. Attorneys for the defendants planned to meet with the AG's office to discuss whether the 4th Judicial District Attorney's Office had intentionally tampered with the grand jury. 
Lorraine Gallegos, a Las Vegas resident, sued the city after a pack of dogs attacked her son in April. He was riding his bike near Montezuma when the dogs attacked, biting his face and legs several times. Dog packs were a major concern at the time, and Las Vegas Animal Control was euthanizing up to 50 animals per week.