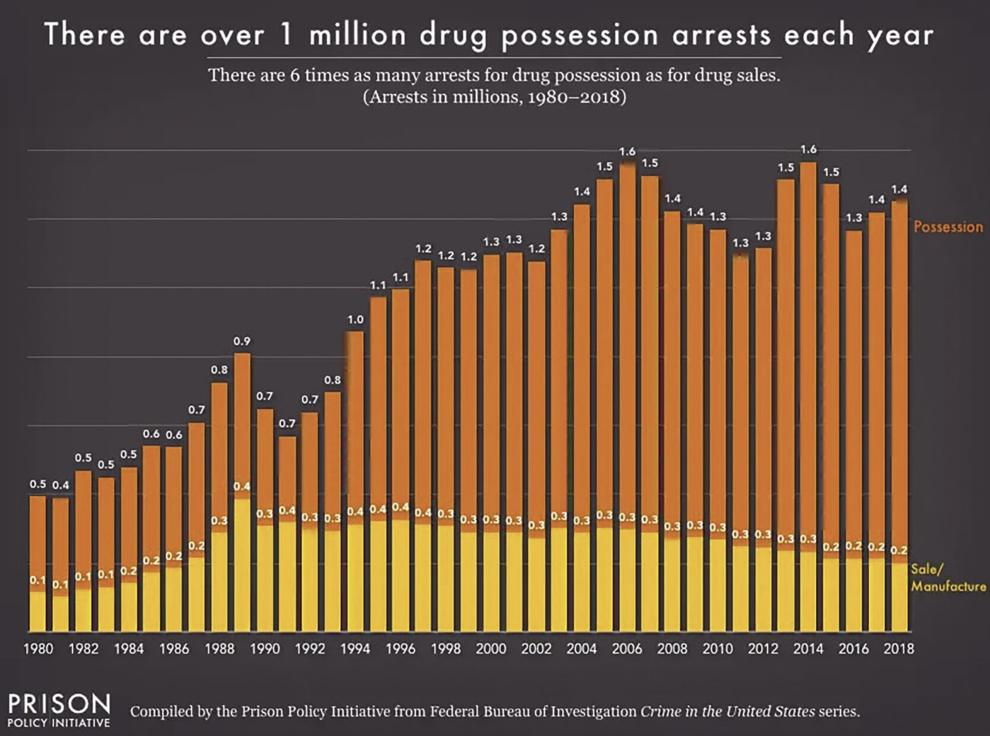 Editor's note: The following is part of an ongoing series on the roots of addiction in San Miguel and Mora counties, and the solutions being pursued by local leaders in an effort to help those suffering from addiction.
Jails and prisons nationwide are filled with people charged with nonviolent drug-related crimes — some 450,000 people on any given day, according to data compiled by the Prison Policy Initiative, a nonprofit think tank headquartered in Massachusetts. PPI also found that more than a million people are arrested on drug possession charges each year in this country, six times more than those arrested for selling or manufacturing illegal drugs.
Other nonviolent charges are often related to substance use as well, such as burglaries, shoplifting and other thefts. However, arresting those who commit these crimes often fails to address the underlying cause behind them, so leaders in San Miguel County and Las Vegas are working toward implementing a program that diverts criminal charges while connecting offenders with resources and services to help them change their lives.
The program — known as Law Enforcement Assisted Diversion, or LEAD — was first launched in Seattle, Washington, in 2011, and has since been successfully duplicated in communities across the nation. And soon, it will be launched in San Miguel County.
LEAD begins with law enforcement officers on the street. When an officer encounters someone who has committed a nonviolent crime because of an underlying struggle with substance use, that officer has the option to arrest the person and take them to jail. However, they don't have to arrest them. If the officer feels the person could benefit from the LEAD program, that officer can connect the person with a LEAD caseworker.
Once that handoff is completed, any potential criminal charges the person is facing are diverted as they begin the intake process. The caseworker then begins working with the person to meet immediate needs — like finding housing, obtaining a copy of their birth certificate or getting into a substance treatment program. Once certain criteria are met, criminal charges are dropped altogether.
Brendan Cox, director of policing strategies for the LEAD National Support Bureau, said the program takes a different approach to public safety than what's been done since the U.S. first declared a war on drugs more than 50 years ago.
"Arrest plus prosecution plus conviction does not always equal public safety," he said. "In fact, sometimes, those things are the exact opposite of public safety."
A different kind of program
LEAD is not the only program utilized by law enforcement or courts that offer alternatives to incarceration, but LEAD is quite different from those other programs, according to Carey Deacon, program director for the LEAD program in Alamosa, Colorado.
Many programs require instant sobriety by participants, and missing one court date or having a relapse during treatment often results in the person being kicked out of the program. LEAD, on the other hand, is predicated on the knowledge and acceptance that someone struggling with substance use will have setbacks, and may have relapses during treatment.
Deacon said the approach not only keeps people in the program where they can continue to get healthy, but it can even save lives.
"Once they're released from jail, they're still going back to the community they came from," she said. "That's oftentimes the highest overdose rates because, once they're released from jail, because they go back to the same lifestyle and the people they knew before."
Because of bad experiences with other programs, or simply because of negative interactions with law enforcement, some people who are good candidates for LEAD can be reluctant to accept help, Deacon said. This is where LEAD caseworkers can help, because unlike some other programs, LEAD caseworkers work side-by-side with program participants to help them. That can be connecting them with services, or it can be helping them navigate the court system.
The key is building relationships and letting program participants know case managers are there for them as advocates, according to Logan Hunt, the practice advisor for the LEAD National Support Bureau.
"My job (as a case manager) is about developing trusting relationships with participants," she said. "Hopefully I get to a place where they know I'm going to show up for them consistently, and I'm going to support them consistently, and be there to advocate for them to the best of my ability."
Utilizing existing budgets, services
The LEAD program in Alamosa was launched with $1.2 million allocated by Colorado's legislature. Currently, New Mexico's legislature has not allocated similar funds for a San Miguel County LEAD program, but Cox with the LEAD National Support Bureau said state funding isn't required for LEAD to be a success, as long as local communities are willing to rethink how funds from existing budgets are used.
"I think what we've been able to show across the country is that it does not cost that much money to provide the basic functions of LEAD," Cox said.
Those basic functions include, at minimum, a project manager to oversee the day-to-day operations, and case managers to provide the outreach to participants. Cox said that while these positions do require funding, he believes many cities could fund a LEAD program by not only reallocating existing public safety and criminal justice budgets, but rethinking budgets altogether.
"New Mexico has spent some state funding on some LEAD programs, and I know they've done a good job of coordinating some state funds," he said. "I think everybody has to look at when federal funding or state funding goes away, where can we fit (LEAD) in our budget."
Another important component in helping people struggling with substance use is being able to offer treatment programs. While San Miguel County has purchased a building to convert into a 25-bed treatment facility, it will be several months before its doors open.
However, Hunt with LEAD National Support Bureau said that while an inpatient treatment facility is helpful, a successful LEAD program can operate without one by utilizing services and programs already in place.
"I would say that the folks already managing (the existing) care system know how to navigate (those systems), so when a person is ready for help, there's already that institutional knowledge in place on how to help people navigate and access it," she said.
Even in communities like San Miguel County where treatment resources are limited, the most important thing, according to Deacon with Alamosa's LEAD program, is to get potential program participants to accept help. That starts with good caseworkers.
"We can have all the resources in the world, but to get people there and keep them engaged in treatment takes a lot of work," Deacon said. "That's why the case management part is really the heart and soul of what we do. Those relationships participants build with case managers is oftentimes the only support they have."