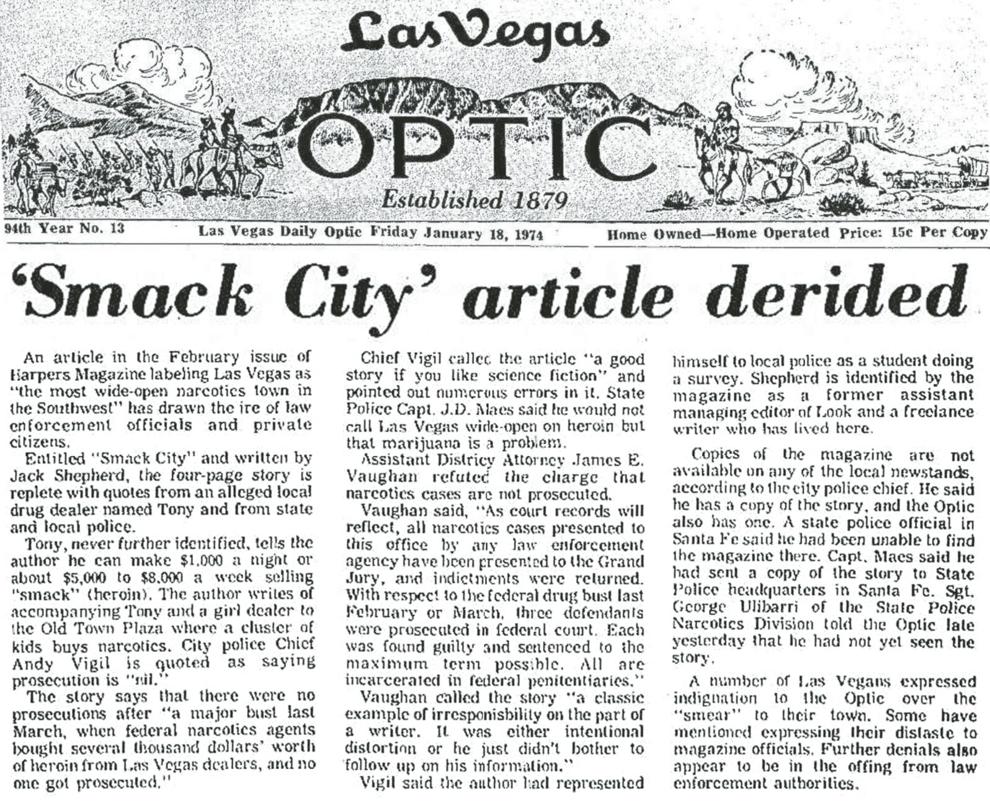 Editor's note: The following is the first part in an ongoing series on the roots of addiction in San Miguel and Mora counties, and the solutions being pursued by local leaders in an effort to help those suffering from addiction.
The nickname "Smack City" has haunted Las Vegas for the better part of four decades — a name unwillingly bestowed upon the city by Harper's magazine in 1974.
In the 47 years since the Meadow City donned its second nickname, city leaders and members of law enforcement have, at various times, tried to prevent people from using the more dubious nickname, acquiesced that it's here to stay or tried to forget it altogether.
City leaders today, and in 1974, have derided the title and much of what was written in the Harper's article, officially titled "Smack City: A true scenario of a middle-class American nightmare."
In a 1974 Optic article, many of those quoted in the Harper's story repudiated what was written about them, and about Las Vegas. (See Page 2 of this edition for a copy of the original Optic article.) Many current leaders also scorned what appeared in the pages of that 1974 magazine, too.
The nickname, no matter how unkind it may seem, did succinctly address the fact that Vegas had a problem with illegal drugs, something many of today's leaders concede is still a problem in the area. Many of these leaders have also promised to seek solutions to this problem.
New initiatives by Mayor Louie Trujillo and the Las Vegas Police Department center on recognizing that illegal drugs are prevalent in town, and police are looking to the past — decades before the Harper's article — as a way to stop the flow of drugs in Vegas. Invoking the attitudes of Old West lawmen, police have issued a warning to drug dealers, telling them to either leave town or go to jail.
Las Vegas is steeped in history, of course. Tales of Old West outlaws, hangings in the center of town and shootouts at saloons and landmark hotels. Much of this history is embraced and beloved; meanwhile, many would prefer to avoid some of Vegas' more recent history, like the article that imparted the unsolicited nickname, Smack City.
The 'Smack City' article
Delivered in the gonzo journalism style pioneered by Hunter S. Thompson, the Harper's article — written by Jack Shepherd and published in the February 1974 issue — begins with a scene reminiscent of Thompson's renowned 1971 book, "Fear and Loathing in Las Vegas."
Shepherd is traveling south on Interstate 25, riding in the back seat of a Cadillac Eldorado. The car is driven by a man identified only as Renaldo, next to him a man identified only as Tony. Tony has good reason not to provide his surname: Tony is a drug dealer who buys heroin from Mexico, then sells it in Las Vegas.
Cheech & Chong's Los Cochinos blares from the radio as the three men pass a joint around. The Sangre de Cristos in view, they near the outskirts of Las Vegas. Once in town, Tony changes clothes — and cars — and heads to the Plaza to start selling heroin.
Though written more than 47 years ago, much of the Las Vegas described by Shepherd still seems familiar. The population is described as being about 14,000 people. The Plaza is noted as being the main landmark on the west side. The Las Vegas Optic and New Mexico Highlands University are noted as key elements of the east side.
The article was published just four years after the two sides of town were officially unified, after operating for decades as separate municipalities, and Shepherd noted the division that was still prevalent.
"The two worlds — largely old Chicano and new Anglo — have a tradition of deep distrust and political antagonism," Shepherd wrote.
The article focuses heavily on the flow of drugs into Vegas, the lack of police response and the number of "addicts" in town at the time, estimated to be around 100 to 125. It also dives into a rise in burglaries and thefts as heroin became more popular nationwide throughout the 1960s and '70s.
A key thesis in Shepherd's article is that drug dealers were able to operate without interference from local or state law enforcement, and that law enforcement was reluctant to pursue drug arrests because most were never prosecuted.
These claims were rebuffed by many of the local officials quoted in Shepherd's article in a front-page Optic story in January 1974. (Although the article appeared in the February edition of Harper's, by mid-January it was available at newsstands and to subscribers.)
Shepherd quoted Andy Vigil, who was chief of police in 1974, as saying drug prosecutions were "nil." In the 1974 Optic article, Vigil said Shepherd's piece was "a good story if you like science fiction." James E. Vaughan was the district attorney in 1974. He too talked to the Optic back then, and he too disputed much of the Harper's article. He took particular issue with the claim that drug cases were not being prosecuted. Vaughan said the Harper's story was "a classic example of irresponsibility on the part of a writer."
Vaughan also claimed Shepherd never identified himself as a reporter, and instead claimed to be a student conducting a survey. In a short bio at the bottom of the Harper's article, Shepherd is described as being a former assistant managing editor at Look magazine, and a freelance writer who had lived in Las Vegas, New Mexico.
Attempts by this Optic reporter to contact Shepherd through Dartmouth College, where Shepherd retired as an environmental studies professor, were unsuccessful.
Learning from the past while looking ahead
The mere mention of Smack City makes some people cringe. Others embrace the name, claiming on social media to be graduates of "Smack City University," or in other words, the streets of Las Vegas.
Mayor Trujillo told the Optic he's never liked the Harper's article, and that he's always felt the Smack City title was unfair.
"I don't think we deserve a title like that, and I think it was very irresponsible for (the magazine) to do that to a small town," Trujillo said. "I think it's a good idea to re-examine the effect of that article, but I want to say I was not a big fan of it."
Trujillo said it's time to move on from the unfortunate nickname, but he acknowledged that illegal drug use continues to be a problem.
"I'm not denying the fact that there was a problem at the time, and  there's a problem today with heroin and with other drugs," Trujillo said. "But I think it's time to move forward in a positive manner, and move on to producing results, and having a community that's focused on change."
Trujillo said it's important to understand that addiction is an illness, and to offer help to those struggling with addiction, instead of locking them up in jail. He and other community leaders are working to establish an inpatient substance abuse treatment center in town, and he and others are working to establish a Law Enforcement Assisted Diversion, or LEAD, program that would divert many non-violent offenders into substance abuse treatment, instead of immediately sending them to jail.
Trujillo said these are good steps to moving past the Smack City moniker.
"I'd like to leave that title behind, and get on with solutions," Trujillo said. "It's super important for us to move on from that social stigma that was placed on our community … by someone who wasn't even from New Mexico, or from our own culture."