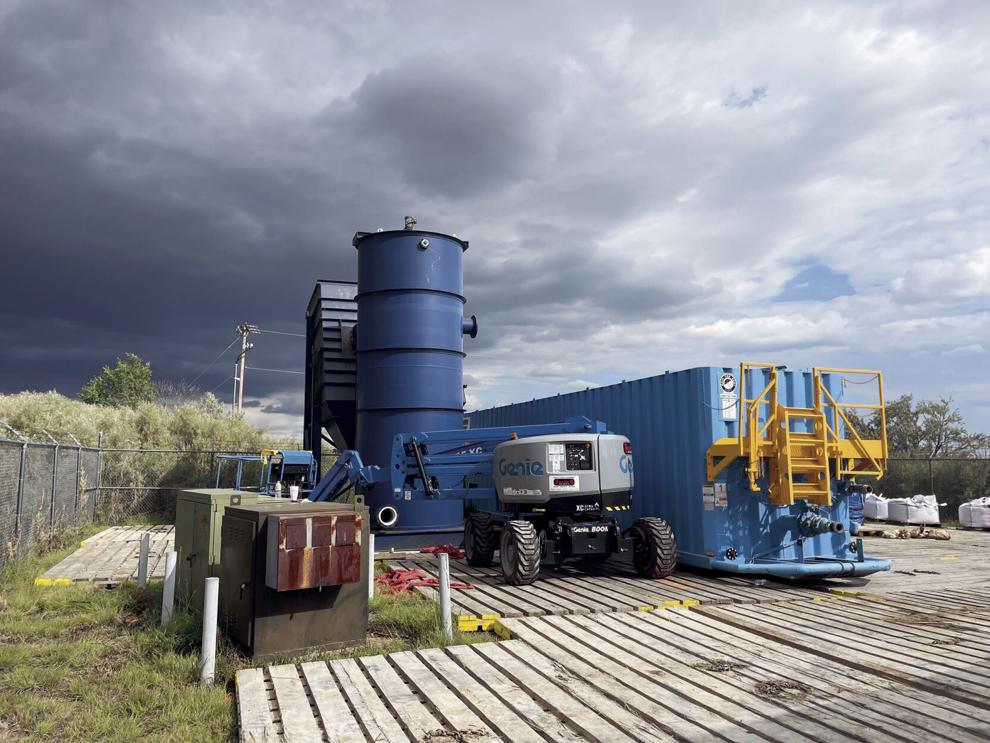 The temporary pre-treatment system installed by the City of Las Vegas to treat Storrie Lake water up to drinking water standards has been operating for more than a week, and the early results seem promising. 
After all the necessary parts arrived for the system, it began treating water off the lake on Sept. 5, and that water has begun to be diverted to Bradner Dam to be distributed to customers throughout the city. 
As of Tuesday, the City of Las Vegas currently has 36 days of treatable water in Bradner Dam, and that number continues to rise as more water is treated. 
Prior to the pre-treatment system being set up, the city had less than 20 days of water remaining in Bradner Dam, despite sharp reductions in usage by residential and commercial customers. 
The city has been relying on its existing reserves for several months, because it has been unable to consistently pull water off the Gallinas River due to the ash and debris caused by the Hermits Peak/Calf Canyon Fire. The city says it has been able to divert some water off the river in between rain storms, but not nearly as much as before the fire occurred. 
Since Stage 7 water restrictions were put in place in Las Vegas, public consumption of water has been reduced by nearly 200,000 gallons per day in the city, which allowed city officials more leeway in getting the pre-treatment system assembled and running properly. Residents are currently limited to 44 gallons of water per day, and commercial customers have been asked to reduce their water usage by 10 percent. Many restaurants have begun using disposable plates, cups and utensils, and all car washes have been shut down due to the restrictions on outdoor watering. 
To further aid residents in reducing their water consumption, bottled water distribution has been held each Wednesday at the Abe Montoya Rec Center for more than a month. The event has been well attended by local residents, who receive multiple cases of water free of charge. 
The current pre-treatment system is only a temporary fix. The city has stated it needs to build a new main treatment system, which would be capable of treating the water from the Gallinas River. The new system, which is expected to cost millions of dollars, will have to be able to treat water with far more turbidity due to the impact of the recent wildfires. Ash and debris are expected to continue to impact Las Vegas' water source for years to come. The city is also working on securing an additional pre-treatment system in the Gallinas Canyon.
Anyone with questions regarding Las Vegas' water situation are invited to contact the city's Utilities Department at (505) 454-1401 or (505) 454-3832.