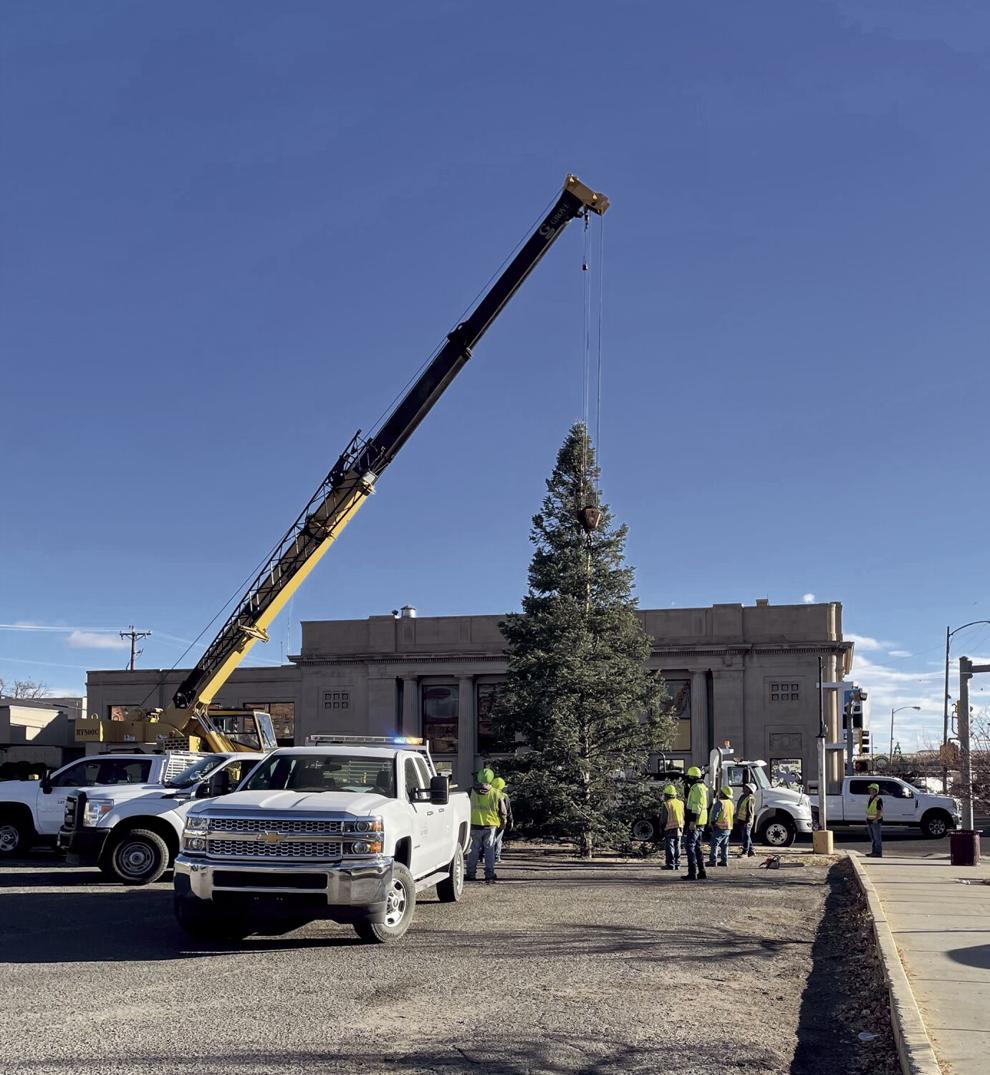 This time of year, Las Vegas' Plaza area looks almost like it's been plucked from a cherished Christmas movie. This helps draw visitors and shoppers to Old Town, but what about the Douglas Avenue corridor?
Mayor Louie Trujillo and the Las Vegas City Council are hoping to draw locals and visitors alike to the city's other venerable business district with a new synthetic ice skating rink, along with music, food trucks and maybe other types of vendors.
The Las Vegas City Council recently approved funding to purchase a 60-foot by 40-foot synthetic ice rink that will be placed on a portion of the parking lot near the intersection of Douglas Avenue and Seventh Street. The goal is to bring more people to the area, and to the city in general.
"We're hoping to create a holiday destination for people to come for ice skating, and maybe even rent a room and enjoy beautiful Las Vegas," Trujillo said.
The surface of the skating rink is made of a synthetic material that allows skaters to wear regular metal-bladed ice skates, but doesn't require cold temperatures or the maintenance that real ice does.
The rink can accommodate 45 to 50 skaters at a time, City Manager Leo Maestas said during a Nov. 23 special meeting of the city council. Skates will be available for rent on site, although Trujillo told the Optic that the city is still working to determine pricing for rentals.
The city will use $55,000 from its lodger's tax fund to pay for the new rink, which is expected to last 12 to 15 years, according to Maestas. The city initially took bids on renting a synthetic rink, but at a cost of $38,000 for a 40-day rental, the council decided to purchase a rink instead.
Owning the portable rink also allows the city to use it any time of the year, and possibly at other locations. And because the surface is synthetic, that could include summer skating. However, the city doesn't have plans beyond the holiday season at this point.
A third-party company will provide the rental skates and sharpeners, but the rental booth would be staffed by city employees, Trujillo said. He also plans to make the cost of renting skates "very affordable," and for those who own ice skates, there likely will not be a fee to use the rink.
Trujillo expected to have rental prices, hours of operation and other details worked out within a couple weeks. He would also like to cover the rink with a tent equipped with lights to allow for night skating, and he'd like to construct a performing arts stage that could host live bands or a deejay.
"There will probably be daytime, evening and night hours. It won't go too late into the night though," Trujillo said. "It's turning out to be a very awesome holiday season for Las Vegas."
Gazebo dedication
Although the skating rink won't be ready for skaters by this Saturday's tree lighting and Electric Light Parade, this year's festivities include plenty of other entertainment for locals and visitors alike.
Starting at 1 p.m. Dec. 4, Santa will be at Plaza Park to greet children of all ages.
Around 4 p.m., the city will dedicate the Plaza gazebo in honor of Cipriano M. Aguilar Jr., the longtime radio announcer and master of ceremonies for the Las Vegas Fiestas. A lifelong educator, in his later years, Aguilar worked as a substitute teacher for Las Vegas City Schools. Aguilar passed away in December 2018.
Following the dedication, around 5:30, the Christmas tree in Plaza Park will be lit. This year's tree is a blue spruce donated by Jane and Napoleon "Nappy" Quintana of Las Vegas.
Around 6:30, the annual Electric Light Parade will begin making its way from Fifth Street and Friedman Avenue to the Plaza. As the parade winds its way through town, it will travel along Sixth Street to Douglas Avenue, then onto 12th Street up to National Avenue, then along Bridge Street where it will end near the Plaza Hotel.