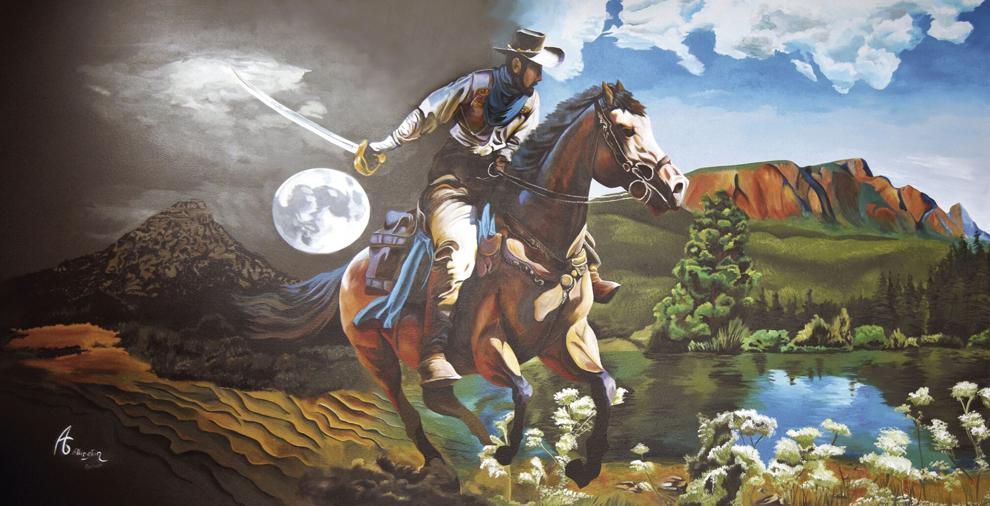 Local artist Alex Allington recently completed the Rough Rider Resilience mural in the Student Success Building on the Luna Community College campus. Alex's design was selected by students, staff, and faculty as the favorite out of nine submissions in a Luna Strong Mural contest. The contest arose as part of the Building Rough Rider Resilience grant under the direction of Dr. Carol Linder, director of Allied Health and Public Service and funded by the New Mexico Higher Education Department. 
The mural symbolizes the resilience shown by the Luna community in the face of the pandemic, fires, floods, and threats to our watersheds. The image of the Rough Rider fearlessly riding his horse out of the darkness into the light demonstrates the strength that can come from adversity. Luna wants the mural to be a sign of hope and inspiration for years to come.
As a Las Vegas native and former Luna student, Alex says he was inspired to enter the mural contest as a result of watching his community go through last year's fires and subsequent water shortages. 
"In particular, I was directly involved with the evacuation of domestic homeless animals, lost animals, and animals left behind," said Allington.  "Every day I watched the skies and I watched the people. As the skies got darker, the people got stronger. We are a community always looking towards the light." 
Painting the mural on the 10 by 20-foot elevated space between the Board Room and the Registrar's Office required not only talent but a great deal of ingenuity. Using both rented and homemade scaffolding, Alex spent most of April donning a hard hat and painting six to eight hours a day balancing on planks. Alex patiently answered questions from onlookers, talked about the process with students from Luna's College and Career Readiness Institute, and allowed videographer Marshall Poole to capture the process. The video will be released to social media and through Alex's website at www.allingtondesigns.com.
Alex's upbringing and time exploring the Land of Enchantment prepared Alex for life as an artist.  His paintings of landscapes could be found in local galleries at the young age of 13.  Alex returned to Las Vegas in 2017 after completing a degree in computer animation from The School of Communication Arts in Raleigh, NC and working as a digital artist in numerous states.
While Alex is best known in Las Vegas for his unique tables with organic designs and for capturing the personality of pets on canvas, the Rough Rider Resilience Mural has captured the hearts and the resilience of the Luna Community and all who see it.