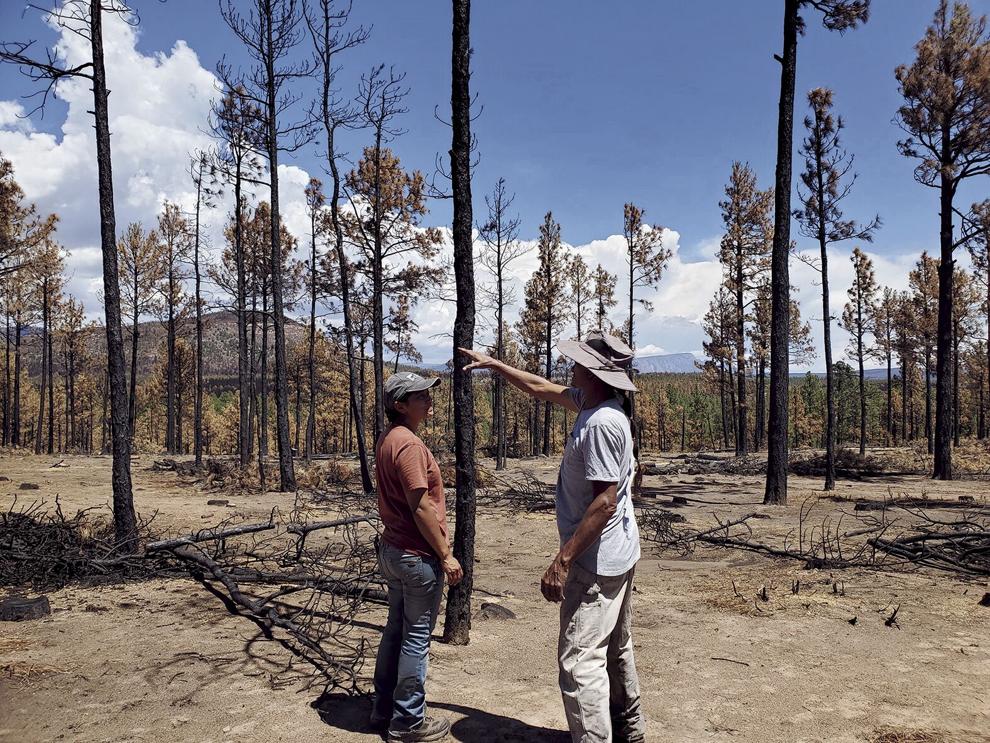 Landowners impacted by the Calf Canyon/Hermit's Peak Fire and subsequent flooding off the burn scar, now need to restore their lands and forests. Luna Community College, in partnership with the New Mexico Forest and Watershed Restoration Institute at Highlands University, is offering a series of free workshops called "Querencia in Action: Post-Fire Land Restoration" to help landowners address erosion, bring back vegetation and build marketable skills.  
The first workshops will be held from 8 a.m. - 3:30 p.m., July 18-21 at various private land locations in Mora and San Miguel counties. Attendees need to enroll through Luna Community College at luna.edu and the number of participants allowed is limited.
The Hermit's Peak Fire began April 6 in Las Dispensas and merged a few weeks later with the Calf Canyon Fire. By mid-July, the fire had burned across more than 341,000 acres and destroyed hundreds of homes. Lost too, were thousands of acres of forests and pastures on which rural livelihoods depend. Now landowners are dealing with erosion and further loss of soil as monsoon rains shed ash and burned trees off slopes.
"The Hermit's Peak/Calf Canyon Fire-impacted communities are small, rural, and largely dependent on a land-use economy," said Dr. Edward Martinez, President of Luna Community College. "The mountain forests destroyed by the fire provided high altitude grazing pastures, firewood, latillas for fencing, logs for small business lumbering, wood for local construction, Christmas trees, and trees and rock for transplanting, construction, and landscaping. The loss of these materials and the practices they support will make it impossible for these communities to support themselves. Consequently, a fire-generated out-migration will exacerbate the burdens these rural communities were already facing in terms of workforce and economic viability."
While the fire was still burning, Martinez and Shantini Ramakrishnan, Conservation and Restoration Education Program manager for the Forest and Watershed Restoration Institute, began working together on a series of hands-on, technical trainings they hope will help landowners rehabilitate their lands. The first set of introductory workshops is a 12-part crash course over the next month that is free to landowners. Similar or different workshops will continue to be offered on a weekly basis through October to help landowners hone specific skills and can be customized to community needs. Eventually Martinez and Ramakrishnan envision a certification course for post-fire land restoration that will train a workforce to contract with private, local, state, and federal entities.
Both hope the workshops can give landowners a way forward to stay in their communities and once again make a living off the land. After a catastrophic fire like this one, "land-based communities are more vulnerable because it may take years for the land to recover," said Ramakrishnan. "And families need shelter, food, and a way to care for themselves and their loved ones. There's also the huge sense of loss: loss of homes, barns, sheds, wells, and roads; loss of your source of firewood to get you through the winter, loss of a way of life, loss of your favorite fishing spot, or where you go hunting. This grief compounds on lots of other life's stresses: the on-going pandemic, rising costs of living, learning disruptions with your kids. It would be hard not to give in to loss of hope, weariness, and sadness."
Martinez and Ramakrishnan, long-time collaborators, believe the trainings can provide hope and skills to restore the land. "We want landowners to feel empowered to be part of the solution and recovery of their own lands, ranches, rivers and forests," said Ramakrishnan. "There is so much innate knowledge in this community – we want to tap, support and expand that knowledge for the current post-fire realities."  
The workshops will cover:
•One-rock dams and arroyo restoration: Where to build, what to build and how to build structures to retain soil and slow down water (2 days)
•Erosion control with log structures: How to use charred trees to stabilize soils after a fire (2 days)
•Post-fire thinning: How to design forest restoration based on burn severity and prioritizing various management goals, mitigating hazards, diminishing bark beetle threats, etc. (2-4 days)
•Post-fire seeding: seed mixes and blends for long-term and multi-season recovery, and best practices for choosing sites and seeding (1 day)
•Contour felling: identifying contours and optimal sites for treatment, placement, and positioning (2 days)
The workshops will be taught by various instructors and self-reliance advocates who have experience with fires. They will highlight and demonstrate techniques that community members and landowners can use on their lands. 
Funding for the workshops is provided by a grant from the Natural Resources Conservation Service.
With fire season now lasting almost year-round and forest fires becoming ever larger, the need for restoration skills and a trained workforce will continue. The two largest fires in New Mexico history – Calf Canyon/Hermits Peak and the Black Fire – came within weeks of each other.
"We are very excited to partner with the NM Forest and Watershed Restoration Institute and offer land conservation and restoration workshops to individuals from our communities," said Martinez. "These workshops are intended to provide some basic training to individuals who may have lost their ability to make a living off the land because of the recent wildfires and give them skills that will enable them to seek employment restoring the fire impacted areas. The hope is that individuals who participate in the training will possess the skills needed to be hired to do some of this work by contractors or landowners. In addition, these workshops will also benefit landowners who can utilize what they learn to restore their own property."