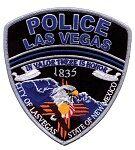 City of Las Vegas Chief of Police Adrian Crespin has given the city notice he will resign at the end of the month, but he told the Optic he doesn't want to leave.
"I was given the choice between resigning or having council vote me out," Crespin said. "After 26 years in law enforcement, being a chief of police was always a goal — a dream of mine."
Mayor Louie Trujillo confirmed Wednesday that Crespin would be replaced, and said Crespin had resigned Tuesday evening without providing a reason for his departure.
"He definitely did a good job as chief, and did a lot of work for the department," Trujillo said. "Work that a lot of different chiefs have not been able to do in a long time."
Crespin said he was proud of his time at the Las Vegas Police Department, and pointed to accomplishments like obtaining new equipment and vehicles for the department, upgrading the communication system and increasing starting wages for officers.
"I enjoy working with these young officers," Crespin said. "At the end of the day, they need more pay. We're going to lose them if we don't pay. Nobody's knocking down our door to come and be police during these times."
Trujillo said all police operations have been handed over to Deputy Chief of Police Kenneth Stumberg, but Crespin said he would still be the chief of police until July 31.
Crespin was sworn in on July 15, 2020, with a two-year contract and a $76,000 annual salary.
The city has struggled in recent years to keep someone in the role of top cop. Crespin's appointment as chief came after the dismissal of David Bibb in July of 2020. Bibb had been on the job since Nov. 9, 2018, after replacing Jerry Delgado who was on the job for a matter of days before resigning in September of 2018.
As for the city's next chief of police, Trujillo was not ready to name a nominee to replace Crespin, and though he wants to fill the role quickly, he said several steps must be taken before he can fill the vacancy.
The first step is officially accepting a written resignation from Crespin. According to Crespin, he has not yet provided a written resignation.
"I'm not ready to go, but they want me to go," Crespin said. "I came in at a hard time, with COVID, and I guess my work wasn't satisfactory to them."
If Crespin provides a written letter of resignation, Trujillo can nominate a replacement, but the city council would have the final say in approving that appointment.
"We're looking at this as an opportunity to move forward with some of our initiatives with drug enforcement and community policing," Trujillo said.
In recent months, Trujillo has laid out some of his planned community policing initiatives. A key element is the implementation of a Law Enforcement Aided Diversion program that would defer criminal charges for many non-violent offenders while they complete addiction treatment programs.
LVPD officers have already begun LEAD training, and the program is close to being launched, and Trujillo praised Crespin for his help with the program.
"He's been instrumental in getting the LEAD program going," Trujillo said. "And we're going to continue working on the LEAD program."
Crespin said he hadn't decided when, or if, he would submit a formal letter of resignation, and said he's upset that he won't be able to complete some of the things he wanted to do as chief.
"I asked to invest in crime prevention, and see what our return on investment would be in two years, but they didn't give me the two years," Crespin said. "And I have to do what's best for my family."