New Mexico Highlands Public Services Librarian, April Kent, has received the 2021 Academic Librarian of the Year award from the New Mexico Consortium of Academic Libraries.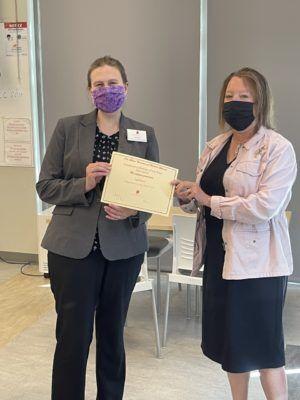 Kent was nominated for the award for her dedicated work with the consortium and her investment in resources and programming at Donnelly Library. She is the first librarian in the state who is not a library director to receive the award, and she will be honored in October at the annual banquet for the New Mexico Library Association.  
Kent studied English for both her bachelor's and master's degrees, but she said that teaching composition in graduate school at Penn State helped her understand that classroom teaching wasn't the right fit. When a fellow classmate shared his experiences with being a librarian, Kent said she knew she had discovered a path that suited her strengths.  
"I liked teaching, and I loved interacting with students and helping them with their writing, but I really didn't like grading," Kent said. "I liked supporting people and helping people find information. I've always loved libraries."   
As a member of the Consortium of Academic Libraries, Kent said she and her colleagues pursue professional development and pursue legislative initiatives, such as the bi-annual General Obligation, or GO, Bond that provides financial support to libraries across New Mexico.  
Valerie Nye, president of the Consortium, said April has done a lot of work for the organization in the past five years.  
"April has taken on some significant leadership with the legislative committee, working with legislators and really helping to set the agenda for the NMCAL organization—specifically in our activities related to the library GO Bond funds," said Nye. "She's been key in getting over $9 million GO Bond funds last time to libraries around the state."  
According to Nye, the committee that works on securing state funding for libraries is largely composed of library directors.  
"April doesn't need to be on the committee, but she's doing it because of her interest," Nye said. "The GO Bonds she works to support is something that comes before voters every two years, so it's essentially nonstop work. It really shows her commitment to the whole process."