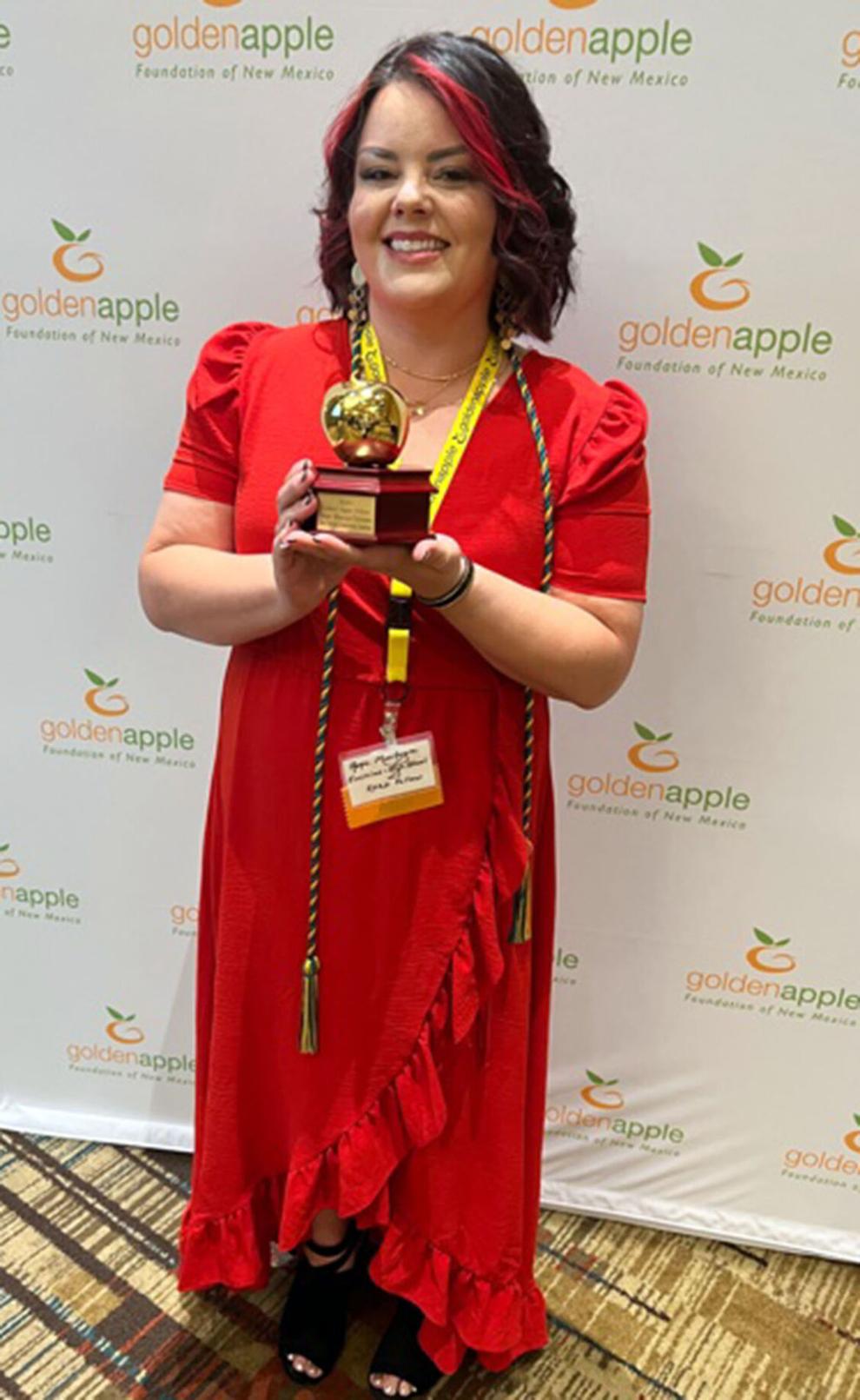 Las Vegas native Hope Montoya-Encinias is among seven recipients honored during a Friday luncheon in Albuquerque for receiving the 2020 Golden Apple Excellence in Teaching awards.
The award is given each year to honor teachers based on their excellence in the classroom and commitment to their profession. 
A 2002 graduate of Robertson High School, Montoya-Encinias received a bachelor's in mathematics education from the University of New Mexico and master's in secondary education from Grand Canyon University in Phoenix.
Hope has taught math for 16 years and serves as the director of math instruction at Explore Academy in Albuquerque.  
The daughter of Nino and Linda Montoya, she lives in Albuquerque with her husband, Anthony, and daughters Analisa and Liliana. 
As part of her award, Montoya-Encinias received $1,500 and a $4,000 stipend to be used toward professional development.
Trujillo named Teacher of Month
Eighth-grade physical science teacher JaMarcus Trujillo was named Teacher of Month at West Las Vegas Middle School for October.
Trujillo, who has taught at the middle school for three years, attended West Las Vegas and Robertson high schools before dropping out during his junior year to pursue his GED. He passed the test, which is equivalent to a high school diploma, on his first attempt. 
Trujillo received an associate's from Luna Community College and a bachelor's in biology with a minor in chemistry from New Mexico Highlands University. 
He is the son of Tanya Trujillo, who passed away in 2008. Trujillo's grandparents, Richard and Ruth Trujillo, raised him.
Trujillo is engaged and has an 8-year-old daughter and another daughter due in December.
Arguello hired as city HR director
Las Vegas City Council on Wednesday appointed Darlene Arguello as its new director of human resources. Arguello started in her new position on Thursday.
She replaces interim director Consuelo Gallegos, who had been filling in since Donna Castro's departure.
Arguello has worked for the city for 16 years. She was most recently a paralegal for the city attorney. Arguello had previously worked in human resources as the risk manager and personnel officer.
Born and raised in Las Vegas, she graduated from Robertson High School in 1995.
Arguello's husband, Daryl Trujillo, is the foreman for a construction company. Their daughter, Shannon Garcia, is a certified nurse aid for an urgent care in Denver and their son, Brandon Trujillo, lives in Las Vegas and works for the United Parcel Service.
The couple's grandchildren are Isaia, 9, and Alexa, 6.
Charity will receive quilts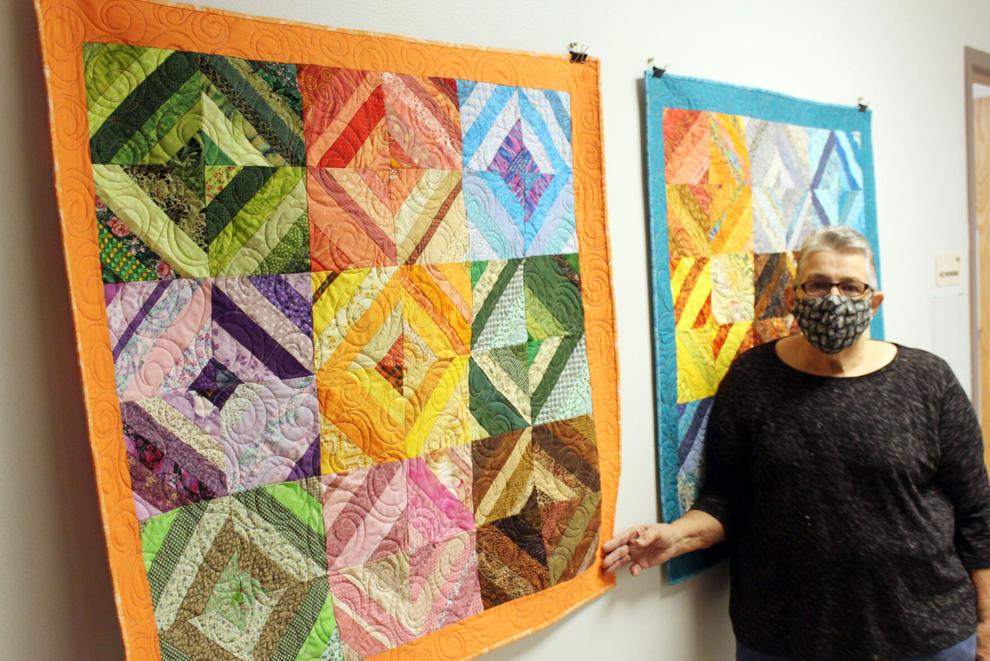 Ten members of a quilting class at Luna Community College made crib quilts and a larger quilt that was on display during the Oct. 30-31 quilt show at St. Vrain Mill in Mora. The same quilt will be on display this month at Las Vegas NM Arts Council Gallery 140 on Bridge Street.
Luna's next 16-week quilting class will be held during the upcoming spring semester. The cost is about $90 for anyone 55 and older.
Highlands professor receives faculty fellowship
The American Association of Hispanics in Higher Education has awarded New Mexico Highlands University English professor Benjamin Villarreal a faculty fellowship.  
The national fellowship is intended for Hispanic tenure-track faculty to provide support in career goals, build community and foster faculty fellow leadership.  
The group meets monthly and will culminate in an annual conference that will take place in March 2022. 
Brandon Kempner, dean of the college of the arts and sciences, said Villarreal brings great enthusiasm and innovation into the classroom.  
"This fellowship will help Dr. Villarreal build on the strengths he already brings as a teacher," said Kempner. "As a former NMHU student, he is an important role model for our students to show how they can achieve academic excellence."
Luna students earn welding certification
Congratulations to Luna Community College students, who recently earned their American Welding Society Certification.
They are John Gutierrez, Conner Forsberg, Robert Vigil, Baudel Lopez, Kai Martinez, Isaiah Dominguez, Lance Romero, Jeramiah Romero, and Felix Gelvin.
Gwen Albers is a reporter with the Las Vegas Optic and can be reached at galbers@orourkemediagroup.com.