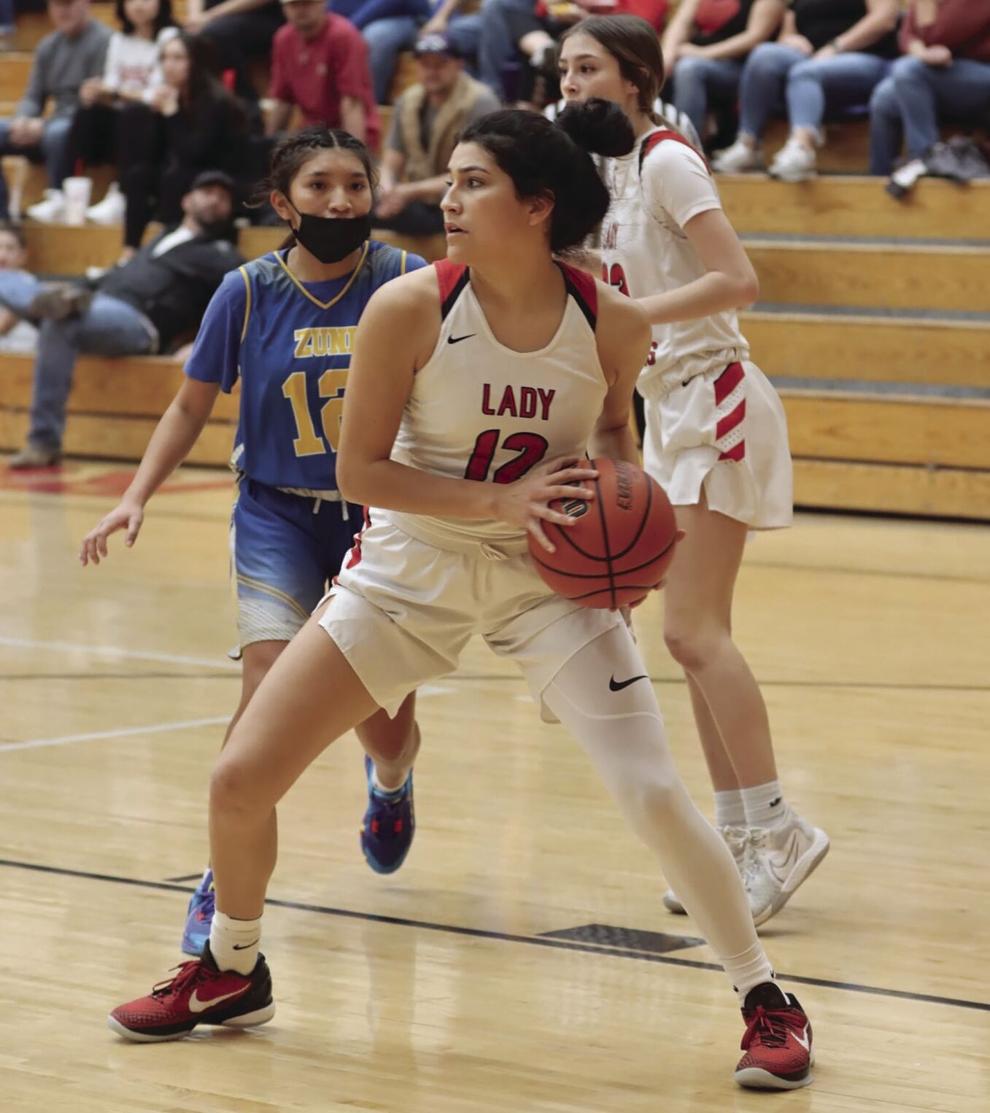 Mistidawn Roybal, 18,  has always known she was going to play college basketball. So much so that, at the age of 5, a lack of a girls' team did not stop her from beginning to take steps toward that dream.
Roybal's lifelong dream is now closer to reality. On April 12, the Robertson High School senior signed to play basketball for New Mexico Highlands University. Although Roybal received a similar offer to play basketball for Trinidad State College in Trinidad, Colorado, the offer to play and remain close to home simply could not be beat.
"It's like a dream come true," Roybal said, on her way back to Pecos after attending school and practice in Las Vegas.
Her parents are witnesses to her drive and determination.
"As Misti's mom, I've had a front row seat to Misti's growth over the years," said Mistidawn's mother, Merilynne Roybal. "It's truly an honor to see all of that hard work pay off, and even more exciting, she'll be playing for our hometown team.
"She'd always dreamed of playing college basketball. … When they offered her a scholarship at Highlands, that's what she'd always wished for."
Merilynne and Lawrence Roybal recalled a time when their daughter's eagerness to play basketball overcame a lack of a girls' team to join. In Kindergarten, Mistidawn played with a boys' team.
Over the years, Mistidawn played and excelled in volleyball, track, and cross country. Lawrence Roybal said Mistidawn completed all of her schooling through the 10th grade in Pecos, where she was a top athlete in cross country and a state champ in basketball. Then, Mistidawn made a decision that brought her that much closer to her dream of playing college basketball. She chose to complete her junior and senior year at Robertson High School. 
"There were more options in academics, and more of a challenge (at Robertson)," Lawrence Roybal said. At Robertson, Mistidawn continued to be a top athlete, especially in basketball and volleyball. Just this year, Mistidawn made it to the New Mexico High School Coaches Association All-Star basketball team. 
Still, despite her athletic accomplishments, it is a memory of a time when Mistidawn's team lost that stands out to Merilynn Roybal. She recalled when the Robertson High girls' basketball team lost to the Tohatchi Cougars earlier this year. Several who attended the game to cheer for the Cougars also had words of praise for Mistidawn.
"Fans of the other team came and said they admired her," Merilynne said. "They said (Mistidawn) was an amazing player, they complimented how she played. I've never seen that, and I've watched many basketball games."
Now with her sights on Highlands, Mistidawn says she remains undecided when it comes to academics, thinking about a possible degree in nursing or in business. 
One thing she remains clear about is her future with basketball. She said she hoped to someday play basketball in Spain, as a member of an international league.
"I would encourage young girls to never stop shooting for their dreams," Mistidawn said. "Never give up."