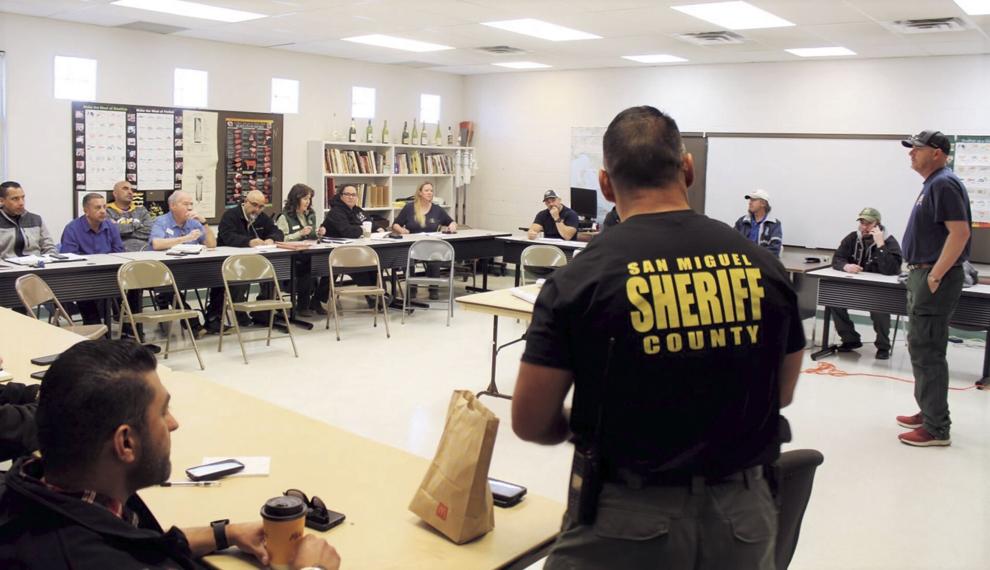 As crews continue to battle around the clock to contain the Hermit's Peak Fire, Luna Community College is doing its part to assist in that effort.
Since early Sunday morning, the campus has been used as an incident command center and staging area by the U.S. Forest Service, Santa Fe National Forest, as coordination of firefighting operations continues. Luna has made available the General Studies Building for use as the command center itself. Crews are using the LCC Cafeteria as sleeping quarters, and additional areas adjacent to the Allied Health Science Building are being used as camp sites. 
Luna President Dr. Edward Martinez made initial conversations with the San Miguel County Sheriff's Office and offered the campus and its amenities to the collaborative firefighting effort, said Matthew Griego, Luna's life safety and security coordinator. Griego said a total of eight converted classrooms, eight offices, the cafeteria and three parking lots have been devoted to the command center and firefighter quarters. A weather station and air quality and pollution station from the Environmental Protection Agency have been established on campus, measuring conditions to aid in planning, Griego said.
"We were able to provide a building that is out of the elements, as well as internet connectivity and amenities," Griego said. "We wanted to offer the Forest Service a place that would ensure continuity of operations, with access to internet and other utilities. This will enable them to effectively attack the fire."
"Our hearts go out to our neighbors affected by this fire," said Martinez. "We are glad to be able to help the firefighting effort by providing suitable facilities and resources."
In a Wednesday morning briefing, Operations Section Chief Shilow Norton hailed "amazing work, very engaged in very extreme weather conditions" by firefighters. "A lot of work yet to be done, but the folks out there on the ground did an excellent job -- very good, impressive work. We'll continue to do that."
Luna facilities employee Michael Jaramillo is among those who have stepped up to help move animals out of harm's way. Earlier this week, he was helping a cousin relocate his cattle from Las Dispensas to a safe property away from the fire, and he ended up offering his help (and stock trailer) to move more livestock and horses. In all, he estimated more than 100 head of cattle and roughly 30 horses were transported.
"That's their livelihood," Jaramillo said of the ranchers he assisted. "So yes, I offered to help. I did what I could. Without the community coming together, a lot more could be lost."