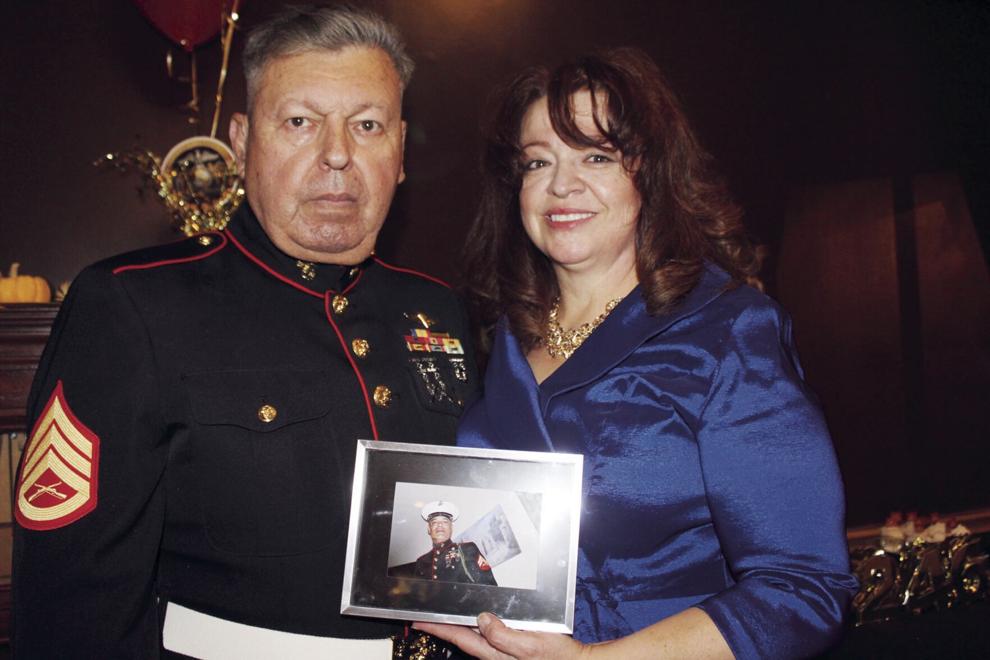 Marine Carlos Nevarez Jr. celebrated the Marine Corps birthday annually, sharing color guard duty with his son during the Marine Corps ball in Silver City.
After Carlos Nevarez III, also a Marine, was killed on his 42nd birthday in 2013, his father lost his world; this proud Marine quit celebrating the day that commemorates the 1775 founding of one of the most elite fighting forces in the world.
On Thursday evening after an 8-year hiatus, Nevarez pulled out his dress blues and shined up his black shoes to celebrate the 246th birthday with local Marines at the Byron T's Saloon at the historic Plaza Hotel in Las Vegas.
"I miss him and the brotherhood," a choked-up Nevarez told the crowd as he spoke about his son, who died after being run over by a vehicle driven by his fiancée.
"I took the first step forward," he continued "This is just the beginning."
Retired from the New Mexico State Police and federal police in Albuquerque, the 71-year-old would like Las Vegas to form a Marine Corp League and host a ball next year. Names were taken to organize a group.
The evening included the traditional toast and giving first pieces of birthday cake to the youngest and oldest Marines. The youngest was Patrick Gallegos, 47, of Las Vegas. The oldest were Julian Raines and J.D. Jordan, both 81 of Las Vegas.
Lori Jordan, who attended, was named the guest of honor. In March, her 55-year-old husband, Steve, took his life. Like his brothers Jonathan and Gary Jordan and his father, J.D. Jordan,  Steve also served in the Marines before driving for UPS for 30 years. Three generations of Jordans participated in the party.