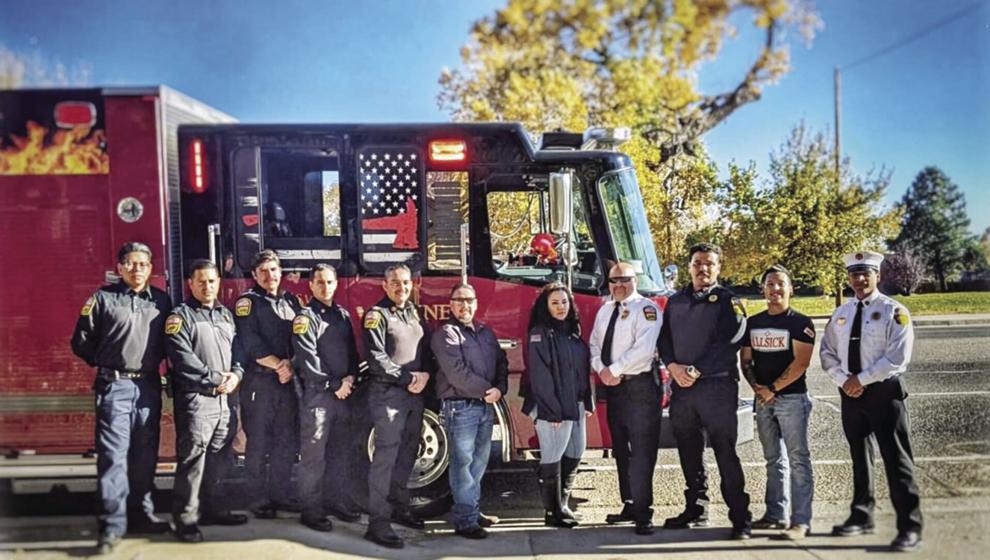 After more than two decades with the Las Vegas Fire Chief Billy Montoya has retired, putting an end to what he called "an unbelievable experience." 
Montoya started as a rookie firefighter with LVFD 21 years ago and worked his way up through the ranks, from an engineer to a commander and to chief six years ago. City employees can retire after 20 years of service. 
On his final day, the fire department treated him to a "last ride," during which he rode in his favorite fire engine, No. 1, to each fire station around Las Vegas. Firefighters saluted and thanked him for his service. 
"I haven't stopped smiling since last week," Montoya said. "The people I worked with are truly second to none. (Being fire chief) has been an honor to say the least." 
Deputy fire chief Steven Spann, who has taken over as interim chief, said Montoya was a great mentor and friend during the three years they worked together. 
"He set a standard and the guys are all looking to carry that forward," Spann said. "We will keep carrying the torch for him."
Mayor Louie Trujillo said Montoya's greatest strength was bringing people together and building a family structure. 
"All of his employees were very civically active," Trujillo said. "They always helped with all the events going on around town."
He said he hopes to see that level of commitment continue. 
City councilor Elaine Rodriguez said she believes Montoya's retirement is a loss for the community because he "always put the residents first."
City councilor David Romero said he was pleased with how Montoya managed the fire department during his time as chief.
"I believe the fire department has been one of the most stable departments in the city under chief Montoya's leadership," Romero said. "I am hopeful that the next chief steps up from within the department. We must ensure stability."
Montoya, who is 40 years old, said he isn't sure what his next step is. 
"I plan to take a few months off and see what comes my way," Montoya said. 
As for the future of the fire department, Trujillo said the search for a permanent replacement will begin in December or January. 
Details on how the search will be conducted will be revealed at a later date, according to Trujillo. 
According to the city's 2022 budget, the position of fire chief pays $72,238 per year.
Until a replacement is named, Spann will be in charge of the department. 
Montoya said he hopes Spann earns the permanent job. 
"The biggest key to success in that role will always be teamwork," Montoya said. "You have to have the support of the guys around you."