A review of police calls for service to Samaritan House and nearby Lincoln Park over a three-month period revealed a total of 71 combined calls for service.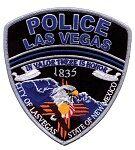 The vast majority of those calls received by police were for things like arguments, people refusing to leave Samaritan House or for reports of theft of property. A handful of those calls resulted in arrests or citations.
The data analyzed by the Optic comes from Calls for Service Reports and Call Sheet Reports from the Las Vegas Police Department for the three-month period from May 1 through July 31. The records were obtained through an Inspection of Public Records Act request.
Police were called to Samaritan House 35 times in the three-month period. Records show 36 calls for service to Lincoln Park during the same period; however, more than half of those calls were officer-initiated contacts for things like traffic stops or welfare checks.
Of the 35 calls for service to Samaritan House, several were related to staff asking for help from police to remove someone from the property, either after finding drugs or after the person berated staff members.
Seventeen of the calls for service to Lincoln Park — all the calls that weren't related to officer-initiated checks and traffic stops — ranged from calls about people arguing, to one man trying to light a charcoal fire. Police also responded to a call about a man asking people in the park for money, as well as a couple of calls for welfare checks on people sleeping in the park.
Police also responded to two cases of violence at Lincoln Park during the three-month period.
June incident
Around 8:30 p.m. on June 13, LVPD received a call about a man who'd shoved a child off a hoverboard.
Marty Robinson, 27, was arrested following an investigation and interviews with witnesses. In court records, Samaritan House is listed as Robinson's address.
Police arrived at Lincoln Park that Sunday evening to find Robinson lying on a park bench. He denied pushing anyone, but the male child identified Robinson as the man who'd pushed him, according to a statement of probable cause filed in San Miguel Magistrate Court in June.
The boy told police he'd been riding his hoverboard on the sidewalk when Robinson shoved him and said, "Get out of my way," according to the probable cause statement. The boy fell and hit a tree before hitting the ground. He told police he was unable to move his arm, and paramedics were called.
Robinson was charged with felony child abuse and booked into the San Miguel County Detention Center.
During a June 15 hearing, Judge Christian Montaño set bond for Robinson at $10,000 unsecured. He was released from jail later that day, but he was ordered to stay out of Lincoln Park, or any other park.
Robinson is scheduled to appear in Magistrate Court Sept. 9 for a preliminary hearing.
July incident
In late July, police responded to a second violent incident near Lincoln Park.
As previously reported by the Optic, on July 26, LVPD responded to a call about a woman threatening a man with a machete.
Eileen C. Moberg, 60, was charged with aggravated assault with a deadly weapon and tampering with evidence after a man told police she'd punched his car and threatened him with a machete she'd pulled from her pants.
Police located Moberg sitting outside Samaritan House, and she told police she'd been walking back to the shelter when she fell onto the man's car. She also denied having a machete, according to a probable cause statement filed in San Miguel Magistrate Court.
A Samaritan House worker told police Moberg had a machete with an orange handle when she'd been at Samaritan House earlier, and officers later found a machete matching that description hidden in the bed of a pickup parked nearby.
During a July 29 hearing to review conditions of release for Moberg, Judge Melanie Rivera ordered a mental health assessment for Moberg, and released her to house arrest on an unsecured $5,000 bond.
Moberg was released from SMCDC July 29 and is scheduled to appear in Magistrate Court Aug. 24 for a preliminary hearing.
Repeat calls
The call sheets provided to the Optic by LVPD also show that Samaritan House employees requested police assistance multiple times for the same individuals.  
On June 1, police were called about a man who said he felt like a danger to himself and others. Records show that officers responded in about 10 minutes, but were unable to locate the man who called.
The next day, police were called back to Samaritan House about the same man. The caller said he was banging on a door. Call sheets do not indicate that officers were able to locate him. (The Optic is not naming the man because he was never arrested or charged in relation to these calls.)
Six days later police were called because the same man was at the shelter "cussing out" employees. On June 27, police were again dispatched to Samaritan House for the same man, who was refusing to leave. Documents show that police arrived in about eight minutes, but the man had left the facility by the time they arrived.
About a month later, on July 25, police were called about the same man breaking into a vehicle, but officers determined that nothing was taken from any vehicles.
Police also responded to repeated calls about a different man who was staying at the shelter.
On July 13, police were called around 8 p.m. after reports the man, 35-year-old Kevin C. Romero, had been harassing others who were trying to sleep. About an hour later, police returned to Samaritan House because Romero requested to speak to officers.
Days later, Romero told staff there were "snipers all around the building," and police were called.
The next day, police were called again because he was seen trying to break into a vehicle. Romero was arrested and booked into SMCDC, but released the next day and returned to Samaritan House. Police were called again later that day because he was reportedly "yelling" at staff members.
A 'broken system'
Having access to a shelter is critical to people in any community, according to Brie Sillery with the New Mexico Coalition to End Homelessness. Beyond providing a roof and a place to sleep, she said shelters connect people with other resources, like food, clothing and employment.
While many experiencing homelessness may struggle with substance use or have criminal convictions, Sillery said it's important to never make assumptions about people utilizing a shelter's services, and to simply treat people with kindness.
"Every person's story is different; every person is different," she said. "Be understanding that housing is extraordinarily expensive."
While the cost of housing can be a major hurdle to many, Sillery said it's not the only barrier. People can be denied housing if they have previously been evicted, or if they have criminal convictions, even if the conviction was several years ago and they haven't been arrested since.
"It's important to have compassion and understanding that it is a broken system," Sillery said. "There are a lot of people who fall through the gap."