Editor's note: This is part one of a two-part series exploring police calls for service to Samaritan House, the city's only shelter.
During the three-month period from May 1 through July 31, officers with the Las Vegas Police Department responded to 35 calls for service to Samaritan House, and 36 at nearby Lincoln Park.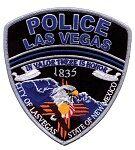 These calls for service were for a variety of reasons ranging from fights and thefts to staff at Samaritan House seeking assistance from police to remove people from its property. 
However, of the 71 combined calls for service, only four resulted in arrests, and only two involved violent crimes.
The calls for service data analyzed by the Optic comes from LVPD Calls for Service Reports and Call Sheet Reports obtained through an Inspection of Public Records Act request.
A small portion of callers who reported objectionable activity at Lincoln Park blamed that activity on Samaritan House. For instance, in a call to police on May 1 about syringes on the ground by the gazebo in Lincoln Park, the reporting party asked police to discuss the problem with Samaritan House. 
It's unclear from the LVPD call sheet if officers spoke to anyone at the shelter about it or not.
While some Las Vegas residents have voiced concerns about syringes being found in Lincoln Park — either to police or on social media — Mayor Louie Trujillo told the Optic he has not had those concerns brought directly to him.
Of the 36 calls for service to Lincoln Park analyzed by the Optic, the incident at the gazebo was the only call that involved syringes being found. 
However, it is possible the city manager or the Parks and Recreation department received calls that didn't show up in the police records obtained by the Optic.
Furthermore, more than half of the calls for service at Lincoln Park between May 1 through July 31 were officer-initiated contacts for things like traffic stops or welfare checks on someone who was asleep.
"We are constantly monitoring that area," Trujillo said. "I think the police officers do an excellent job when they patrol the area, or when they're called."
Trujillo said that if citizens find syringes in any city park, they can call the main city switchboard and ask to have the Parks and Recreation department remove them. 
If syringes are found elsewhere in the city, Trujillo said the city manager's office would be able to assist in contacting the proper agency for removal.
The safety of walls
Mayor Trujillo said he knows there are people who don't want Samaritan House located within a neighborhood, but Trujillo said he thinks that's "very unfair," and praised Samaritan House for the services it provides to the community.
"There is a homeless population in Las Vegas, and they deserve to be treated with dignity," Trujillo said. "Many of them just need a place to put their head to rest, or a place to get some food and wash up."
Too often, people equate being unhoused with being a criminal, but Trujillo points out that even among housed people, a criminal could live right next door.
Additionally, it is often people without housing who are the victims of crime, according to Brie Sillery, a spokesperson for the New Mexico Coalition to End Homelessness.
"The reality is that housed people can go behind doors, and they can lock those doors," she said. "Oftentimes, those that are victims (of crime) are the people that are sleeping without shelter, so we have to be very aware that when we're talking about crime, the ones that are often victimized are the very ones that we're blaming."
Sillery also noted that when talking about calls for service for police, many of the calls to a shelter are also made at houses in every community.
"It just happens within the safety of four walls where nobody else can see it," she said.
Sillery said shelters are critical resources for every community, and that while a shelter may not fulfill the needs of every person, shelters also connect people with resources like food, employment, clothing or even permanent housing.
Officials with Samaritan House did not respond to a request for an interview for this story.
Trujillo acknowledged that having a shelter within a neighborhood can be upsetting to those who've lived in the community for a long time, but he said he's willing to work with staff at Samaritan House and those in the nearby neighborhood to address concerns.
"I have a special place in my heart for homeless people, and of course, I also have understanding for the people who live in the neighborhood," he said. "But the public should know that the police department is aware of their concerns, and we are devoting resources to address those concerns."