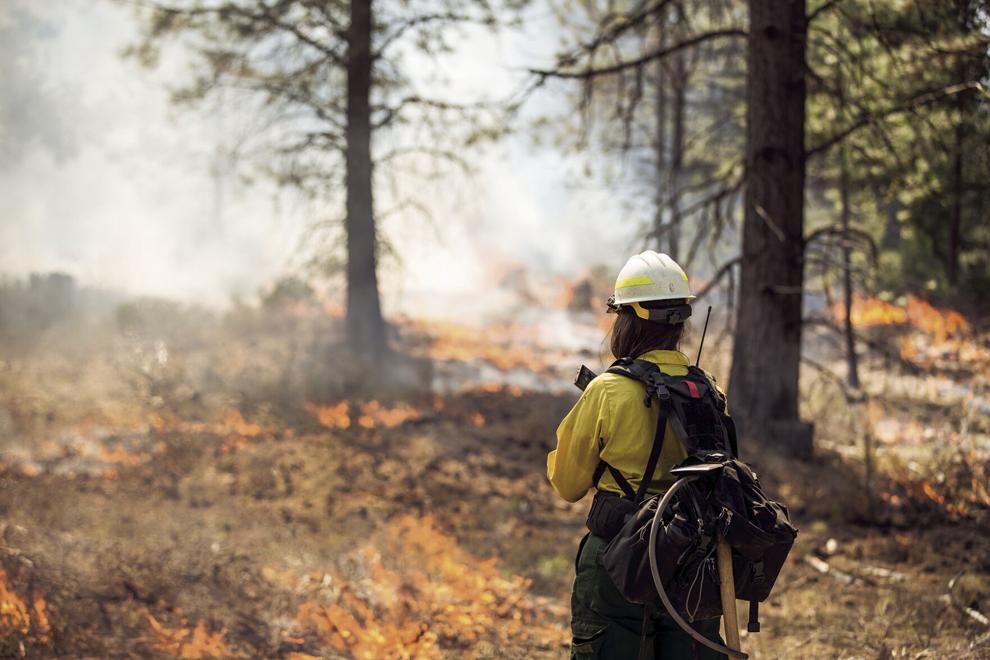 President Joe Biden Friday signed into law a bill that will keep the federal government operational until mid-December. Included in the bill was the Hermits Peak/Calf Canyon Fire Assistance Act which, in part, will provide a total of $2.5 billion to those impacted by the largest wildfire in New Mexico history. 
The presidential signature was the final step for the bill, which passed the Senate on Thursday and the House earlier in the day on Friday. FEMA will now have 45 days to set up a local office specifically designed for awarding these funds to wildfire victims and finding a way to provide as much assistance as necessary to those who lost their homes and property in the fire. 
"Getting this bill through the Senate was a significant hurdle," Sen. Ben Ray Luján told the Optic Thursday afternoon. "I would like to thank the entire New Mexico delegation that worked so hard to make this happen."
The legislation, authored by Rep. Teresa Leger Fernandez in the House and Luján in the Senate, twice passed the House of Representatives independently this summer before dying in the Senate from a lack of support from Republican senators. 
It was included in the federal spending bill earlier this week, giving it a better chance of passage as the federal government faced an Oct. 1 deadline for shutdown. 
Luján said that the legislation will "create additional opportunities for individuals and small businesses," many of whom have struggled to rebuild in the months since the fire due to the tight restrictions put in place by FEMA. 
This new program will run alongside FEMA assistance, but will work with families to pursue every possible funding opportunity and "go a long way toward making these individuals whole again," according to Luján. 
As recently as last month, when Luján visited Las Vegas, there were big questions as to whether the bill would ever be able to pass in the deadlocked Senate. However, Luján said he made it clear to other lawmakers that he would do whatever it took to pass the bill, and he said his team worked around the clock talking to as many people as they could to garner support. 
He called it an "incredible effort," and said he wants people to begin receiving funding as soon as possible. 
Gov. Michelle Lujan Grisham thanked the federal government for passing the legislation on Friday. 
"It's official – $2.5 billion in critical funding will soon be on its way to New Mexico families and businesses affected by the Hermit's Peak and Calf Canyon fires," Lujan Girsham said. "For months I have pushed the federal government to take additional responsibility for the fires they set and make New Mexicans whole, and I am proud to have worked hand in hand with our state's congressional delegation to make this day a reality. New Mexicans have shown their resiliency and strength time and time again over these past months, and now they will receive the financial support they deserve from the federal government who caused these devastating fires. I will continue to fight for the quick and effective delivery of these relief funds to the New Mexico families and businesses whose lives and livelihoods have been so egregiously impacted by the Forest Service's negligence. I am deeply grateful to the members of New Mexico's congressional delegation and to the Senate and House leadership for including this critical relief funding in the Continuing Resolution. I thank President Biden for his signature today and the administration's ongoing support for New Mexicans."
Las Vegas Mayor Louie Trujillo told the Optic on Thursday, "The passage of the federal legislation will restore hope for the people and local governments in northern New Mexico who have suffered horrific damage."
He added, "It will be our job as elected officials to hold the federal government responsible for paying all expenses associated with the fire and flooding."
As previously reported by the Optic, the Hermits Peak/Calf Canyon Fire Assistance Act does the following: 
•Establishes an Office of Hermit's Peak/Calf Canyon Fire Claims within the Federal Emergency Management Agency (FEMA) to receive, process, and pay claims in accordance with this Act.
•Described allowable damages including: 
•Loss of property, including: an uninsured or underinsured property loss; a decrease in the value of real property; damage to physical infrastructure including irrigation infrastructure; a cost resulting from lost subsistence from hunting, fishing, firewood gathering, timbering, grazing, or agricultural activities conducted on land damaged by the fire; a cost of reforestation or revegetation on Tribal or non-Federal land;
•Business loss, to include: damage to tangible assets or inventory; business interruption losses; overhead costs; and employee wages for work not performed;
•Financial loss, to include: increased mortgage interest costs; in insurance deductible; a temporary living or relocation expense; lost wages or personal income; emergency staffing expenses; debris removal and other cleanup costs; a premium for flood insurance; and costs for efforts to reduce the risk of wildfire, flood, or other natural disaster in the counties specified in the major disaster declaration; and
•Any other damages that the FEMA Administrator determines to be appropriate for inclusion as property, business, or financial loss.
•Provides that the Federal cost share of FEMA assistance provided for State or local projects or under the Other Needs Program Assistance shall be 100 percent.
•Provides that the Federal cost share of USDA disaster assistance programs shall be 100 percent.  This is key to ensure that private ranchers, farmers and landowners get the help they need to reclaim and fortify their lands and irrigation systems and feed their livestock.
Moving forward, Luján said he is working on drafting major fire prevention legislation along with lawmakers in California, and he is also working on legislation that would strengthen and adapt FEMA to better fit the needs of western states, which he believes are not properly addressed at this time. 
"It doesn't work here, and it needs an enhancement," Luján said. "I want to see how we can come together and make the system work for everyone."