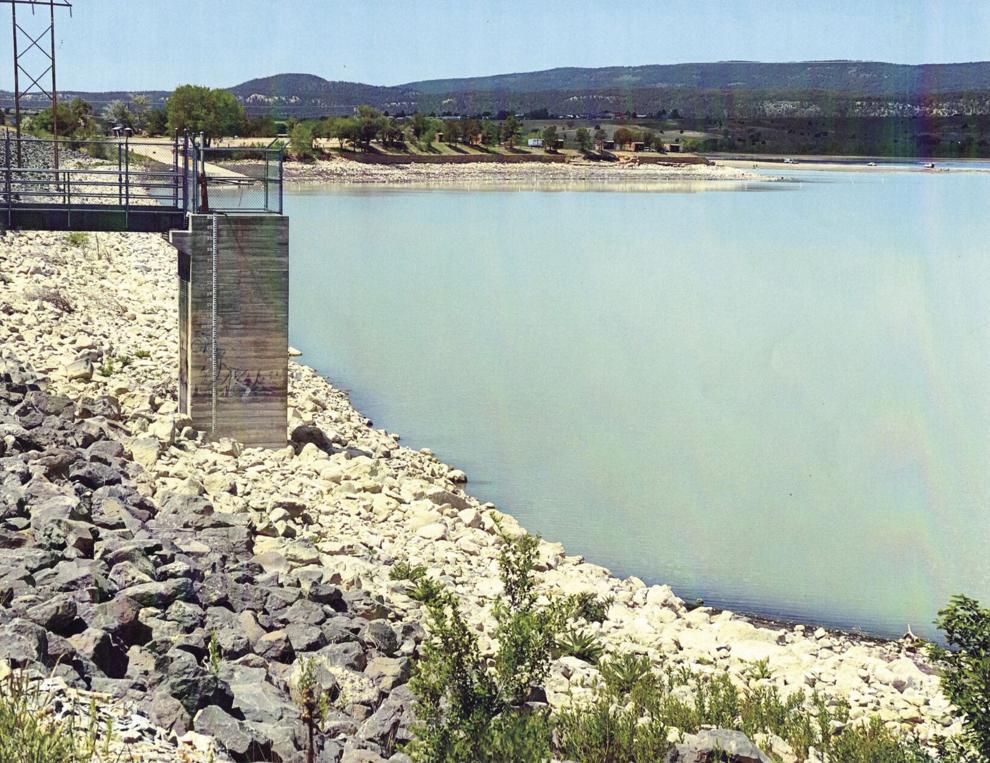 One hundred years ago, construction crews completed the $743,000 dam that created Storrie Lake.
The Optic is sharing the timeline for the project, which the late Helen Muller researched as part of an independent study at New Mexico Highlands University. Her husband, Werner Muller,  in 2004 presented the Citizens Committee for Historic Preservation in Las Vegas with the following timeline:
1901 – Citizens from the Sanguejuela Grant try to interest capitalis from St. Luis in a natural depression, which might be suitable for a reservoir for water from the Gallinas River.
1903 – Federal engineers visit the site and draft plans to irrigate 10,000 acres east of Las Vegas. Agriculture developers take an interest.
1909 – Las Vegas Land Grant Board sponsors and invests in the irrigation scheme. On Oct. 7, water rights are issues from the Gallinas, Sanguejuela and Sapello rivers.
1909-12 – D.A. Camfield, a Colorado irrigation engineer, was contracted to build a dam to irrigate 17,000 acres.
1916 – The Las Vegas Irrigation District contracted with R.C. Storrie of San Francisco to build an earthen dam. World War I interrupted the construction.
1921 – The dam is completed. The 23,000-acre foot reservoir included an 18-mile main canal and many miles of lateral ditches.
1922 – F.A. Reid from Arizona acquires the project taking over all interests and holdings of the Las Vegas Land Grant. Bylaws are filed and a five-man board is appointed. Reid proposed selling units of 10 to 80 acres for 250 families "to live in delightful farm homes on land adjacent to the city."
1923 – Twenty families arrive from Kansas. Mr. and Mrs. Cyrus Jones was one of the. Raising lettuce alfalfa, corn and dairy farmed; 15 train carloads of 300 crates of lettuce went to market that year.
1924 – Some 150 family live on the project with 200 children. A school was built; it closed in 1949.
1926 – Because of hail, frost and other climatological hazards, the farming of produce was discontinued. Families left destitute.
1926-29 – Las Vegas Land and Waer Co. goes into bankruptcy. The Land Grant Board assumes responsibility and asks the Chamber of Commerce headed by merchant Herman Ilfeld to organize the system.
1929 – Local businessman Al Grdeman and trustee of the Las Vegas Land and Water Co. formed the Gerdeman Land and Water Co., helping the project out of debt. George Gifford was put in charge of operations and put 5,200 acres if land in cultivation. Drought hits.
1932 – The Las Vegas Land Grant Board took over the project until 1945.
1941-1943 – San Miguel-Mora Game Protective Association bought two-thirds of the lake and adjoining land for a public fishing project.
1950-58 – The dry years. Threw re 46 landowners, 35 living and farmng on the project. Half of the farmers had loans on their farms and all but two were dairy loans.
1971 – State engineer condemns Storrie Dam and rebuilding of the dame starts in 1973.
1980 – The Storrie Project Water Users Association rewrites bylaws to include representatives from the U.S. Fish and Wildlife Service, New Mexico State Game and Fish and New Mexico State Park on the board of directors.
1980-85 – Forty-seven shareholders and three government agencies helped private farmers raise more then 50,000 bales of hay and pasture 500 head of livestock annually.