This week it was an honor to learn about people from outside our community who are standing with us in this dire time of need. Phone calls from Mary Lou Griego and Ray Valdez informed me of what their sons are doing on the ground in Albuquerque and above our heads right here. Meet Marcos Valdez and Mario Griego, who are making a positive difference in our very lives.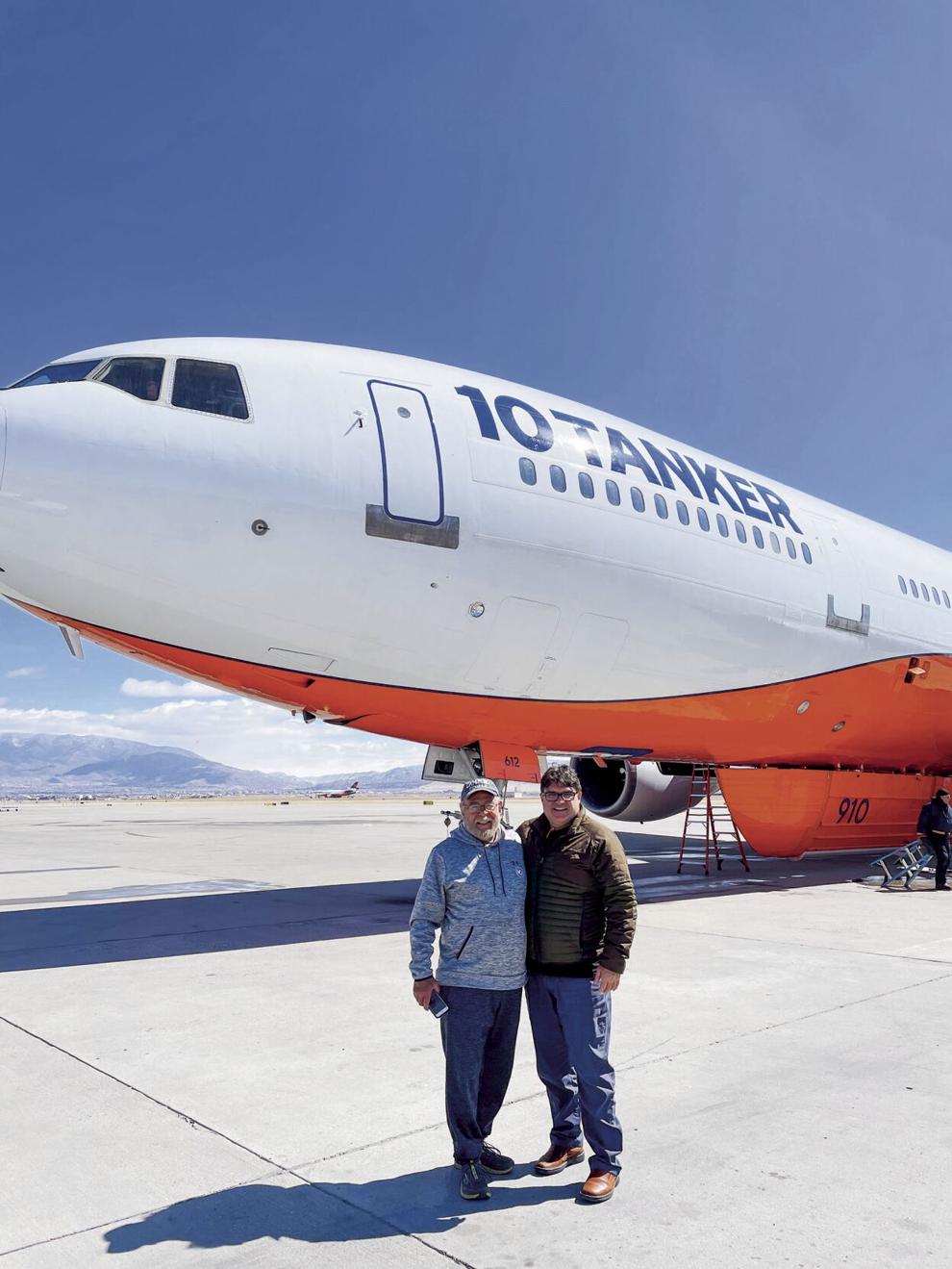 Pilot/Aerial Firefighter Marcos Valdez flew five missions of bright red fire retardant almost over his father's home Tuesday afternoon. Piloting his DC 10 Tanker, as he looked out the window he recognized the terrain because he went to Highlands University. Back then he was an outside linebacker on a football scholarship from Texas who majored in hotel and hospitality management. 
After university, Marcos took to the skies and flew 747 Cargo aircraft for 16 years. When he was hand picked to pilot aircraft "fighting fire," he thought the opportunity was crazy. But eventually he was convinced to join the now-defunct Global SuperTanker team flying the 747 Fire Bomber  for five seasons. His experience flying the 747 led him to the opportunity to John Gould's organization 10 Tankers which repurposes DC 10 aircraft to hold 9400 gallons of water or retardant. 
The retardant is usually Phos-Chek which is a combination of water and fertilizer. Its red coloration makes it easier to see where it has landed. The retardant is dropped 200-300 feet above ground at 160 mph for 10-15 seconds before returning to base (in this case Roswell) for more retardant. According to fireaviation.com, the cost for each drop is $4.50 per gallon times 9,400 gallons or $42,300 plus flying time at $22,500 per hour. If you do the math, you need also to calculate how much life and property are worth.
Marcos is now one of 27 crew members who fly the four DC 10 Tankers currently in operation. The company is based in Albuquerque, however the aircraft move about the country to wherever they are assigned as they are under contract to the US Forest Service. 
Marcos is at home in Fort Worth, but he's often away as the schedule of an aerial fire fighter is intense. Since 2016, he has spent more than 200 days a year on assignment.  
He didn't volunteer to fly to the Calf Canyon and Hermit's Peak fire. In fact, he was surprised when he learned was assigned to this fire. When I asked him what's it like knowing that he was saving Las Vegas, he clearly stated that, "Please understand that I'm not saving Las Vegas. I'm supporting the fire fighters who do their work on the ground. They're eating smoke all the time. What we were doing today was creating a perimeter to slow down the fire to allows those heroes on the ground a better chance at fighting the fire."
Marcos explained that using a retardant slows a fire down as much as 90 percent, but as soon as the fire has slowly 'chewed through' the retardant, the fire can blaze up again. 
Wednesday, Marcos spent his day off in Roswell, N.M. with his father Ray Valdez, who has driven up from El Paso where he evacuated to avoid the smoke. 
The following day, Marcos will take off again from the tanker base in Roswell. Possibly underway to Johnson Mesa, he might get a call from the US Fire Service National Dispatcher in Boise, Idaho that he's needed elsewhere so mid-air he could be asked to take a hard left destined for a new fire such as the one that just began in Prescott, Arizona.
In the meantime, we are incredibly grateful that Marcos Valdez has helped protect our Las Vegas.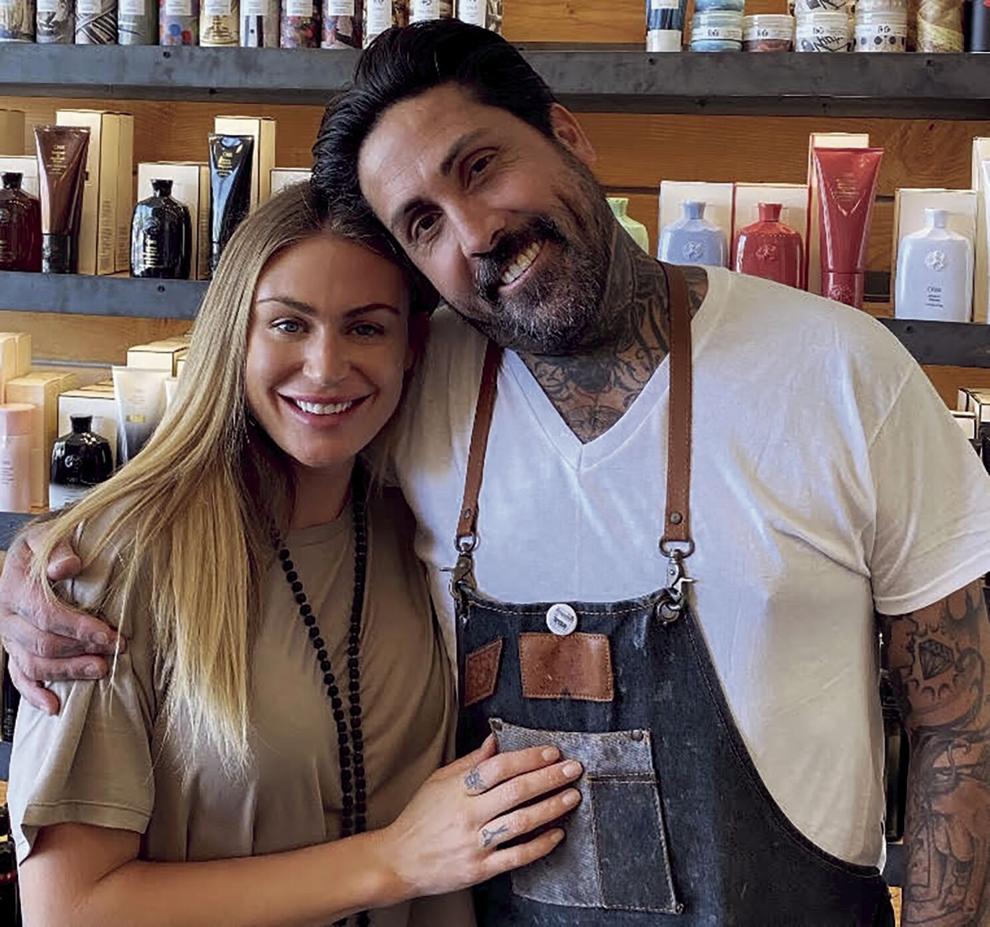 Mary Lou Griego called me to tell me that her son Mario and his wife Danielle have opened up their hearts, as well as their Craft Hair Shop in Albuquerque, to fundraise for their beloved Las Vegas and surrounding community.
Mario's cousin Paige Wolf, also a hairdresser, and Taylor Wolf Stiff joined in to bring this project to fruition. They all were born and raised in Las Vegas and attended LVCS. Las Vegas holds a special place in their hearts.
On Sunday, May 1, they held a fundraiser which was well attended by many Las Vegans who now live in Albuquerque and Rio Rancho. With raffles and donations from local merchants as well as appointments for free hair cuts, they raised over $6,000, which will be donated to the Las Vegas Community Foundation and the San Miguel County Shelter to be distributed to displaced families. They also received $3,000 in food and supplies which was delivered to the Memorial Middle School May 2. 
This is not the first time Mario has given back to his community. For three years before the pandemic, he would give a day's receipts from his shop to supply toys for Christmas to his community.  
Thank you Mario, Danielle, Paige and Taylor.
We know that currently hundreds of our neighbors are pitching in to help the newly homeless by relocating evacuated citizens, transporting and feeding horses and cattle, ensuring the safety of our dogs and cats, feeding and caring for our firefighters and first responders. The list doesn't stop. 
Huge thanks to Mario Griego and Marcos Valdez and to everyone. We need all the help we can get. If you can make a contribution to the Las Vegas Community Fund (lvnmcf.com), please do. Sean Sinclair at the Castenada is looking for folks to help serve the meals that local restaurants are providing.  
Please don't spread rumors on Facebook which only serve to put us in more uncertainty and stress. Instead get the facts! (fs.usda.gov/santafe/) As Theresa Bustos exclaimed, "We have to take it day by day."  That's what we're doing. We're praying and taking it day
by day.
Beth Urech is a contributing writer, traveler, and artist of the spoken word, performing both nationally and internationally. She lives in Las Vegas, N.M., with her husband, Mark, and dog, Java. Follow Beth at bethurech.wordpress.com. She may be reached by email at beth@bethurech.com