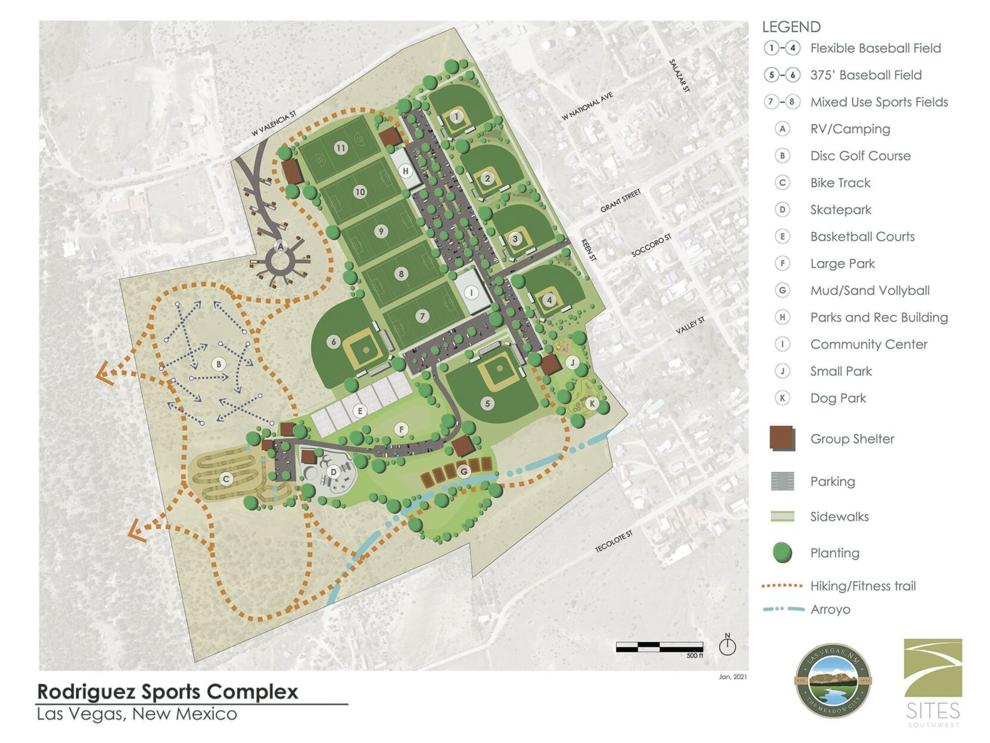 New Mexico Gov. Michelle Lujan Grisham will be in Las Vegas on Saturday to help break ground for turning Rodriguez Park into a youth sports complex. 
The 10:30 a.m. ceremony at the 256-acre park at 1308 Grant St. is open to the public.
Las Vegas Mayor Louie Trujillo said the city received $3.5 million from the state for the planned $10 million project. Trujillo will ask lawmakers for additional funding when the legislature reconvenes in January.
Under consideration for the Rodriguez Sports Complex are:
•Six baseball, softball fields
•Five football, lacrosse, soccer fields
•Six outdoor basketball courts
•Six mud volleyball courts
•BMX motocross track
•Skate park
•Disc golf course
•Seven group shelters
•Dog park
•Bicycle, running, walking path
•RV hookups/camping area
Fieldhouse with bathrooms, concession, locker rooms, conference rooms, parks and recreation office and maintenance shop
"This is a huge undertaking," Trujillo said. "One of the largest projects the city has taken on in many, many years."
He believes the city will benefit economically from the complex.
"That was one of the main reasons we got the money -- to assist the city with economic development by hosting tournaments and filling  up the hotels and restaurants," Trujillo said. "We have the potential to generate $2.82 million per year for Las Vegas."
"More importantly, it gives the kids in the community proper soccer fields to play on and regulation-size baseball fields," he added. "The youth in the community have been put aside for a long time. This project puts them in the forefront."
The project has been in the works since Trujillo took office in March 2020. The first phase will involve improving the current baseball, softball and soccer fields.
"Once we started exploring the idea and getting drawings, everything started happening really fast," he said.
Trujillo noted the city needs to spend the money expeditiously before the next legislative session.
"I would love to see this project completed within three or four years," he said.
The city is working with Sites  Southwest Architect George Radanovich on a final  design.