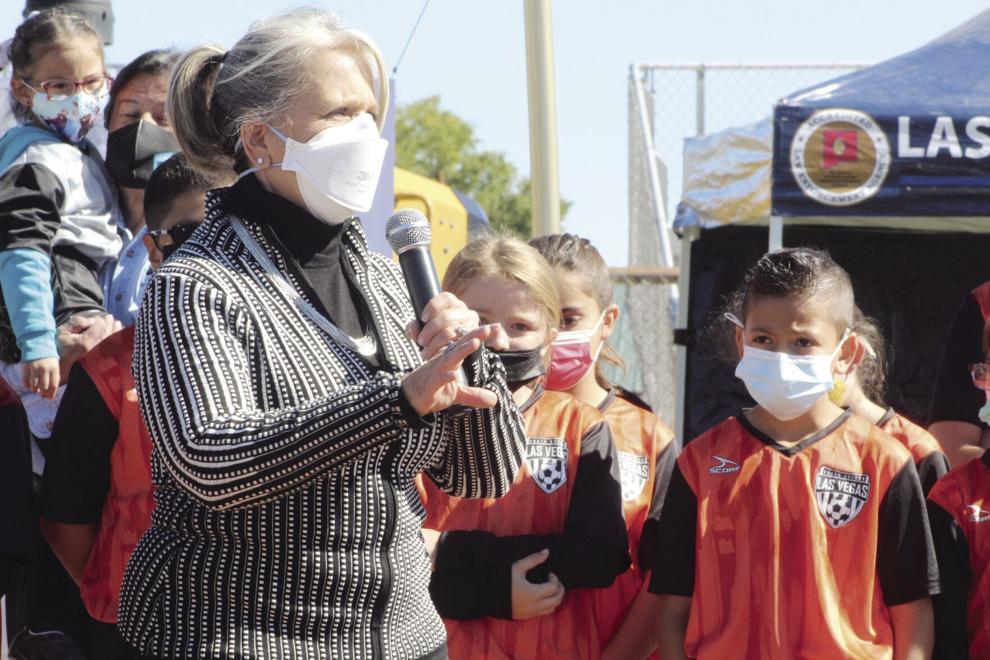 Gov. Michelle Lujan Grisham helped break ground on Saturday for what's considered one of the biggest development projects in the City of Las Vegas in years. 
The $10 million plan calls for upgrading the 256-acre Rodriguez Park into a youth sports complex in hopes of it becoming the premiere location for athletic tournaments in northeastern New Mexico.
"This is where the ball meets the bat," Ward 2 City Councilman Michael Montoya said during the ceremony at the Grant Street ballpark. "Governor, you just hit a home run with our community." 
The city in January received a $3.5 million state appropriation to begin the project. Las Vegas Mayor Louie Trujillo will ask lawmakers for additional funding when the legislature reconvenes in January.
Under consideration for the Rodriguez Sports Complex are:
• Six baseball, softball fields
• Five football, lacrosse, soccer fields
• Six outdoor basketball courts
• Six mud volleyball courts
• BMX motocross track
• Skate park
• Disc golf course
• Seven group shelters
• Dog park
• Bicycle, running, walking path
• RV hookups/camping area
The project also calls for a fieldhouse with bathrooms, concessions, locker rooms, conference rooms, parks and recreation office, and maintenance shop.
It's estimated that sports tournaments have the potential to bring in 86,167 visitors a year to Las Vegas, Trujillo said. 
"We can make $2.82 million a year on lodging taxes, gasoline and restaurants," he said. 
The city annually could also receive $175,000 and $56,385 in sales and lodging tax collections, respectively.
Lujan Grisham said there are more revenue sources available.
"The time is now," she said. "Gone are the days when we made terrible choices. The money is available for projects like this."
"This has been a hard two years," the first-term Democratic lawmaker continued. "New Mexico has led in the pandemic. We have more people vaccinated than any other state in the country."
City manager Leo Maestas noted that he and thousands of children spent time in Rodriguez Park. Established in 1972, the park is named after Michael Rodriguez, a 14-year-old West Las Vegas student who died from asphyxiation on the first day of basketball practice in 1967.
"We want to assure the governor we will use the money wisely and get it done quickly," Maestas said.
District 8 state Sen. Pete Campos talked about Las Vegas -- a community filled with pride.
"Las Vegas is going to continue to develop and these young people will get a good education in Las Vegas. Let's stay together. Let's continue to grow."
"This reminds me of the movie, Field of Dreams, when Kevin Costner said if we build it, they will come," Montoya added.