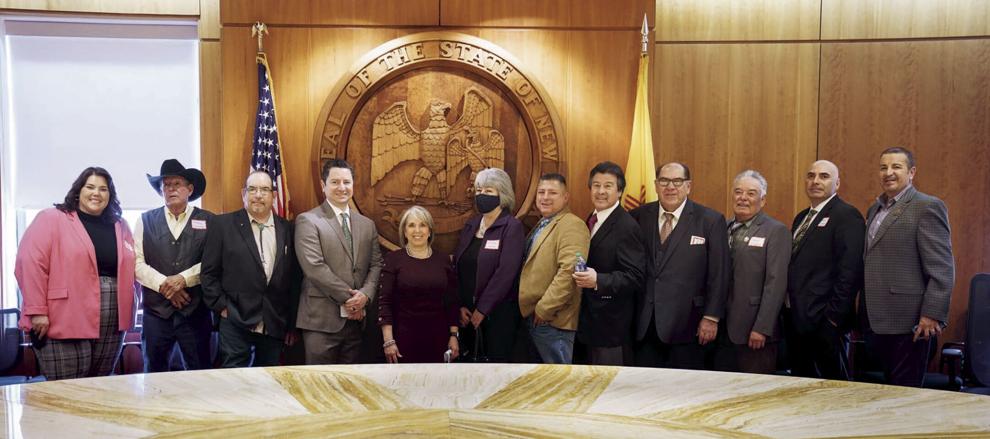 Gov. Michelle Lujan Grisham on Monday signed Senate Bill 6 into law, clearing the way for up to $100 million in interest-free state loans to be sent to FEMA-approved projects inside the Hermits Peak-Calf Canyon burn scar within a month. 
Lujan Grisham's signing comes less than a week after the state legislature unanimously approved the bill, as local officials pleaded with them for help to start getting to work on infrastructure projects, knowing that money directly from FEMA could take quite a while to arrive. 
"This legislation speaks loud and clear: New Mexicans come first," said Gov. Lujan Grisham. "The passage of this critical bipartisan legislation exemplifies how swiftly we can come together to serve the people of New Mexico, providing immediate assistance to communities affected by these devastating fires."
Funding provided by these loans will have to be paid back by the local governments when federal funding arrives, whenever that may be. Local government entities that use this funding from the state will have to provide quarterly updates on the progress of the projects and when funding from the federal government is expected to arrive. 
"As Norteños y Norteñas rebuild after the Calf Canyon and Hermits Peak Fire, the aid from Senate Bill 6 is essential," said Sen. Pete Campos. "As we wait for federal regulations to catch up to our reality, the state of New Mexico is stepping up to fill a critical gap in funding for northern New Mexico. At the end of the day, somos una familia."
The loans from DFA are intended to jump-start the rebuilding of public infrastructure such as roads, bridges, and acequias, and are not available to individuals who are covered under the Hermit's Peak Calf Canyon Assistance Act. Loan requests to DFA must have prior FEMA approval.
The state emergency management department has said that 21 projects have been previously approved by FEMA, totaling more than $70 million, meaning more than two-thirds of the money allocated in these loans could already be spoken for, though it is unclear at this time if all local entities plan to immediately take advantage of this loan opportunity. 
"This was an extraordinary event in our community, and I was always so comforted that the Governor was in town, on the ground. When we needed to get water to people in Las Vegas, the governor was there to help," said Las Vegas Mayor Louie Trujillo. "Likewise, I am thankful for her recent efforts and those of the Legislature in passing and signing this important legislation."  
"On behalf of the San Miguel County board of commissioners, the managers and staff, I'd like to say thank you to the governor and Legislature for everything you've done for us," said San Miguel County Commission Chair Harold Garcia. "At the end of the day, working together makes things much better for us."
These loans will be available to local entities until April 2024, or until the funding is completely used by local government agencies. If funding remains after that point, it will be returned to the state's general fund. 
"The communities that have gone through the traumatic Calf Canyon and Hermits Peak Fire have suffered enough," said Sen. Elizabeth "Liz" Stefanics. "Governor Lujan Grisham's signing of this bill will offer those communities peace of mind and sets us on the path to rebuild. I thank my colleagues in both chambers for getting this crucial aid bill across the finish line."